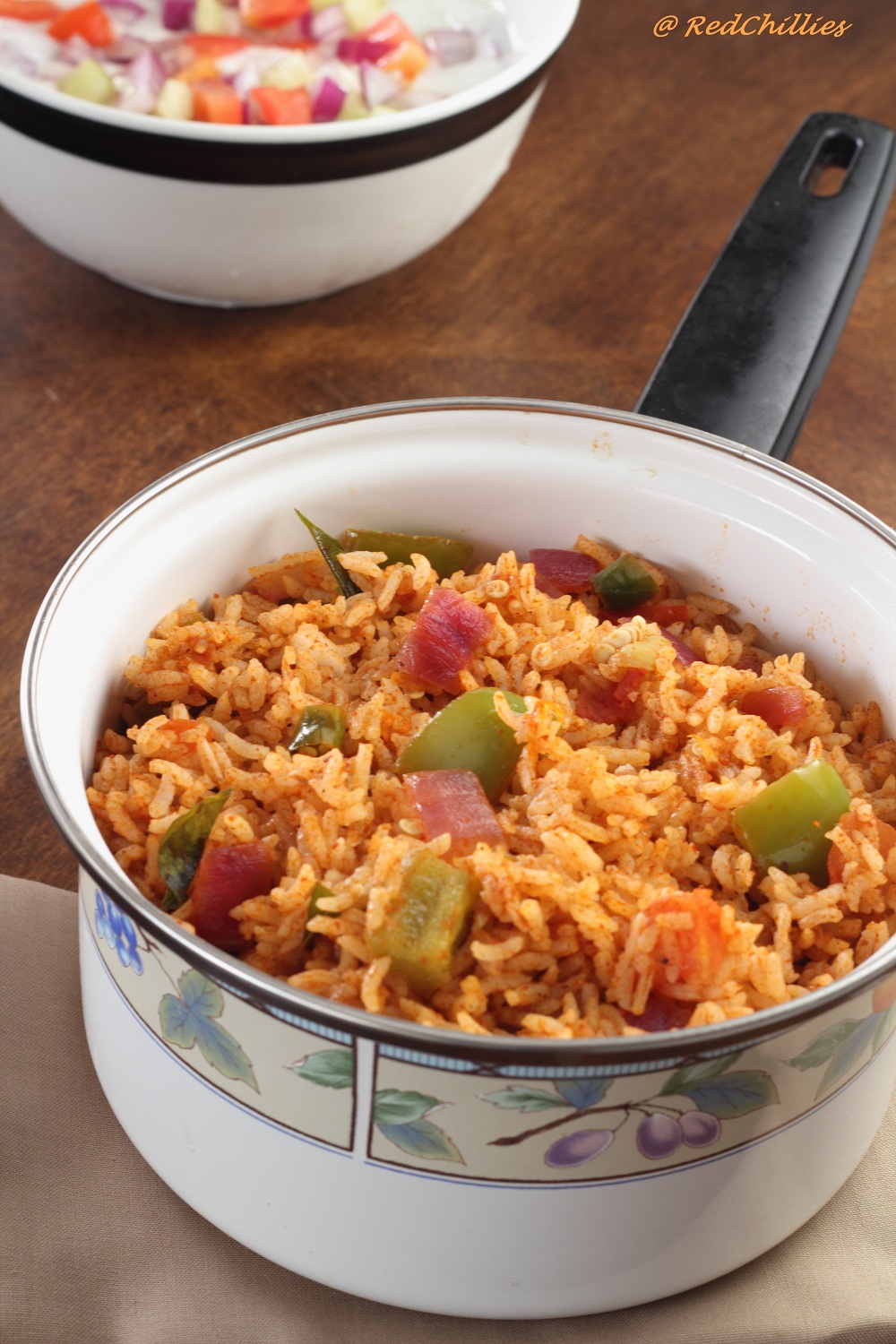 Who knew that you could add Pav Bhaji masala and ketchup to rice and make this one of a kind rice dish? Errrr…. Pulao to be precise, not me of course! If you already knew that please be so kind as to not to roll your eyes. Because there are some one track people like me who think that if the instruction on the package says to use it in Bhaji then you use it only in the Bhaji and nothing else. OK, all that changed when a friend of mine sent me this recipe link and asked me to try it. I tried it, loved it and I have made it many times since. 
Adding ketchup and paneer to this rice dish makes it a kid friendly dish. This is a one pot dish and especially helpful when I need to make something quick and filling.  This is also a great way to use left over rice. At times I add chopped potatoes, carrot, beans to this and make it more nutritious. Pair in some raita and pappad and this is a wholesome meal in itself. 
This pulao is a cool idea for taking to pot lucks, get together etc. 
Update: Based on the comments by fellow food bloggers, I understand that this is also called as Tava Pulao.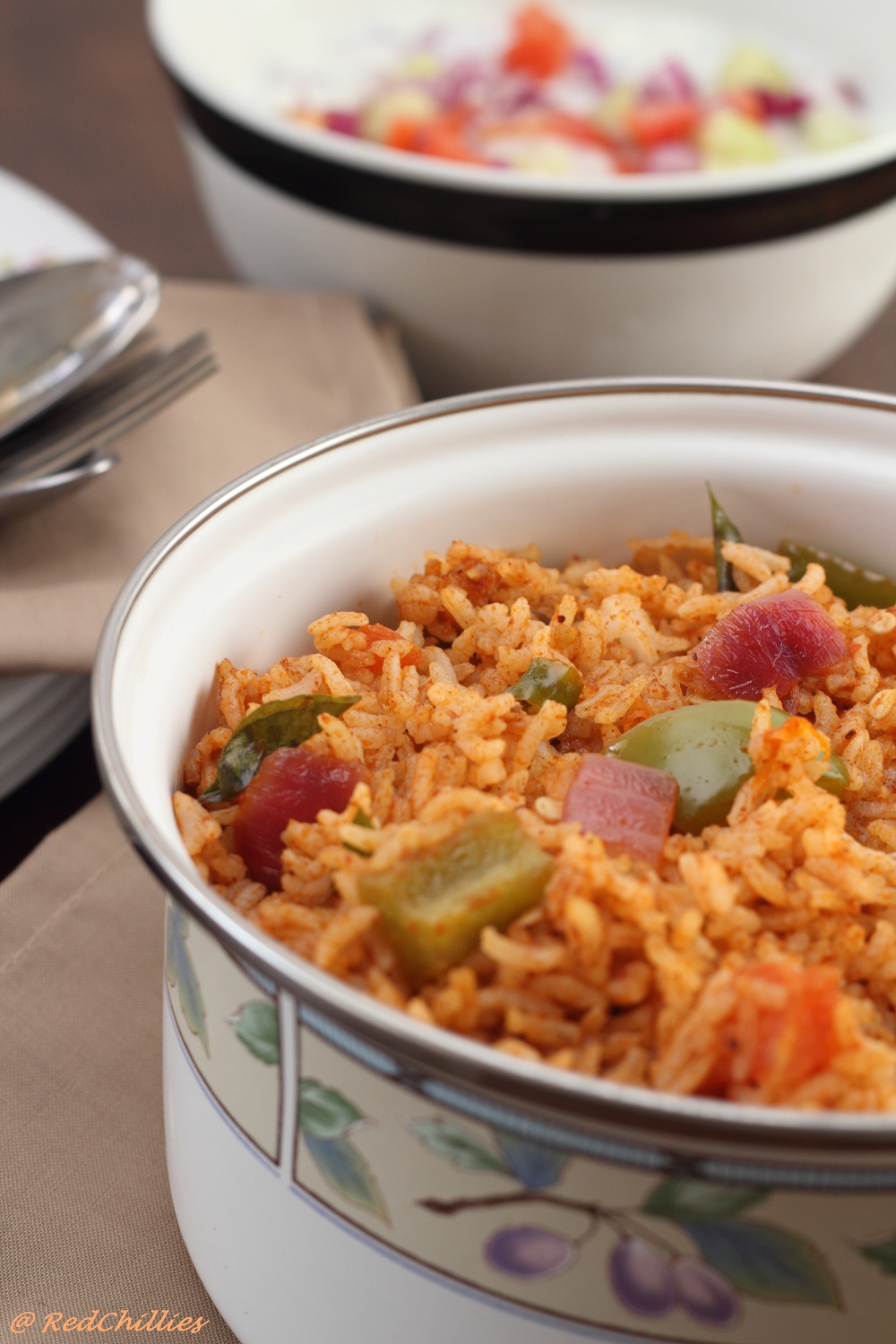 Recipe Source: Adapted from KahanaKhazana
Serves: 3-4
Ingredients
1 cup rice (uncooked) [basmati is preferred]
1 big onion 
2 big tomatoes
½ cup tomato ketchup ( if you like sweetness and tanginess then add more)
1 big bell pepper/capsicum
2 tsp pav bhaji masala ( I used Baadshah brand)
1 tsp chilli powder
½ tsp turmeric powder
½ -3/4 cup paneer cubes ( I added very little as I ran out of stock)
½ cup peas
1 tsp garlic paste
1 tsp ginger paste
1 tsp cumin seeds
Oil
Salt
Method:
Cook the rice separately either on stove top or pressure cooker using enough water. Make sure it cooks well without getting mushy.
Take a big plate and spread out the rice, add little oil and make sure there are no lumps.
 Take a big skillet, add oil on medium heat. Add cumin seeds, ginger paste, garlic paste and fry.
 Add the chopped onions and stir until it slightly cooks. Now add the chopped bell pepper and continue to stir. Add the chopped tomatoes, peas and stir in between.
After the tomatoes have cooked add the paneer cubes and tomato ketchup. Add the chilli powder, turmeric, paav bhaji masala.
 Add the rice, salt and mix thoroughly. Cover the lid and let it cook for a while. 
Garnish with chopped coriander leaves. Tastes delicious as is or with side of raita and some roasted pappad.  
————————————————- 
Winner of the Back to the Roots- Gourmet Mushroom Kit Giveaway
 Finally I would like to end this post by announcing the Back to the Roots- Gourmet Mushroom Kit Giveaway. I used random number generator, and picked a random number based on the number of comments. I am thrilled to announce that the winner is Divya Vikram. Congratulations! I will contact you soon via email. Thank you to all who participated in this giveaway.