Hope you had a good and relaxing weekend! 
Remember the rant I made last about the relentless summer heat here in Texas, with the temperatures being above 100+ for the past 45 days? Guess what? The rain Gods finally answered our prayers and it rained here for a little bit providing much needed relief.  Come Saturday morning, we woke up to the smell of the earth. And not to mention the grass, yard all soaked in water provided a happy sight. As I stood there it reminded me of the old age adage, that it is the simple things in life that gives you most joy.
Now take this puffed rice for example a simple ingredient sold most by the street vendors. I am sure most of us are familiar with this regional name than the translated English name, chirmure/kadle puri/ mamra/ muri/ pori. There are so many recipes using this humble ingredient, that it is hard to keep count. I guess, each region in India has its own specialty making it so unique. Our family favorites are the Khara Kadle Puri, this upma and the ladoo that is made of it.
This is referred to as Mandakki Usli/ Kadle puri oggarane in Kannada, Soosla in Konkani. This is a low calorie dish, good as breakfast or as evening/ afternoon snack. You can add veggies like potato, tomato, peas, carrots and make it filling and nutritious. If you are new to this or have not tasted it before then this tastes like the regular old poha upma/ aval upma and looks the same too (after it is cooked).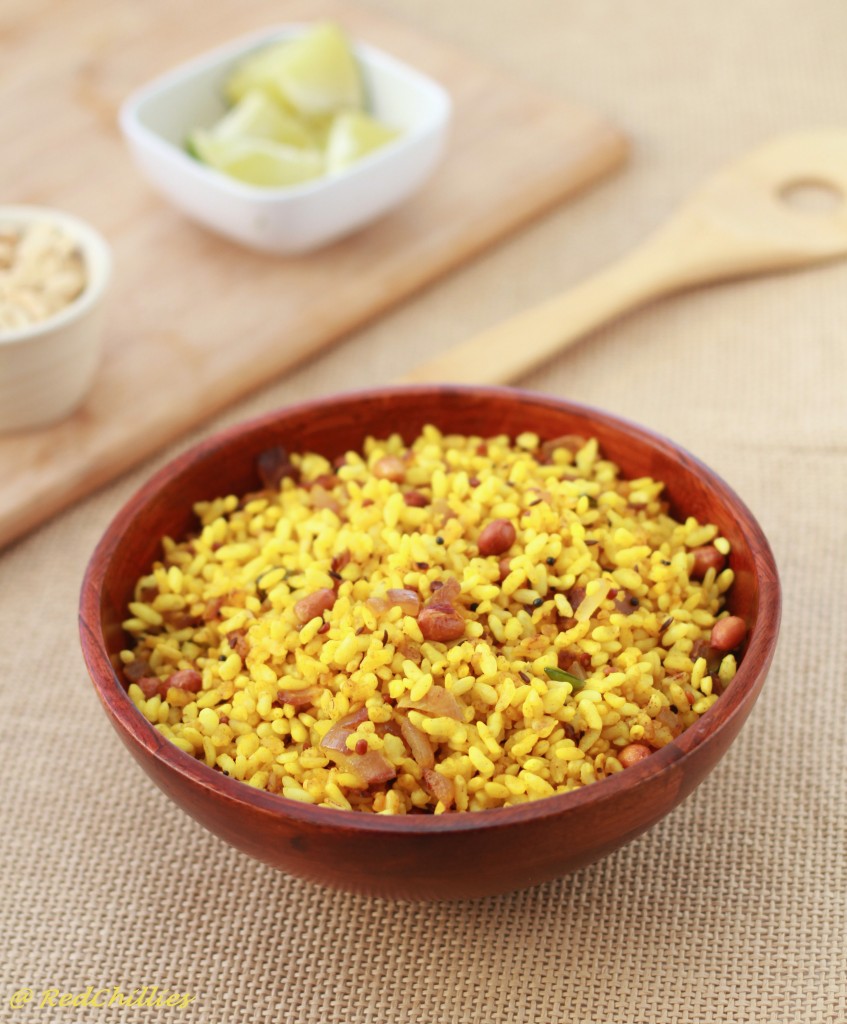 Ingredients: 
4 cups puffed rice/ murmura (chirmure/kadle puri/ mamra/ muri/ pori)
1 onion (chopped)
5-7 curry leaves
3-4 green chillies (chopped)
Asafetida/hing a pinch
2 tsp urad daal (optional)
2 Tbsp peanuts
1/2 tsp mustard seeds
1/2 tsp cumin seeds
1/4  tsp turmeric powder
Juice of a lemon
1 tsp Sugar (optional)
Oil
salt 
Method: 
Wash the puffed rice and rinse it in water. Since they are light, they will float in water. Use your hands to press it down to absorb water and then squeeze out the water completely from the puffed rice and keep aside.
Take a big pan and heat oil in it. Add the mustard seeds, cumin seeds and when they splutter add the curry leaves, asafetida.
Add the peanuts, urad daal and keep stirring until the urad daal turns light brown.
Add chopped onion and green chillies until the onion becomes translucent.
Add salt and turmeric powder and add soaked puffed rice and mix well. Keep stirring until it is coated well.
Check for seasoning and then add the juice of lemon, sugar (optional) mix and switch off the gas.
Serve immediately when warm, otherwise it will become soggy.