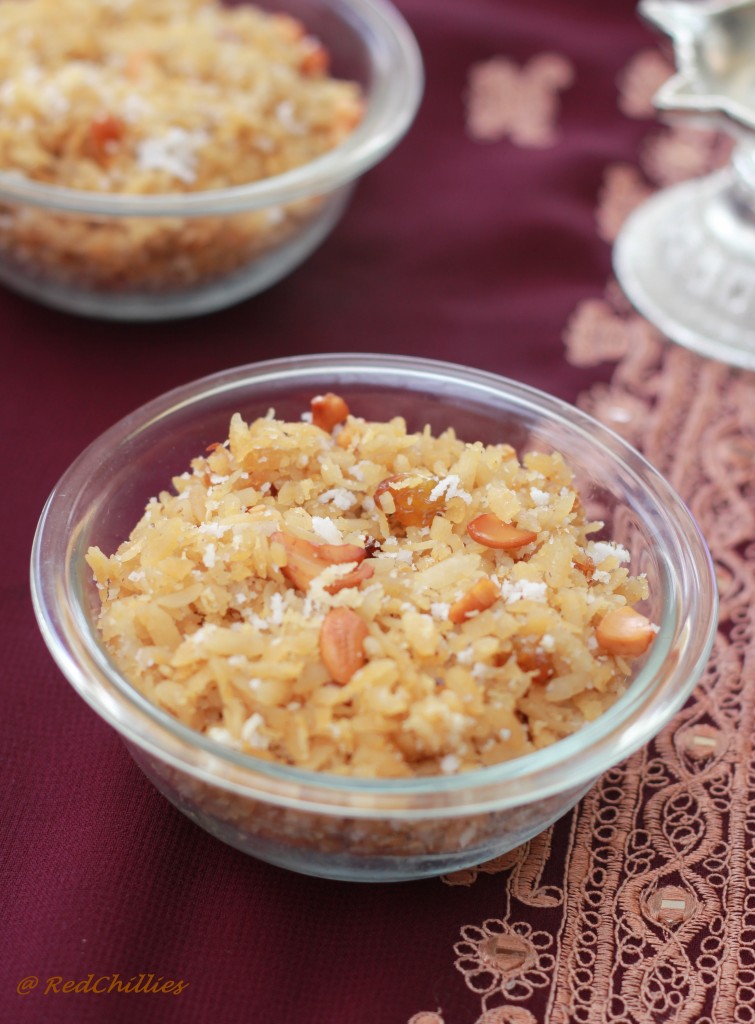 Flattened rice (also called beaten rice) is called Poha in Hindi, Avalakki in Kannada, Atukulu in Telugu and Aval in Tamil. In India, Poha/ Flattened rice is easily available and is usually associated with simplicity. Poha is considered a favorite of Lord Krishna and so this sweet dish is usually prepared on the occasion of Krishna Janamashathami. 
Simple, divine and earthy are the trademarks of this Sweet Poha. Even though there are only four ingredients Poha, jaggery, coconut, cardamom, people prepare this in hundred different ways. Some heat the jaggery and coconut while others do not, some do not wet the poha, and some do not mix coconut jiggery together …you get the idea. I pretty much follow my ma-in-law's recipe which is common in the Konkani households. This is also called as "Kaleyle Pohvu" in Konkani. Since we do not heat the jaggery and add the poha this is comparatively dry compared to the other south Indian versions. 
If you are looking for some savory Indian recipes using Poha then, here are some: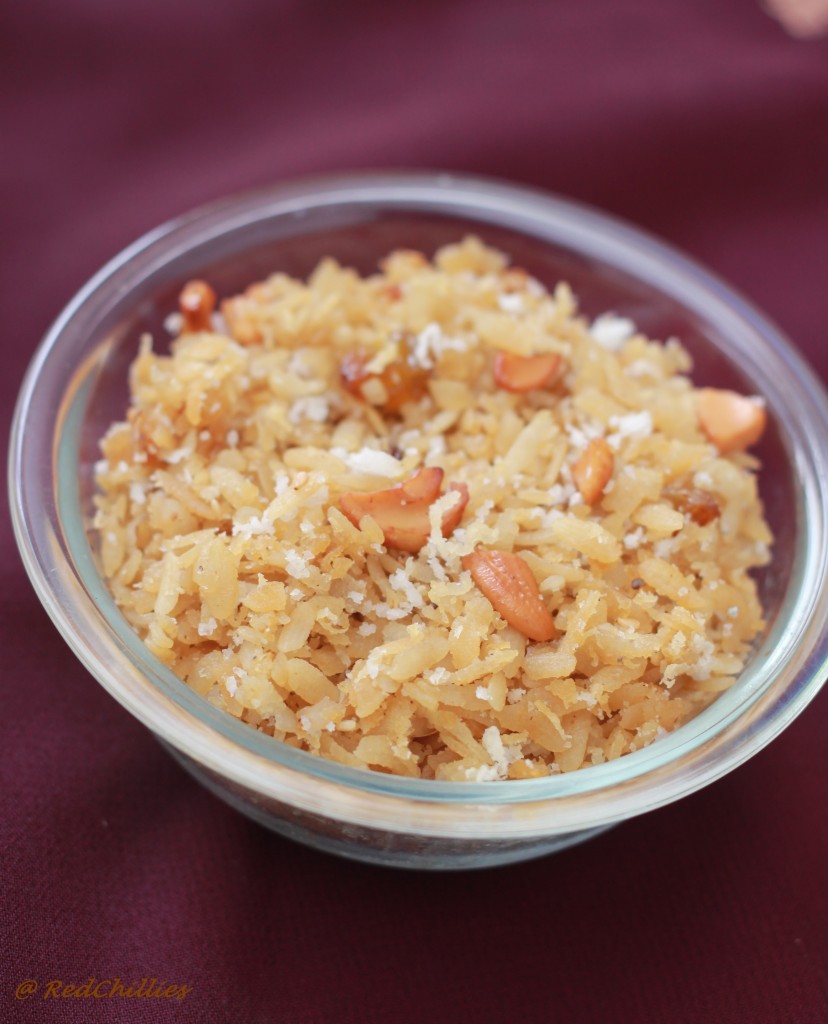 Ingredients:
2 cups Poha (thin flakes)
3/4 cup jaggery/gud/bella (powdered)
3/4 cup shredded fresh coconut ( + ¼ cup for topping)
2 tsp ghee (clarified butter)
½ tsp cardamom powder
10-15 cashews bits
10-15 raisins
2 tsp sesame seeds
Method:
Note: It is best to use fresh coconut for this as it has its own juice. The frozen ones are dry and do not have moisture.
Make sure the jaggery is fully powdered and there are no lumps in it.
Heat a small skillet and dry roast sesame seeds till it turns light brown and sputters. Transfer to a plate.
In the same skillet heat ghee and add cashews, fry until light brown and then add the raisins until it plumps.
Take a big steel bowl and mix the coconut and jaggery together by using hands. Keep aside for 30 minutes. After a while you will notice that the jaggery has melted and there is thick liquid.
Take the poha in another bowl and sprinkle some water over it, mix it using hands, turning it around evenly. Sprinkle more as required. (Make sure there is no excess water).
Note: I do not soak the poha, just wet it sufficiently and I let the liquid from jaggery seep into the soaked poha.
Now add this wet poha, cardamom powder, 1 tsp melted ghee to the jaggery coconut mixture and mix well. Set aside stirring in between.
Add the roasted sesame seeds, fried cashews, raisins and mix well.
Finally add ¼ cup shredded coconut for garnish and some color.