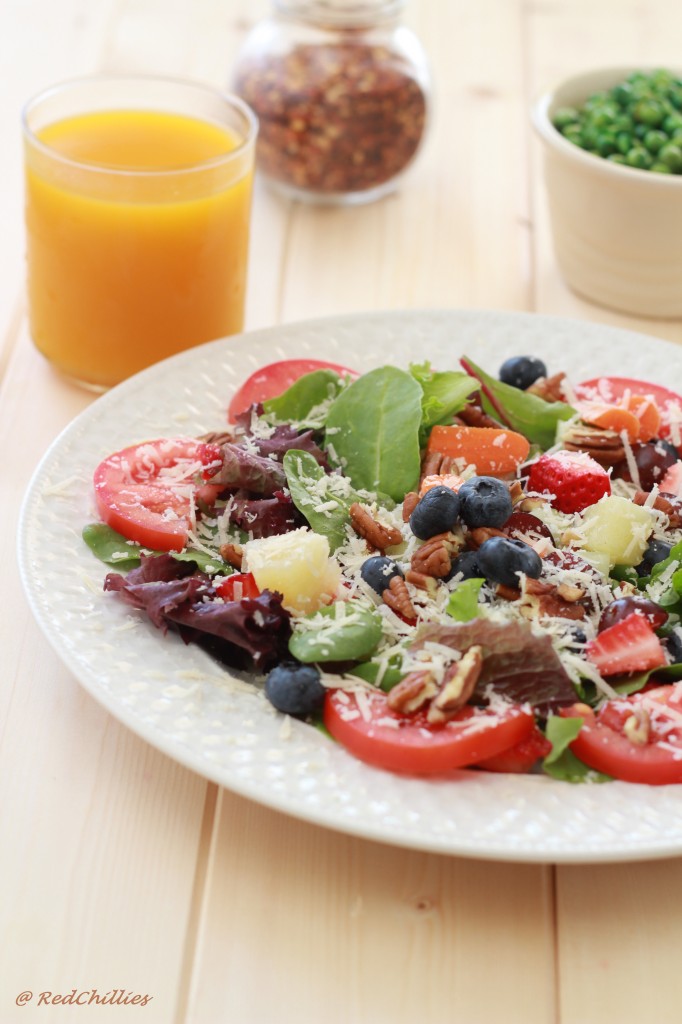 Call this the spring salad or even summer salad, or any other name of choice but this is good for any day of the season. One glimpse of this vibrant colored salad is enough to brighten my mood and cheer me up. I would not mind eating this every day, provided somebody else makes this for me (of courseJ). The flavors and the vivid textures of fruits, vegetables and nuts blends in so well, that while enjoying the flavors you may not realize that you are eating something so healthy.
The inspiration for this salad comes from Jaya. We had been to her house for dinner when she and her husband treated us to this filling, wholesome salad. As if this was not enough the salad was followed by scrumptious poori bhaji, daal and panna cotta dessert.
Do not cut the veggies and fruit in advance and mix them together as it might get mushy. Chop them just when you are about to make the salad. Feel free to change the ingredients (fruits, vegetables) and the dressing depending on your preference and taste. DH prefers just oil, pepper and lemon juice for the dressing, while I love the Raspberry vinaigrette which is both tangy and sweet for this salad.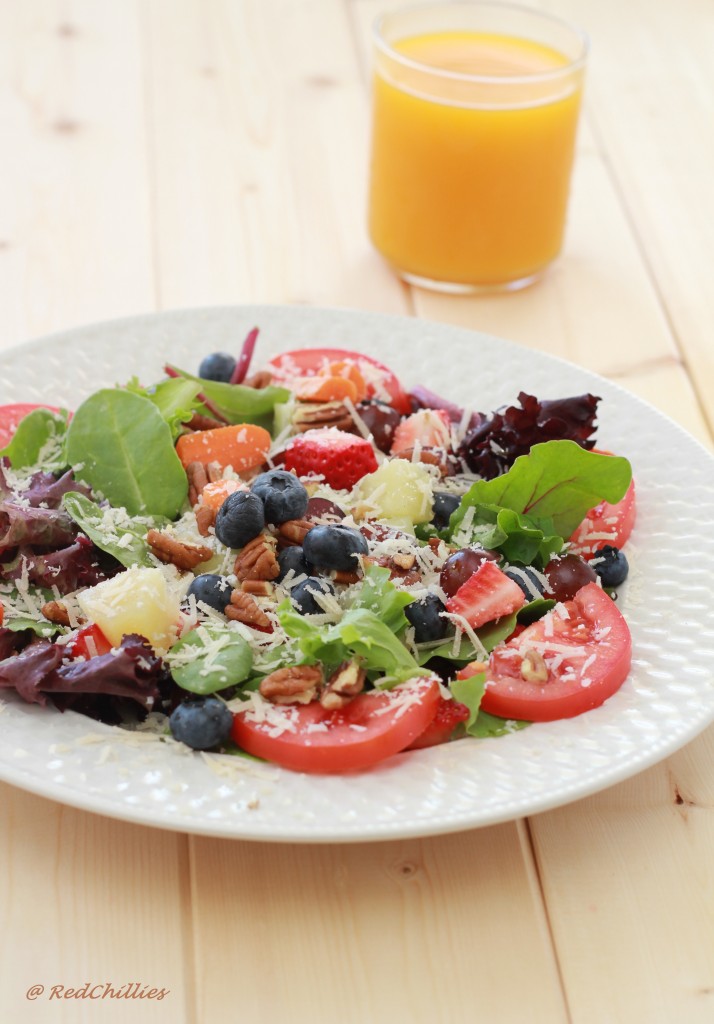 Ingredients: 
3 cups spring greens  mix( I used the store bought one)
4-5 strawberries (stem removed and chopped)
¼ cup blueberries
¼ cup pineapple (chopped)
3/4 cup of chopped cucumber
¼ cup chopped carrots
¼ cup chopped onions
1 medium tomato (chopped)
¼ cup chopped walnuts
Grated parmesan cheese (as required)
 Dressing: 
1 Tbsp oil
Crushed pepper
Lemon juice 
Other suggestion: Raspberry vinaigrette/ Balsamic Vinaigrette 
Method: 
In a big bowl add the greens and make a bed of it. Next add the chopped veggies, fruits and mix them well.
Transfer to serving plates and add the dressing as required. Grate parmesan cheese before serving.