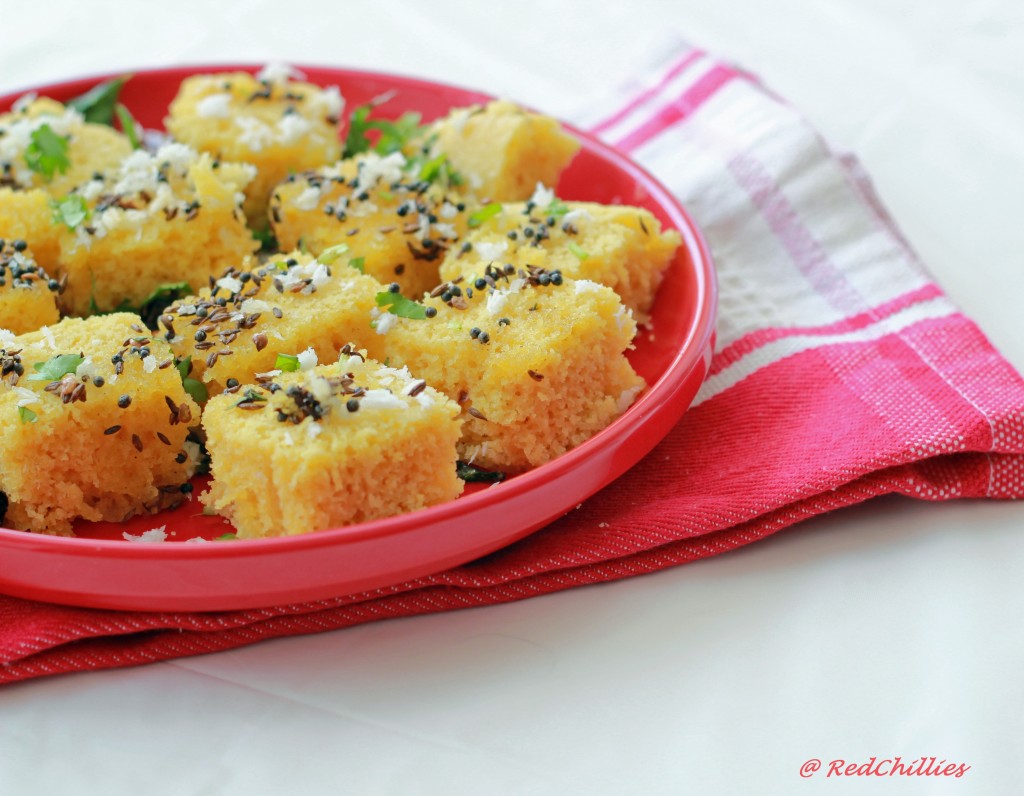 Khaman Dhokla, a Gujarati traditional dish is a savory snack made out of gram flour. It is steamed (not deep fried) and is typically served during breakfast or dinner. Since it is made out of chickpea flour it is rich in proteins and carbohydrates. Soft, spongy and delicious they also make a great mid-afternoon or tea time snack. 
Years ago I used to buy the readymade Khaman Dhokla mix by Tarla Dalal for making instant dhoklas.  The dhoklas would come out pretty good and had a good flavor and texture. We used to have it as a tea time snack or as a starter when we had guests. But I guess, off late they have stopped making it as I am not able to find them in the grocery shelves anymore. The other brands that I tried do not come close and I was not happy with the results. 
That is why I resorted to finding a good recipe of making Khaman Dhokla from scratch. I tried from couple of sources but this recipe here I liked the best. I made some tweaks of my own, and thise dhokla comes out soft and spongy just as we like it. 
Remember that tadka/seasoning is important and needs to be done the right way. I liked her unique concept of seasoning which is adding the sugar and lemon in the tadka itself. When this is poured over the steamed dhoklas they give it a wonderful sweet, tangy and nutty flavor.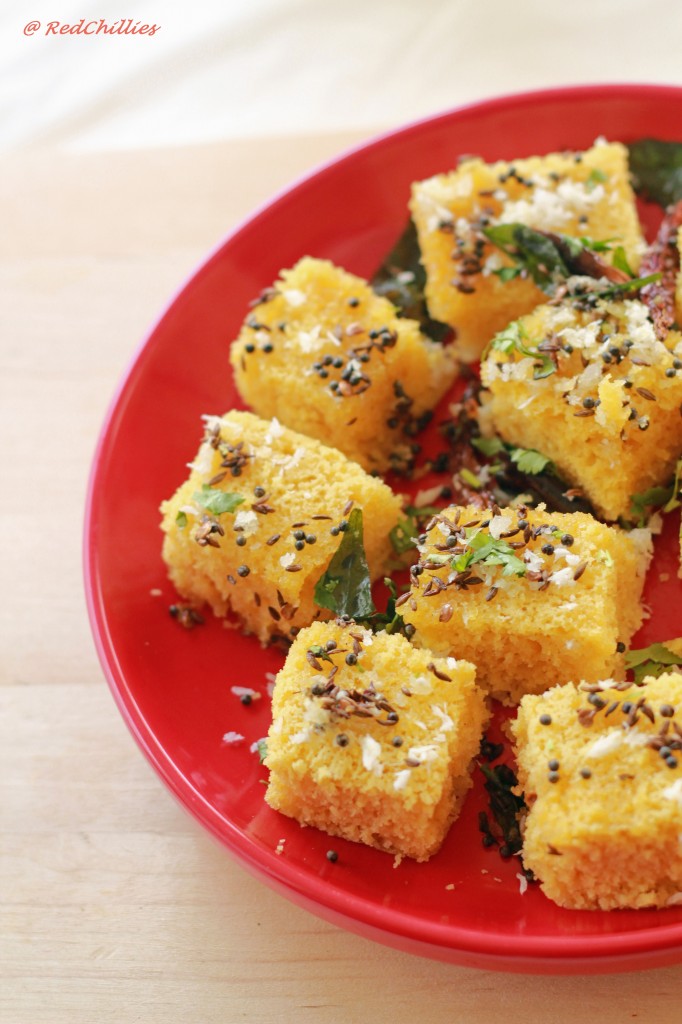 Recipe Source: Adapted from Archana's kitchen
 Ingredients:
1 cup gram flour/besan
1/2 cup yogurt/curd/dahi ( I used low fat)
1/2 cup water
1 tsp ginger+green chilli paste
2 Tbsp oil
1 tsp Eno fruit salt
Salt to taste 
For tempering 
1 tsp mustard seeds
1 tsp cumin seeds  (optional)
5-6 curry leaves
2-3 dried red chillies
1 tsp sugar
Juice of half a lemon
3-4 tsp Oil  
Garnish 
1-2 Tbsp grated coconut
1 Tbsp coriander leaves (chopped) 
Method: 
In a big bowl, add the besan, salt, oil, eno fruit salt and mix with spoon. Add the yogurt, water and whisk it well. This batter should be little thick.
Heat a pressure cooker with enough water in the bottom. Grease dhokla thalis or a round container that fits in the pressure cooker.
Note: I use the round steel vessel that is used for cooking rice in the cooker.
Transfer the prepared batter to this until it is 2/3 full. Remember after the dhoklas are steamed they will puff up.
Steam for 12 – 15 minutes with lid covered (but without the weight/whistle).
After 15 minutes, turn off heat and allow it to rest for 5 minutes in the cooker itself with lid opened. Take it out and keep aside. 
Seasoning/ Tadka 
Heat oil in a small pan and add the mustard seeds, cumin seeds and curry leaves. Let the mustard seeds crackle. Add the dried red chillies and turn off the heat.
Slowly add the water, sugar, salt and lemon juice to the prepared seasoning.
Using a small spoon pour it evenly over the steamed and cooled dhokla. Let it rest for a little while.
Cut them into desired shapes square or diamond and garnish with coriander leaves and coconut before serving.