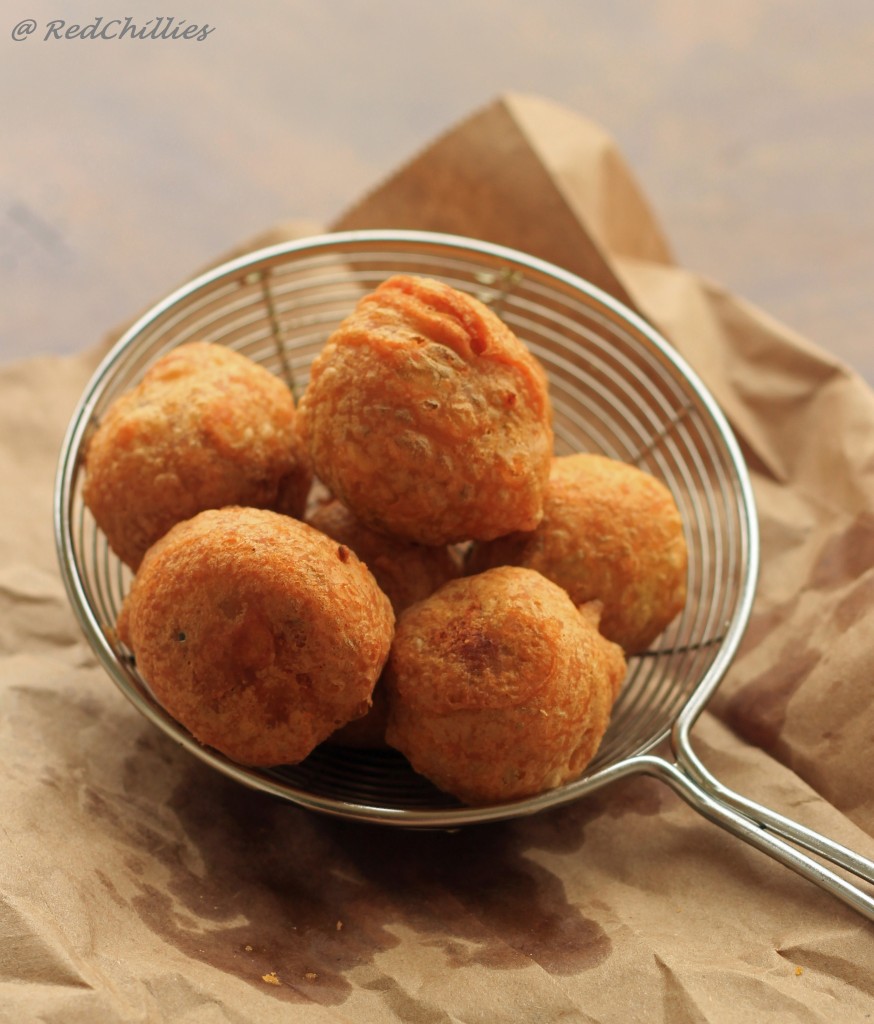 After the scorching summer we had here, the weather has taken a U turn and turned into a mild, pleasant one, reminiscent of the autumn season. Added to this it got cloudy and we had some drizzle over the weekend making it even cooler. There is something about the rain that gives me that cozy, nostalgic feeling. And on days like this, I cannot think of a better way to spend the day than to indulge in some crispy deep fried stuff. The most common deep fried stuff I resort to are these fritters/bhajjis or medu vada. But this time I decided to go for a change and made these deep fried potato vada, called Batata Vada.
 Batata Vada is a popular street food in India, literally called Potato fritters is a deep fried indulgence. Even though this originated in Maharashtra, it is popular all over India and is called as Aloo Bonda in South India. It consists of a spicy potato balls which is then dipped in chick pea flour and then deep-fried. This is usually served with different chutneys along with sautéed green chillies. 
There are many steps for making this dish, but once you get a hang of it, you can organize the process and make it in an efficient manner. This is served as appetizer, an evening snack or when served as Vada Paav which can be indulgent meal in itself.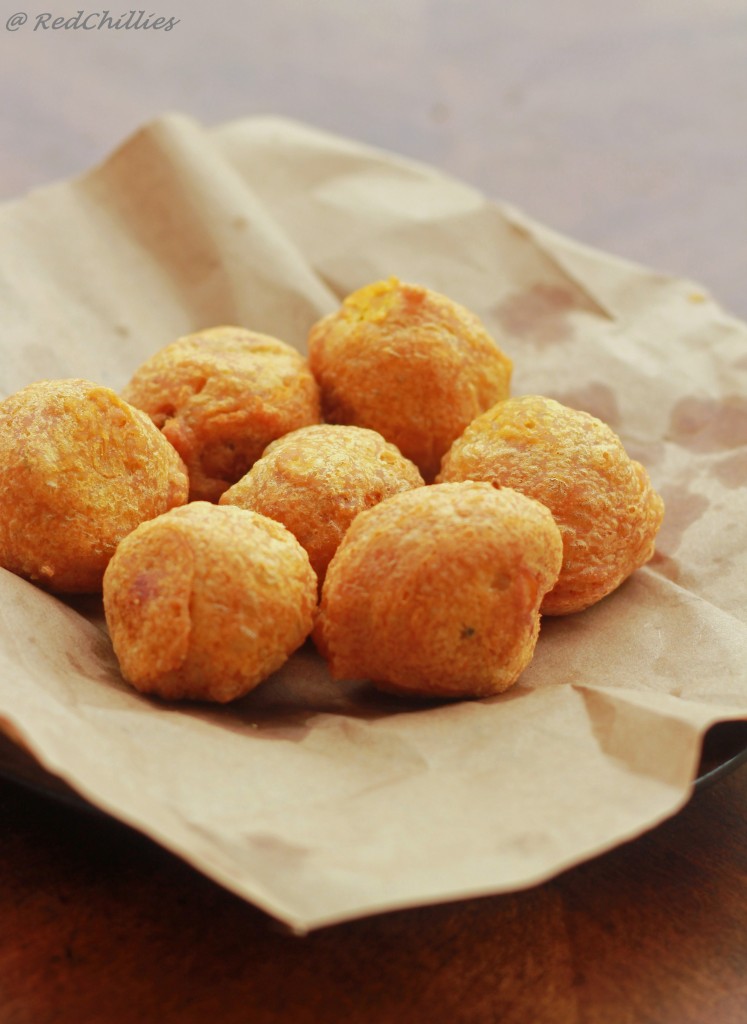 Ingredients for the potato stuffing: 
3 big potatoes ( boiled, peeled and mashed)
3-4 curry leaves
1Tbsp ( green chilli+ garlic+ ginger ) coarse paste
3-4 strands coriander leaves
½ tsp turmeric
1 Tbsp oil
Juice of a lemon
Salt to taste 
Method: 
Wash the potatoes, chop them into halves and pressure cook them along with the skin.
After it has cooled, peel the skin, mash it in a plate and keep aside. It is alright if there are some lumps in the cooked potato.
Take a pan and heat oil. Add the curry leaves and the coarse green chilli garlic paste and cook until the garlic turns light brown.
Add the mashed potato, turmeric powder, salt and cook until everything is mixed.
Cover with lid and let it cook on simmer. Add the chopped coriander leaves and lemon juice, stir well. Keep aside.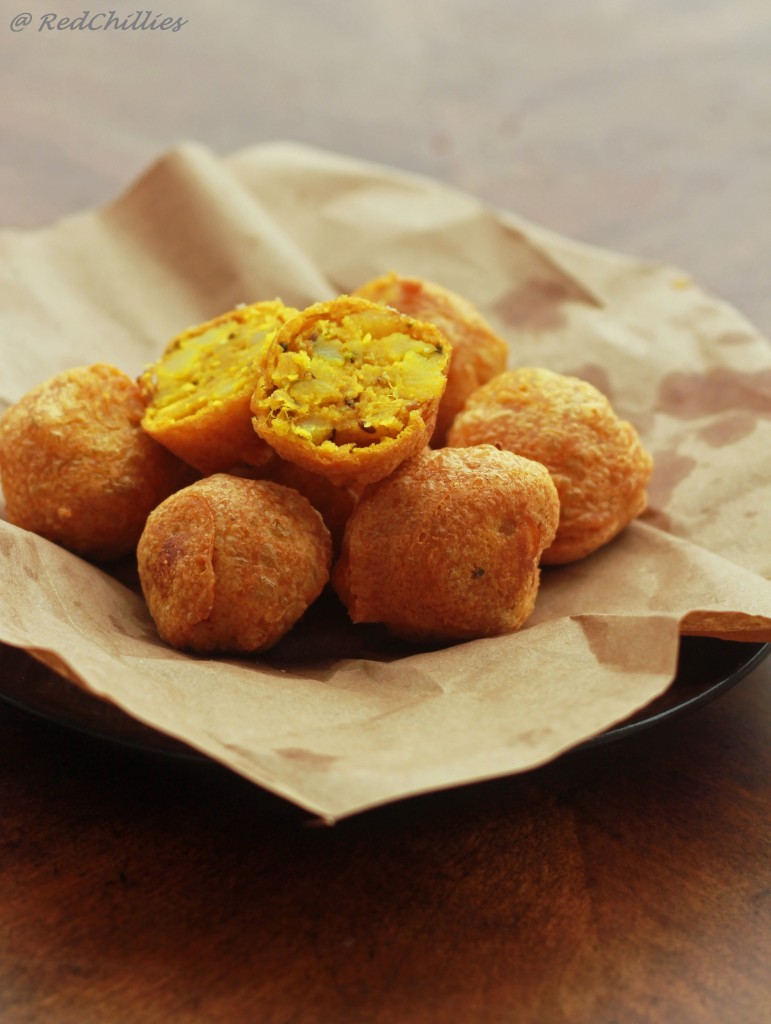 Batter/ coating for the vada: 
1/2 cup gram flour (besan)
1 Tbsp rice flour
1tsp red chili powder
½ tsp turmeric powder
½ tsp baking soda
Salt to taste
 Method: 
Take a bowl and mix all the above ingredients well. The gram flour may have some lumps, so be sure to break them apart.
Add water to this mixture in intervals and mixing it well until it becomes a smooth paste.
Note: The consistency of the batter is important, so make sure that it is not too thick or thin. Keep aside.
 Making Vada/Bonda: 
Heat sufficient oil in a pan for deep frying.
In the meanwhile make small balls ( 2-3 inch diameter) from the stuffing that was made before.
After the oil is hot, take a stuffing ball; dip the ball into the batter and drop it into the hot oil. Fry it and then turn it around until it gets light golden brown color.
Transfer it to a paper towel. Continue the process with the remaining stuffing and make the Aloo Bondas. 
Serve hot (very) with Tomato ketchup or Green chutney or Tamarind Chutney or as is or as Vada Paav (recipe coming up next!).