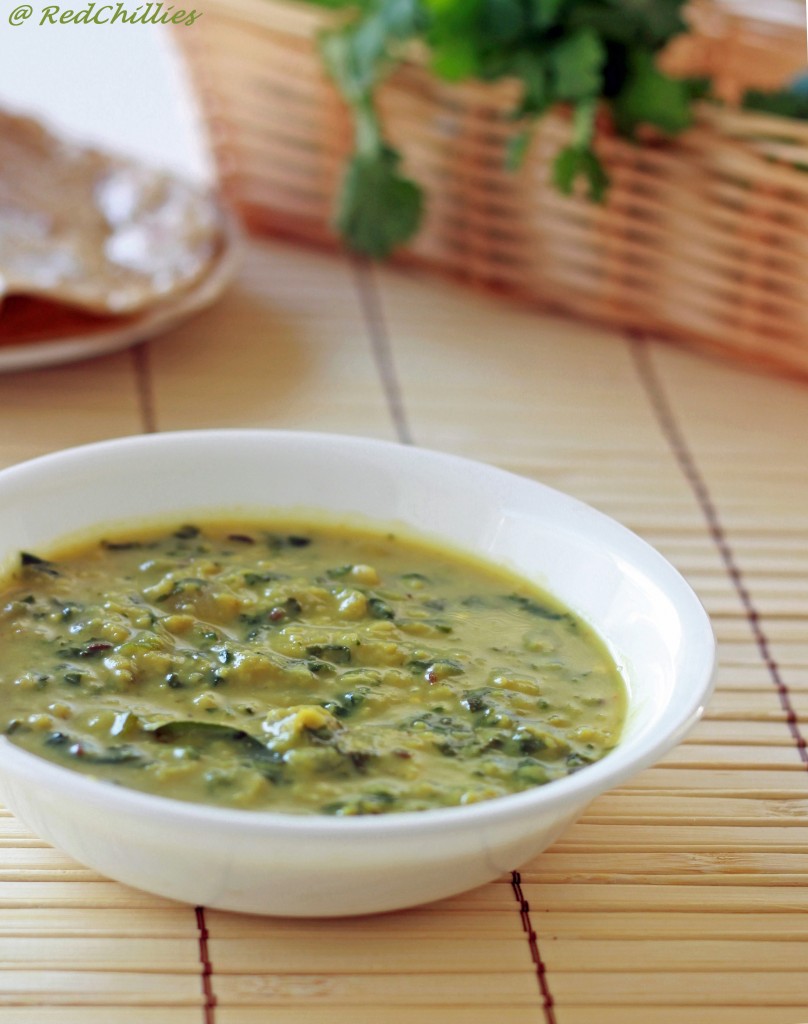 Pithla is spiced gravy made out of Besan (Chickpea flour). It is a quick recipe to have on hand when you are out of vegetables or want to cook something quick and easy. The combination of Pitla Bhakri or Jhunka Bhakri is famous in North Karnataka and parts of Maharashtra. The dry version of Pithla is known as Jhunka/ Zunka. 
My mom used to make this for breakfast along with Jowar Bhakri and garlic (lassuni) chutney. Growing up I never liked this much especially with rice and I would come up with 'creative' excuses to avoid this dish. But then recently a colleague of mine had brought this for lunch to eat along with Rotis and I loved the taste. I could not wait to try this out at home. 
Since besan has a bland taste, I made this spicy by adding more garlic and green chillies. You can add red chili powder if you prefer, but that will change the color of this dish. Adding spinach is optional and you can substitute with methi/fenugreek leaves or add more coriander leaves if you wish. Pithla goes well with Bhakri, or Roti or even rice. 
Note: Pithla tastes good when it is piping hot. It is better to use this in one go. Storing in the fridge and then re-heating multiple times is not recommended.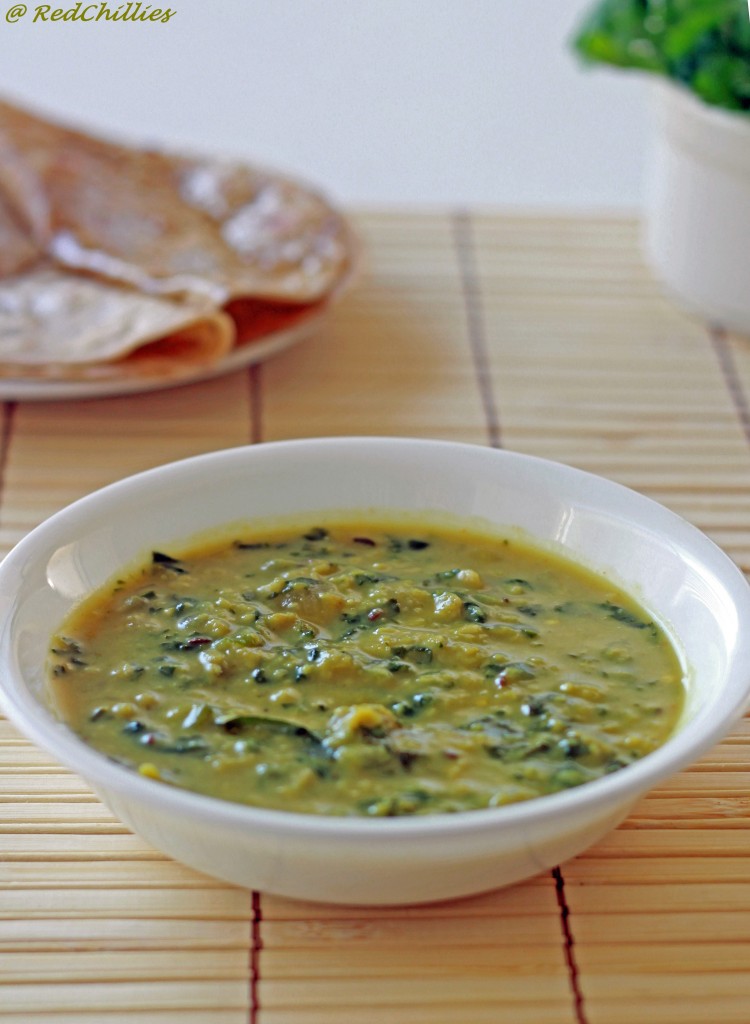 Ingredients:
4 Tbsp besan (gram flour)
1 medium onion (finely chopped)
3-4 Green chilies
2-3 garlic pods (peeled)
1/2 tsp Mustard seeds
3 cups of packed spinach leaves (cleaned, stem removed  and chopped)
1 tsp Cumin seeds
2 strands of coriander leaves
Asafetida/hing (a pinch)
Turmeric powder (a pinch)
1 Tbsp Oil
Salt to taste
Juice of ½ lemon (optional)
Method:  
Take a bowl, add the besan/gram flour, turmeric and stir in water until it has buttermilk like consistency. Makes sure there are no lumps. Keep aside.
Crush together garlic pods and green chillies and keep aside.
Heat oil in pan/kadai. Add the mustard seeds, cumin seeds, asafetida and when they splutter add the coarsely ground green chilli-garlic paste.
Add the chopped onions and fry until they become translucent. Add the chopped spinach, salt and mix until it is cooked.
Add the besan liquid to this and keep stirring continuously. After a while the water dries and the besan starts becoming thick. Check for salt and seasonings.
Garnish with fresh chopped coriander leaves and lemon juice.
Serve hot with Bahkri, Chapathis or with Rice.