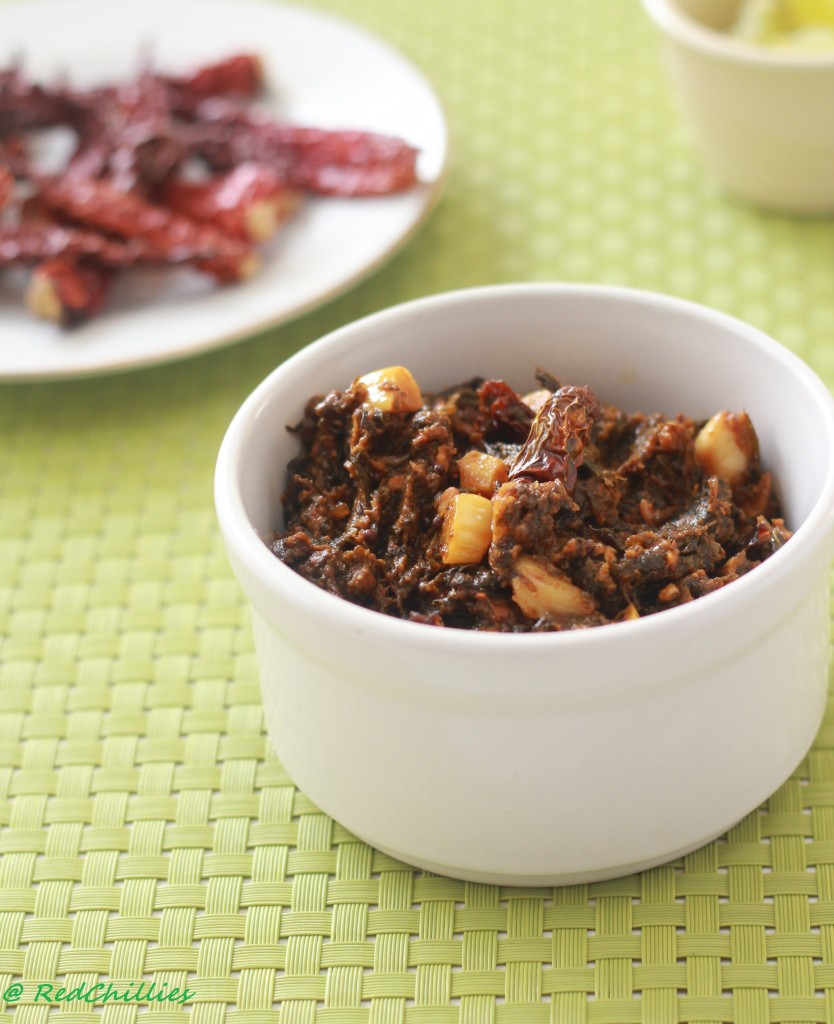 While in Bangalore, we used to get different type of greens and so I grew up eating a wide variety of them. Bangalore like other cities in India is a heaven when it comes to greens and you can find them at vegetable shop, street vendors, and vendors selling them on cycles. 
 But then, I don't recall eating these Red sorrel leaves (called as Gongura in Telugu).Over the years here in US, I have come to understand that Gongura is quite a tradition in Andhra. Be it the chutney, pickle, rice, daal it is well loved and relished. Friends and colleagues from that region have joy on their faces when mere name of Gongura is mentioned.
 What sets these greens apart is their tangy taste which is similar to that of tamarind. As a result this is extensively used in preparing chutneys and pickles. Of course, like other greens these are rich in iron, vitamins and anti-oxidants. We made this pickle/Thokku and totally loved the taste.
 Recipe Source: Adapted from VahChef
Ingredients
1 big bunch Gongura/Ambadi/Red Sorrell leaves (fresh) [about 4-5 cups]
1 tsp cumin seeds
5-10 curry leaves
1 Tbsp urad daal
A pinch hing/asafetida
1 tsp mustard  seeds
3/4 cup oil (vegetable/peanut)
2-3 red chillies (broken)
½ cup dry red chilli powder
salt
 
½ tsp methi seeds
1 Tbsp coriander seeds
 
½ cup tamarind (soaked in water)
5-6 garlic pods (peeled )
5-6 garlic pods (peeled and chopped)
Method:
From the Gongura bunch, separate the leaves from the stem and wash them in water. Dry them, chop them before using it in the chutney.
Heat a pan and first dry roast methi and coriander seeds and make a powder.
In the same pan, heat about 2 Tbsp of oil, sauté the chopped green until it is cooked. Transfer to a plate.
In small sauce pan, boil water and add the tamarind, after it has come to semi liquid state grind it along with 5- 6 garlic pods. Set aside.
In the same pan, heat ½ cup of oil. Add the mustard seeds, asafetida, broken red chillies, curry leaves, cumin seeds, urad daal and chopped garlic pods.
Fry until the urad daal turns light brown and the chopped garlic cooks and browns.
To this add the red chilli powder, dry roast powder, salt and give it a toss. Quickly add the cooked gongura and then the tamarind garlic paste and stir for a minute. Shut off the gas.
Transfer to glass container when cool. Serve as a condiment with rice or rotis.