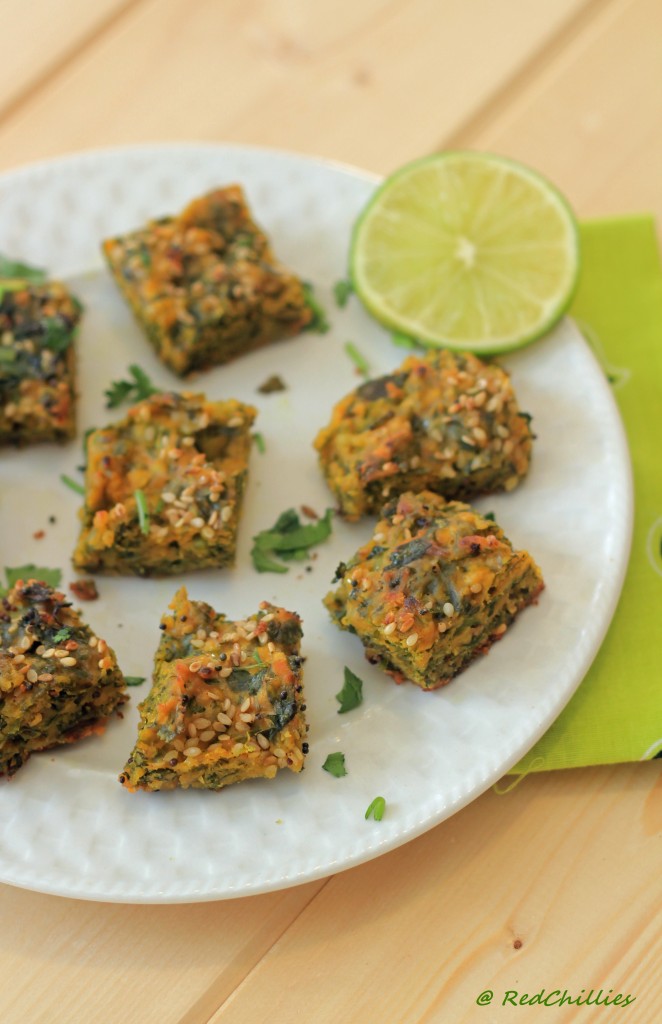 Kothimbir Vadi is a popular starter / snack from Maharashtra. Kothimbir means coriander leaves in Marathi and vadi means wedges. 
Coriander is chopped and steamed along with prepared chickpea flour and other spices. After it is steamed it is cut into desired shapes. At this point it can be eaten as is. But I like it when it is shallow fried in some oil. The lightly crisped edges along with toasted sesame seeds, take it to a whole new level. It tastes very good when eaten along with green chutney, or tamarind chutney or even ketchup. 
It is a great way to use up the bunch of coriander leaves waiting in the refrigerator to be used up. Since it is steamed, it is low fat and nutritious too. A quick and easy snack, great for afternoon snack and tea times too.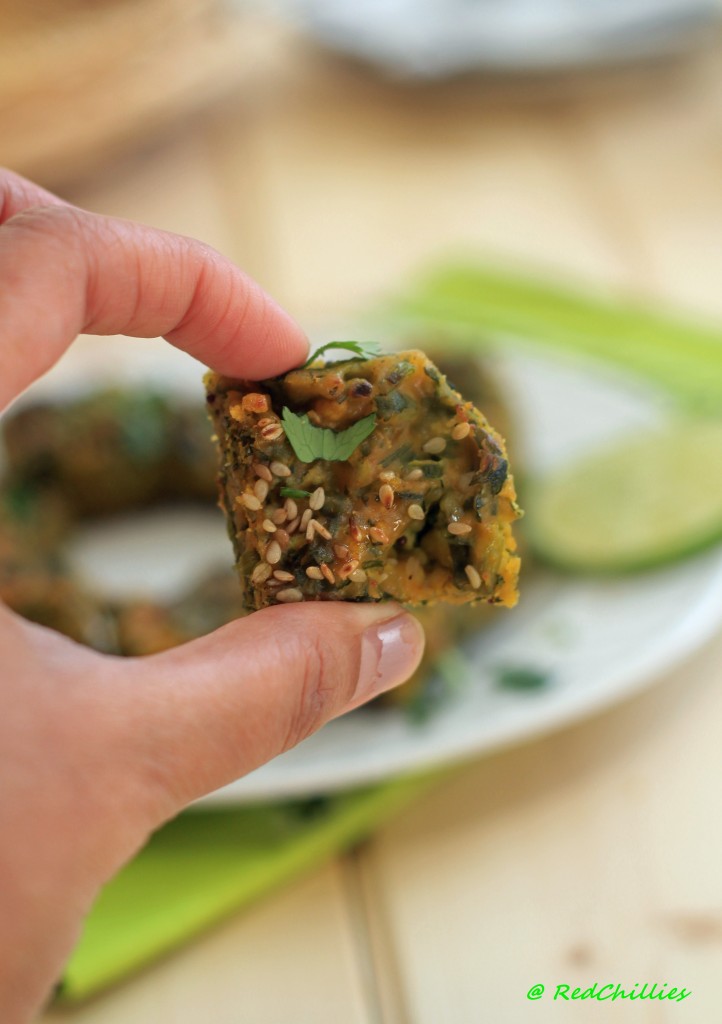 Ingredients
2 cups chopped coriander leaves (cleaned and stems removed)
1 cup chickpea flour / besan
2 tbsp rice flour
3-4 green chilies paste
1 tsp ginger paste
2 tsp sesame seeds
1 tsp sugar
1/2 tsp turmeric powder
1 tsp coriander/dhaniya powder
1 tsp garam masala
salt (per taste)
juice of ½ lemon
1/2 tsp baking soda
2 Tbsp Oil
Method
Take a circular container that fits into a cooker, grease it and keep it ready.
Grind together ginger and green chillies and make a paste (without adding water).
Take a bowl and add the besan, rice flour and mix well. Now add all the remaining ingredients (except sesame seeds) including the ginger-green chilli paste and mix well.
Check for seasonings and add water to make a thick batter. Little bit thicker than the dosa batter.
Pour the batter into the prepared greased container and transfer to the cooker. Sprinkle the sesame seeds evenly over the top.
Steam for about 20 minutes till a knife inserted in the middle comes clean.
Allow it to cool then unmold it over to a plate. Cut into desired shapes.
Shallow Fry: Heat oil in a pan and shallow fry the slices till crispy and golden. Serve hot with tamarind chutney or ketchup.