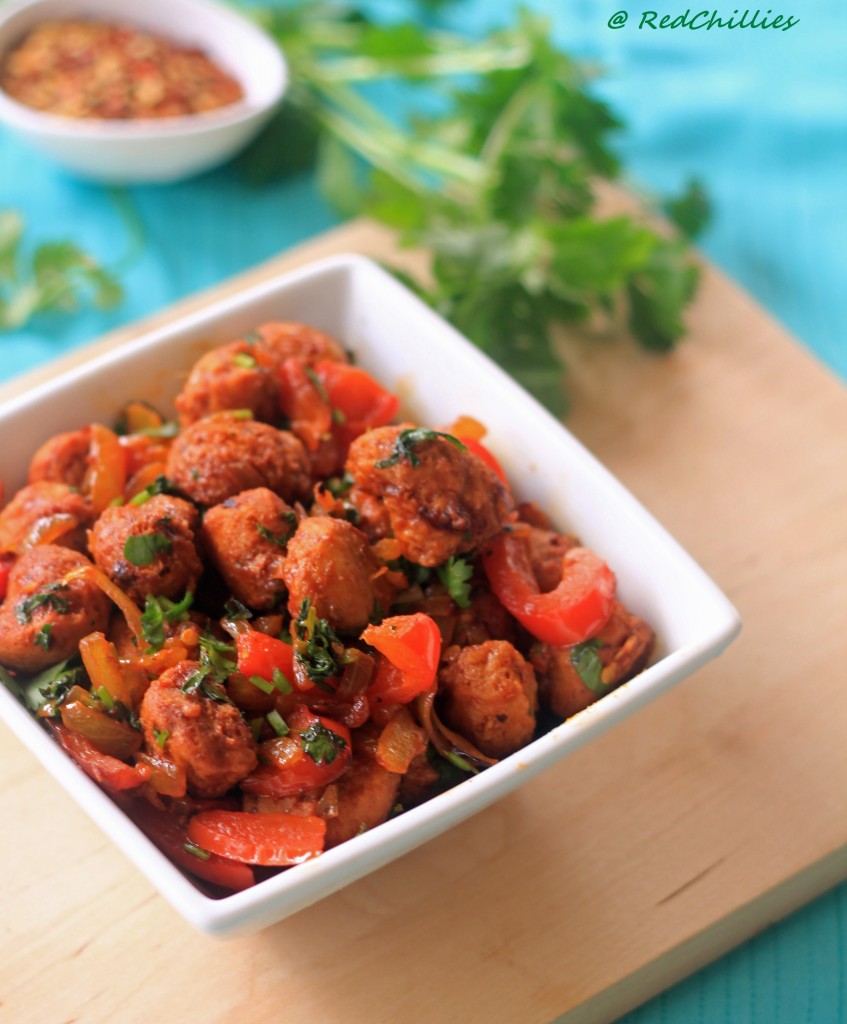 At home we have been on-again off-again fan of the Soy Chunks also called as Soy Meal Maker. Nutrela is the Indian brand that makes this soy protein which has a meaty texture and is a good option for vegetarians. They are easily available in the Indian groceries. 
Years ago after I discovered a vegetarian version of soy protein and learnt its nutritional benefits I used to put it in just about anything be it pulao, fried rice, curries etc. Now that I remember, everything except for the smell was a plus. But then eventually we got tired of it, decided to give it a break and stopped using it altogether. 
Fast forward few years and now I am looking for way to introduce various nutritional foods to the kiddo. A colleague and I were talking about recipes for kids and the topic lead to the usage of soy chunks. That is when I bought a bag of these Nutrela Soy chunks from the Indian store. 
When I saw the recipe for Chilli Soy Chunks at Soma's, I knew I had to try it. The kiddo loves Gobi Manchurian and all that was needed was to treat the boiled soy chunks as the equivalent of Gobi. Of course, I did not deep fry but made the sauce and tossed the boiled soy chunks into the gravy. The gravy that I made is a dry one as I did not add water to it.
Thanks for asking but more than the kid, the mom loved it and wiped the plate clean 🙂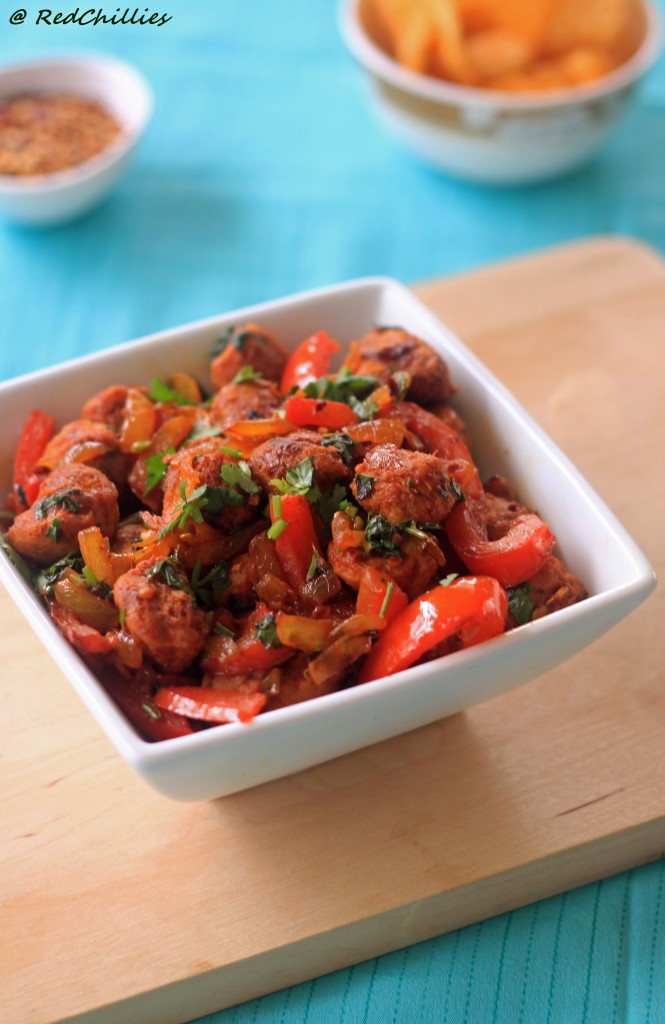 Adapted from: Chilli Soy Chunks @eCurry
Ingredients
1 cup uncooked Soy chunks
1 bell pepper/ capsicum chopped (any color)
1 medium onion (chopped lengthwise)
2 tsp ginger garlic paste
½ tsp pepper powder
1 Tbsp soy sauce
1 Tbsp vinegar
1 Tbsp ketchup
1 Tbsp chilli flakes/hot sauce
2 Tbsp Oil
1 Tbsp Chopped coriander leaves
Salt (to taste)
Method 
Boil 4 cups of water, along with 2 tsp of salt. After it is boiled add the dry soya chunks to it and keep closed and let it sit for about 15 minutes.
The chunks would have puffed up by now. Drain the water and using hands squeeze out the water from the soy chunks. Keep aside.
Heat the oil in a pan. To this, add the sliced onions and ginger-garlic mixture. Fry on medium heat, then add the chopped capsicum and fry until cooked.
Draw everything to a side and add little oil. Add soy sauce, vinegar to this and mix well.
After it is cooked, add the ketchup and mix in the onion capsicum mixture to the cooked sauces.
Add the chilli flakes, pepper powder and the cooked soy chunks and stir well.
Cover with lid and let the sauces get incorporate into the soy chunks. Garnish with the chopped coriander. 
Serve this hot as an appetizer.