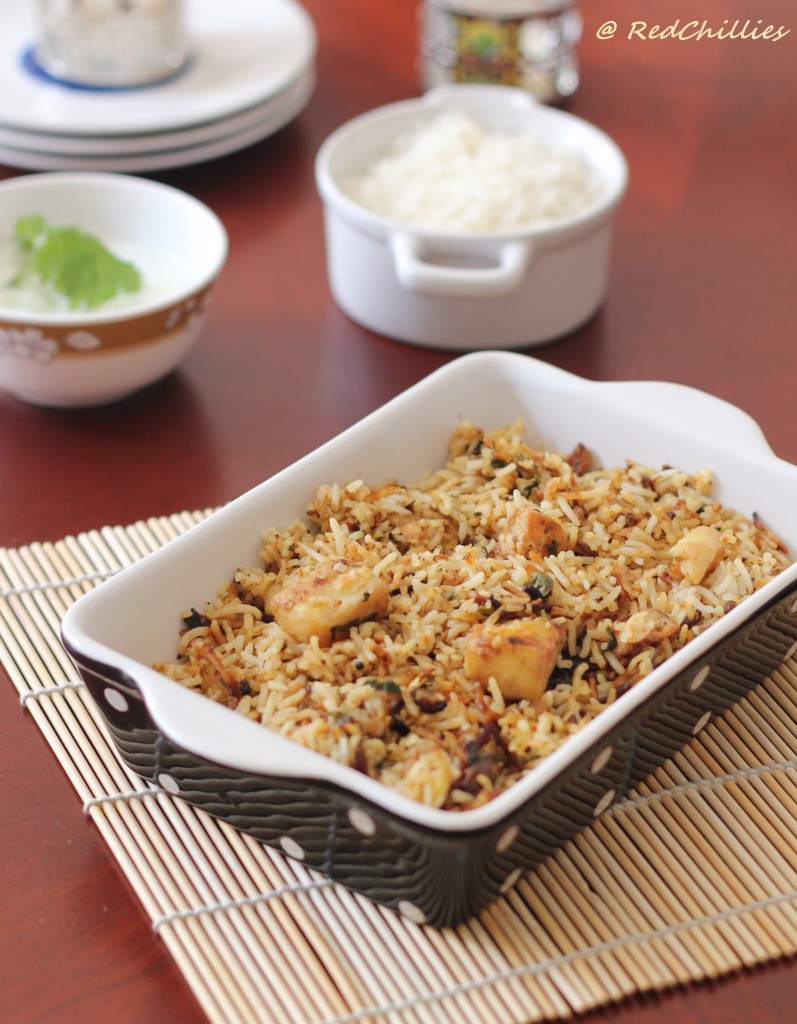 As you know, Biryani is rice based dish jazzed with meat, vegetables, dry fruits and aromatic spices which engulfs the taste buds. People who are experts in making this labor for hours in the kitchen to come up with its exotic taste.
However this is a recipe for Biryani we came up with when we craved for something delicious and aromatic, but were not willing to spend hours together in the kitchen. Being close to the weekend the pantry was empty and we were short on vegetables, so we decided to use just potatoes in this dish. You can add more vegetables like cauliflower, green beans, and carrots etc to this recipe and make it wholesome.
When served along with raita it is a satisfying meal by itself.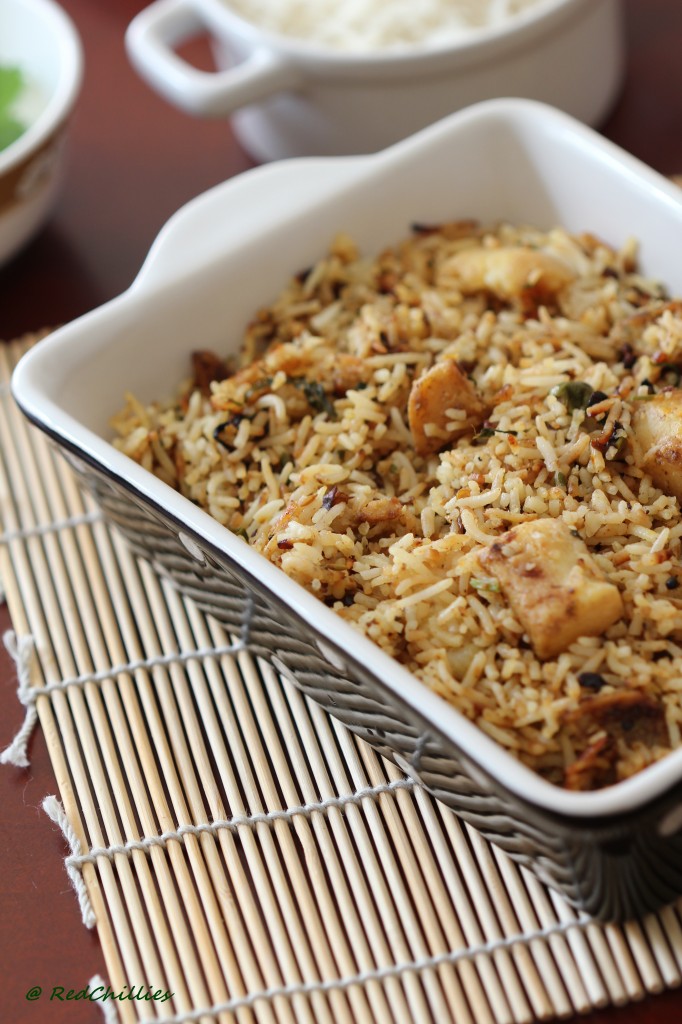 Serves: 3-4 people
Ingredients:
2cups Basmati Rice
2 medium potatoes(peeled and chopped in cubes)
1 big onion (chopped lengthwise into thin long pieces)
4-5 green chillies (slit)
2 tsp ginger + garlic paste
4 Tbsp chopped coriander leaves
10-15 mint leaves (chopped)
1 tsp garam masala
1 tsp cumin coriander powder
A pinch of saffron in 1 Tbsp warm milk
2 Tbsp Yogurt/ curd
5-10 cloves
4-5 cinnamon pieces
2-3 cardamom pods crushed
10-15 cashew pieces (optional)
2 tsp ghee (clarified butter)
Salt
Oil
Method:
Soak the basmati rice in enough water for at least an hour. Drain water after that.
Cooking Rice: Next boil about 6-7 cups of water and add the soaked rice, along with salt, oil, few 2-3 cloves, 1 cinnamon and 2 cardamom pods.
The rice cooks pretty fast in about 8-10 minutes and also it is fragrant. When it is about ¾ cooked, drain the water from the rice and set aside.
Crisping onions: Take a heavy bottom pan and heat oil and fry the onion in them, they turn brown fast. Transfer them onto a paper towel. Retain the remaining oil in the pan itself.
In the same pan in which the onions were crisped, heat the oil (that was left out from frying the onions).
Add the remaining cloves, cinnamon, cardamom pods and toss it around. Add the ginger garlic paste and cook until it is light brown.
Add the chopped potato, salt and mix until the edges are browned. Add the cumin coriander powder, garam masala powder and the slit green chillies.
Add the yogurt to this and mix well. Take half the portion of this cooked potato and keep aside. This is used to form layers.
To the potato mixture in the pan, add the mint and coriander leaves , little dry fruits, part of the crisp onions.
Add 1/2 the quantity of rice on top of this to form the second layer.
Next on top of this, add the cooked potatoes, dry fruits, slit green chillies and onions. Top it with coriander leaves, mint leaves.
Add the remaining rice in a neat layer on top of this. Sprinkle the saffron milk neatly in a circular fashion.
Add the ghee, left over onions, coriander leaves, nuts and cover this with air tight lid and cook for another 10 minutes on low heat.
Mix well. Serve hot with raita.