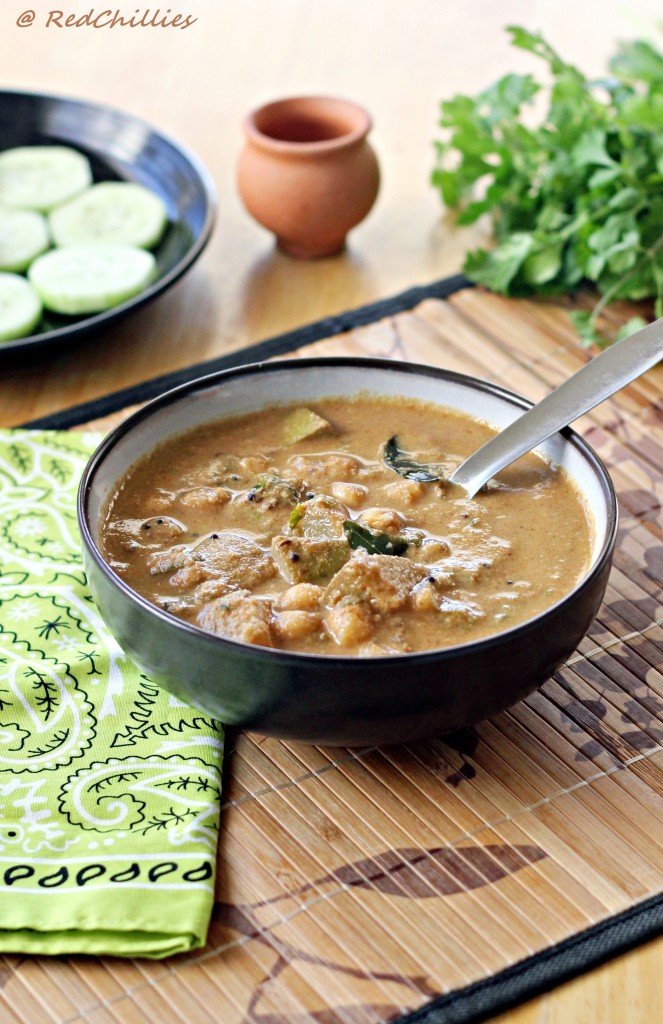 This coconut curry a Konkani dish is a delightful combination of spicy, sweet and sour. In Konkani cuisine, it is quite common to find a seasoned coconut curry with the combination of bean/legume and or vegetable. The ground coconut paste is called 'Maasolu' and depending on the type of seasoning that is done (mustard, garlic, onion), the curry is referred to as that (Ambat/koddel/ghashi).
This is similar to the classic Udid Methi recipe that I have posted earlier. However there are some changes to the masala and also the addition of Kabuli Chana/ Chickpeas. You can substitute any other type of chickpeas in this. The sourness comes from the raw mango and also tamarind.
This serves well with rice, yogurt rice or with Rotis/Chapathis.
Serves: 3-4 people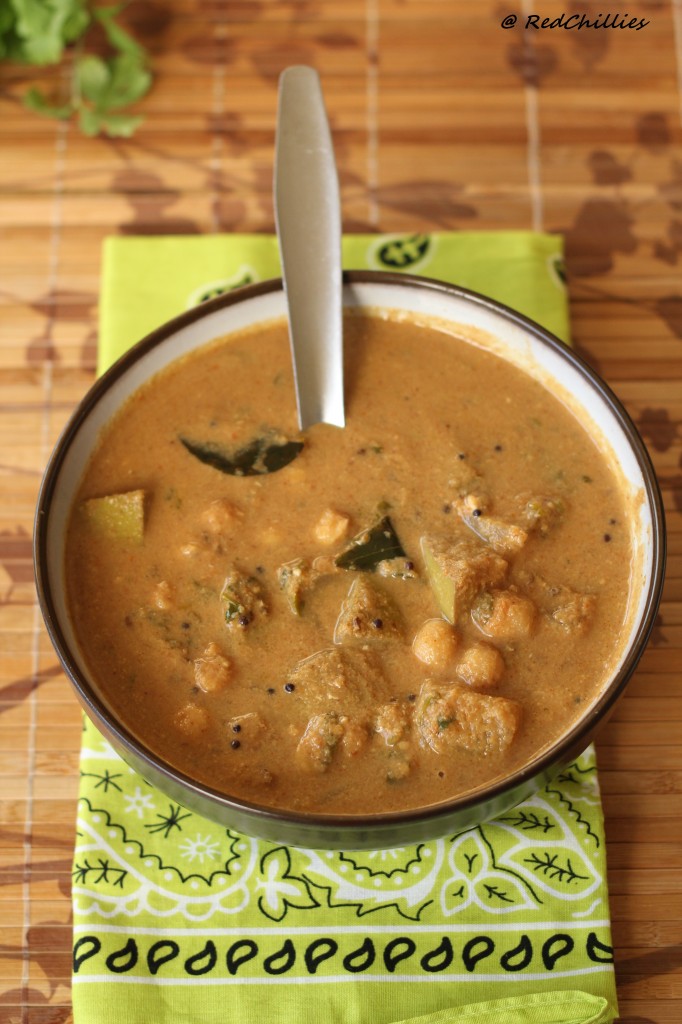 Ingredients 
1 raw mango/green mango/kairi
½ cup kabuli chana/ garbanzo beans/ any chana should be fine (soak it in enough water for 6-8 hours)
¾ cup coconut (shredded) [fresh or frozen]
2-3 red chillies ( I use byadgi variety) [roast this in 1 tsp of oil]
1 Tbsp urad daal
1/8 tsp methi/fenugreek seeds
1 Tbsp Tamarind paste
½ Tbsp jaggery
Salt
Water (as required to make fine paste)
For seasoning/tadka/tempering
1 tsp mustard seeds
4-5 curry leaves
1 Tbsp Oil (coconut or regular vegetable)
Method:
Pressure cook the soaked Kabuli chana/garbanzo in enough water. Keep aside to cool.
Meanwhile roast the red chilies in little oil till they are crispy. Keep aside.
Roast the urad daal, methi in a drop of oil until it turns light brown.
Grind the roasted chillies along with coconut, tamarind, urad dal, methi to a smooth paste. Add water as required.
Wash the raw mango thoroughly and chop into big bite size pieces. (along with skin).
Boil little water in a sauce pan and add the chopped raw mango (Along with skin).
When it is half cooked, add the coconut paste/masala, salt, jiggery, and add the boiled kabuli chana.
Simmer on medium for the next 10-15 minutes until the gravy thickens a bit and then switch off the gas.
In another small pan, heat 1 tbsp of oil and then add the mustard seeds, curry leaves and let it splutter. Add this seasoning to the boiled curry and mix well. Cover with lid.
Serve hot as a side dish with rice along with Aloo Raita and some pappads.