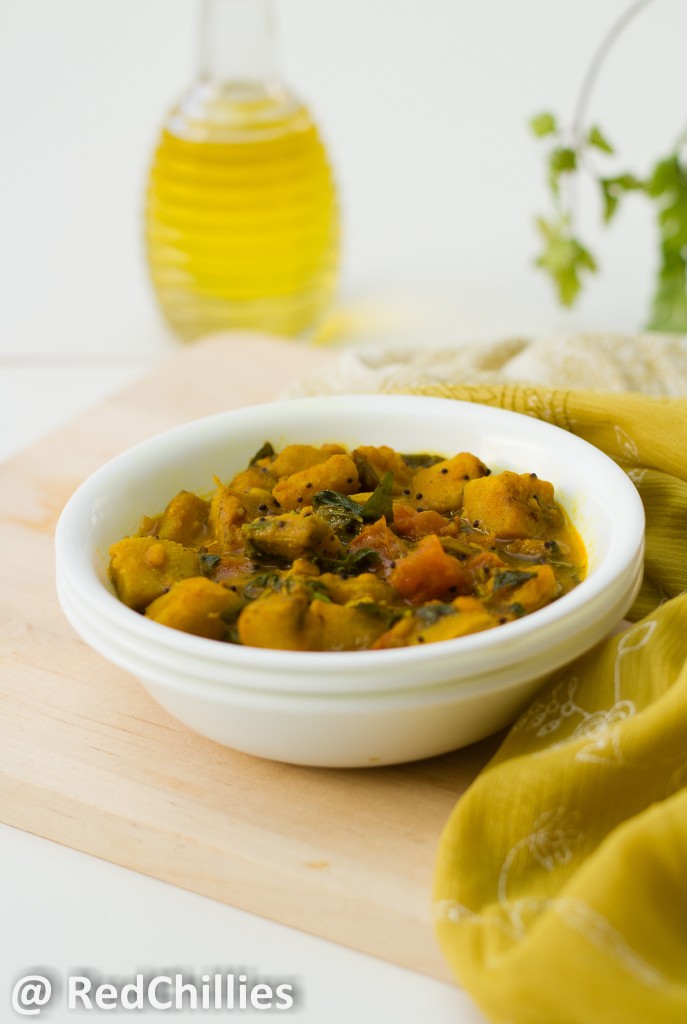 Raw banana or plantain has always been a favorite in our family. It is predominantly used in the South Indian homes for many different recipes. I try different recipes using this at home mainly being the Raw Banana Dosa and green banana fry. This curry is simple yet delectable and goes well with rotis or rice.
Ingredients:  
1 raw banana/plantain (peeled and chopped into small cubes)
1 ripe tomato (medium size chopped)
1 small onion (chopped)
1 tsp urad dal
1 tsp chilli powder
1 spring curry leaves
Turmeric a pinch
1 tsp jeera/cumin seeds
1 tsp jeera + coriander powder
Handful coriander leaves for garnishing
asafetida  a pinch
1 Tbsp oil
Salt to taste
1 tsp mustard seeds
Method:
Heat a small vessel, boil water and add the chopped plantain. Add salt and let it boil. Keep aside. Do not drain water. (Alternatively you can boil this in the microwave).
In a medium pan, heat some oil add the mustard seeds, cumin seeds, urad daal. When the daal turns light brown add curry leaves and asafetida 
Next add the chopped onion and cook until it turns light brown.
Add the turmeric powder, chilli powder, cumin coriander powder and stir.
Add the cooked plantain along with water, chopped tomatoes and mix thoroughly.
The chopped tomatoes cook fast and add a tangy taste to this dish.
Finally sprinkle in the cut coriander leaves and mix finely. Serve with Rotis, Rice.