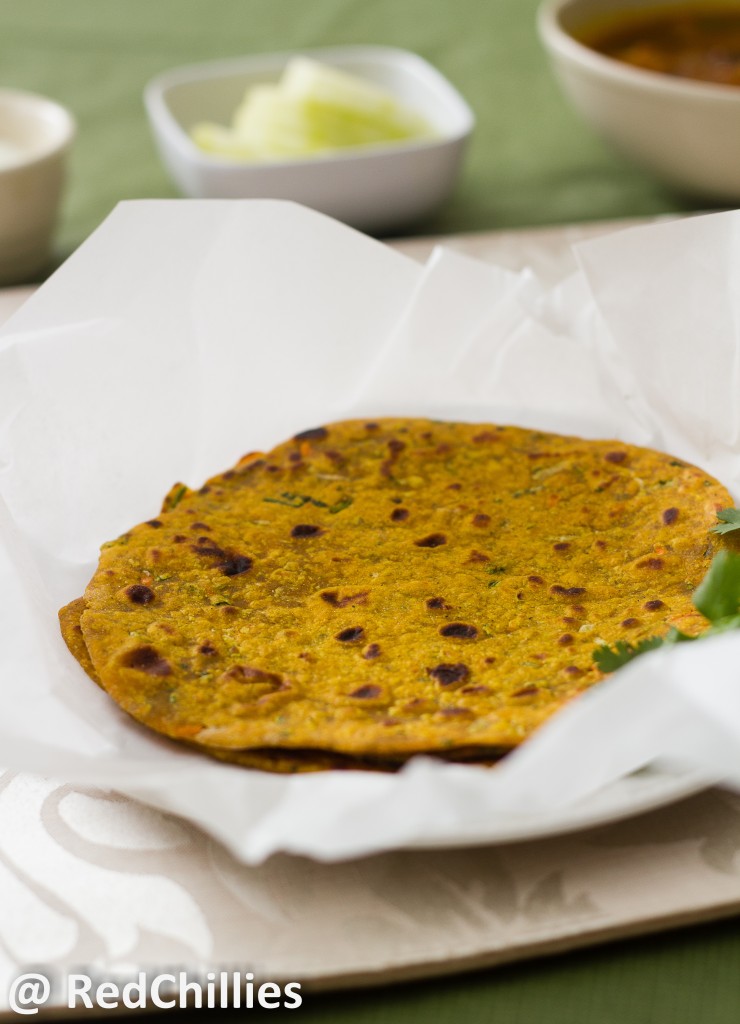 Even though I am not a Gujarati, I been exposed to some limited Gujrati dishes growing up and I have had a soft corner for it. But over the years that I have been here in the US, I have taken immense liking to the cuisine. Thanks to Gujarati friends here, who indulge us with their finger licking dishes when we meet for potlucks and picnics. 
And also there is a huge selection readymade, top quality Gujju food in the Indian groceries. This makes it a breeze to try out and get familiar with new type of dishes. The khandvis, dhoklas, theplas, muthiyas, undhiyu, handvo are to die for. 
Theplas are the traditional breads of Gujarat and can be served for breakfast, lunch/dinner or as a snack. I have read different versions of Mooli Thepla on the web. Some of them cook the grated radish/ mooli first and then add it to the wheat flour to make the dough while others do not cook the radish. I have followed the later version and adapted this from the recipe by Tarla Dalal. 
Based on my experience Theplas tastes good when you use plenty of mooli and less of turmeric. Since this uses yogurt and water while making the dough, the theplas remain soft for a long time. So this is a very good item to pack for lunches for both kids and adults alike.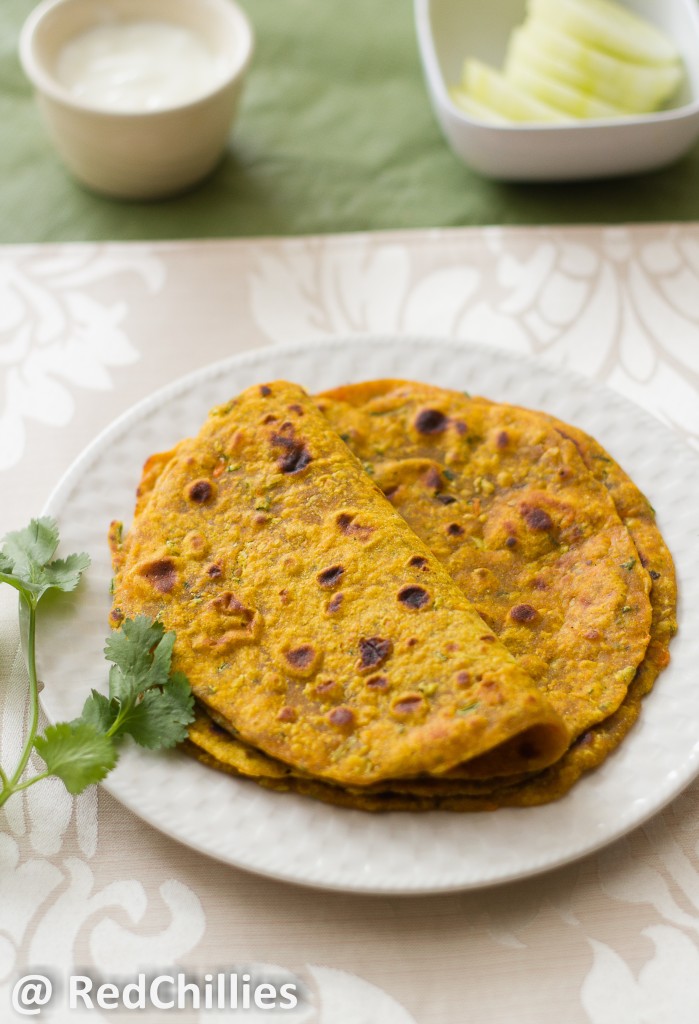 Ingredients 
2 cups whole wheat flour ( atta)
1 cup grated white radish/mooli
1/2 cup yogurt/curds
1/2 tsp turmeric powder
1 1/2 tsp red chilli powder
½ tsp ajwain seeds
½ tsp cumin +coriander powder
1/4 cup coriander leaves chopped (any other greens is fine too)
2 Tbsp oil
salt to taste
Method
Making the dough: Take a big plate and first add the wheat flour. Add the turmeric powder, chilli powder, ajwain seeds, coriander powder, salt and the oil and mix well.
Next add the grated radish, coriander leaves and mix well. Add yogurt in spoonful and knead to make thick dough.
Keep aside covered in a damp muslin cloth for about 30 minutes.
Making Theplas:
 Heat a flat pan/tava on medium to high flame.
 Take golf sized balls out of the dough and shape them into balls.
 Roll them into thin rounds with a rolling pin dusting little flour in between, to prevent it from sticking.
  Place this on the heated pan and after about 30 secs, the circle/paratha begins to cook on the bottom and begins to puff at different places. Spread around little oil.
 Turn it over and let the other side cook. Spread around little oil and cook. Keep a close eye on the pan, else the thepla will brown and harden.
 Take out from the pan and place them in box and cover it with a lid. 
 Follow the steps for the remaining dough and make the theplas.
 Serve with any subji, pickle of choice and or with some spiced yogurt/ Dahi.