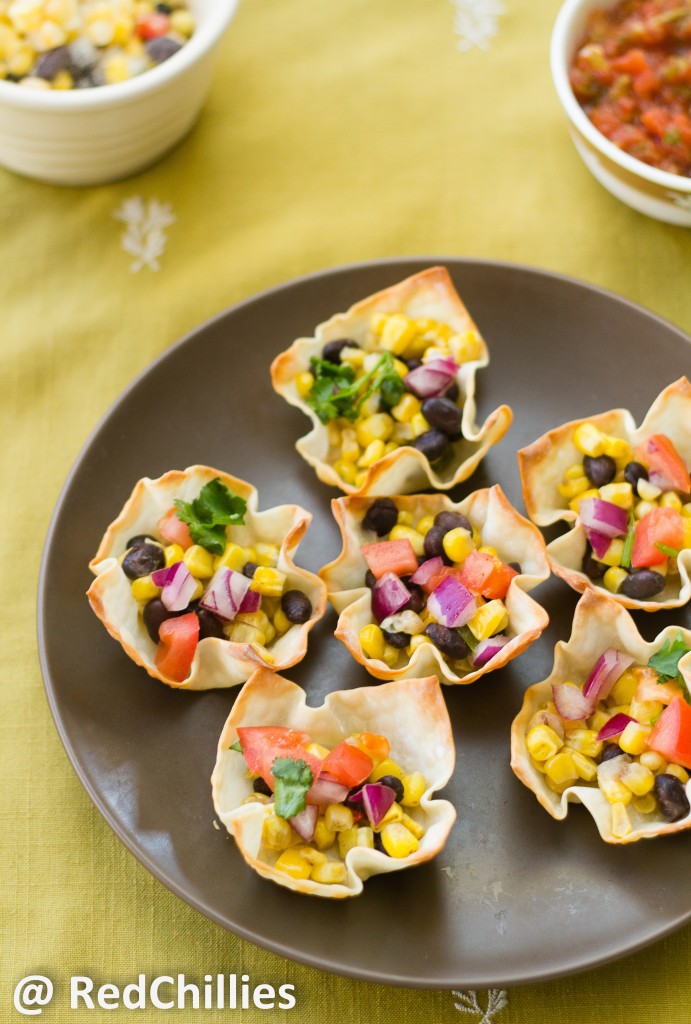 Wonton wrappers are not just for dumplings but they can be used for so much more. These easy to bake, low-fat wonton cups make a cute base for numerous appetizers. I love this finger food as there is no need for plate, fork or spoon. The filling that goes inside is the one that defines the dish. 
You are limited by your imagination when it comes to filling. You could use fruit pudding, spinach cheese, tomato cheese olives, coleslaw, plain salsa, mango salsa, salad or just fruits etc. However for this dish I chose the basic filling of black beans, corn and salsa. 
If you prefer the Indian way then you could use these cups as substitute for the puri (that is used in chaat) and make low-fat pani puris/ Golgappas (similar to the one that I have posted here). You can add dry potato sabji and make a savory appetizer. You can add coconut jaggery filling and turn this into a neat dessert.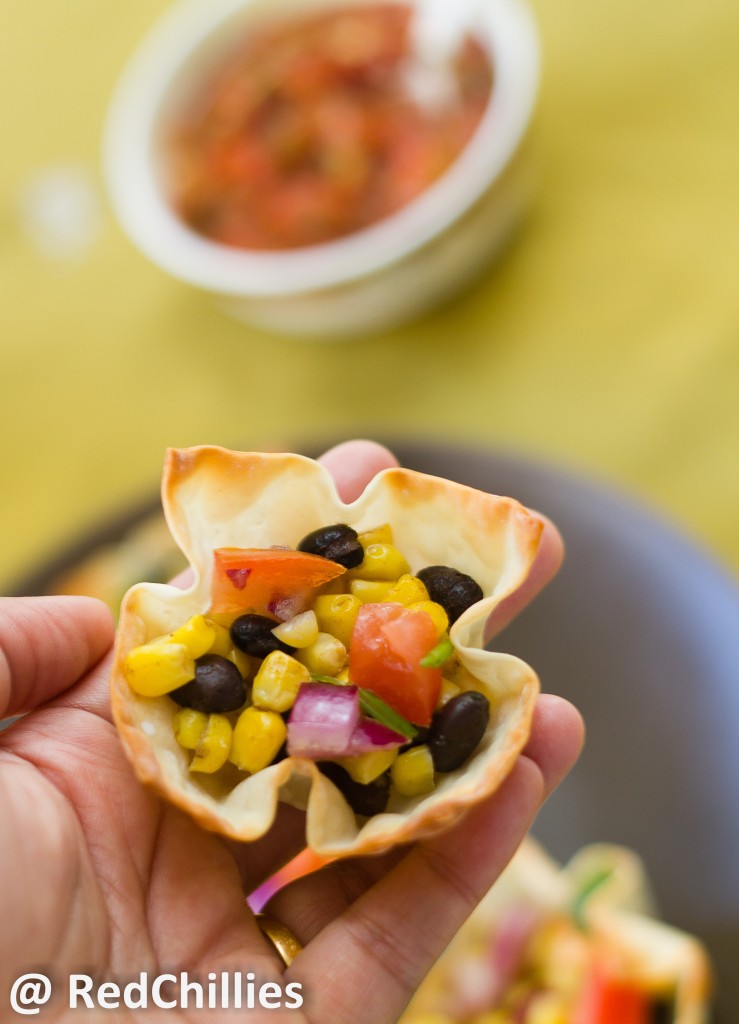 Ingredients: 
15-20 wonton wrappers ( I used this)
2/3 cup chunky salsa
1-2 jalapenos (diced)
1 small cup whole kernel corn
1 small cup black beans ( drained, rinsed)
1/4 cup sour cream (optional)
1 medium tomato (diced)
1 small onion (chopped)
Handful of chopped cilantro
1-2 Tbsp Oil for brushing/ cooking oil spray 
Method: 
Preparing the wonton cups:  
Pre-heat oven to 350ºF. Keep the wonton wrappers ready. Grease a muffin pan and in each grove gently fit one wrapper, lightly pressing so that it confirms to the shape.
Using the cooking spray, spray some oil on the inside. Continue this process with the rest of the wrappers. (If you do not have cooking spray use oil to brush the insides).
 Bake 8 to 10 minutes or until light golden brown. Remove from pan and cool on wire rack. 
Preparing the filling and stuffing: 
In a bowl, mix together the beans, tomato, onion, corn, salsa, jalapenos, corn and cilantro.
Just before serving, spoon the bean mixture into each of the wonton cups.
Top each with 1/2 teaspoon sour cream. Serve immediately.