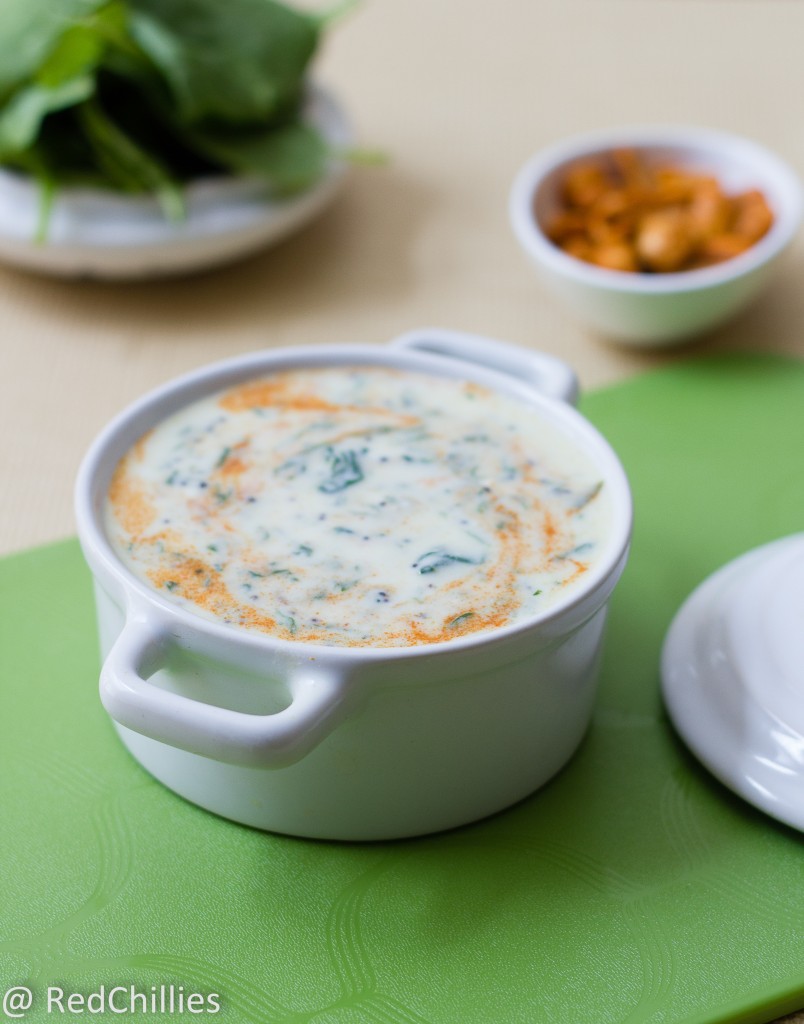 Raita a yogurt based Inidan condiment is a favorite in our family and so I make it often. With variations like cucumber raita, okra, potato raita , boondi raita etc the possibilities are endless. It is served as side dish along with vegetable rice, pulao, biryani or with rotis/parathas.
This spinach raita is an easy, healthy and a good way to eat your greens. It is a good way to sneak in veggies and feed it to the picky eaters. You can make variations by adding chopped cilantro, pepper powder, grated carrots etc
Ingredients:
1 cup fresh yogurt – (plain) ( I used fat free yogurt)
¼ cup chopped onion
¼ tsp red chili powder (optional)
Salt to taste
Seasoning:
2 cups of packed spinach (cleaned and chopped)
1″ piece of ginger grated
1 green chilli chopped
1/2 tsp cumin seeds
½ tsp mustard seeds
1 Tbsp oil
Preparation:
Note: Make sure the plain yogurt (curds) is not sour.
Heat oil in a pan on medium heat. Add the mustard seeds and the cumin seeds.
 Add the chopped spinach, ginger, salt and green chilli to it and stir until the spinach is cooked. Remove from heat and set aside to cool.
Take a bowl and whisk the yogurt, add milk or water to thin it. Add the cooked spinach mixture to this and mix well.
Add the chopped onion and sprinkle some chilli powder.
Keep the raita in the fridge if serving at a later time. If left outside it can get sour.