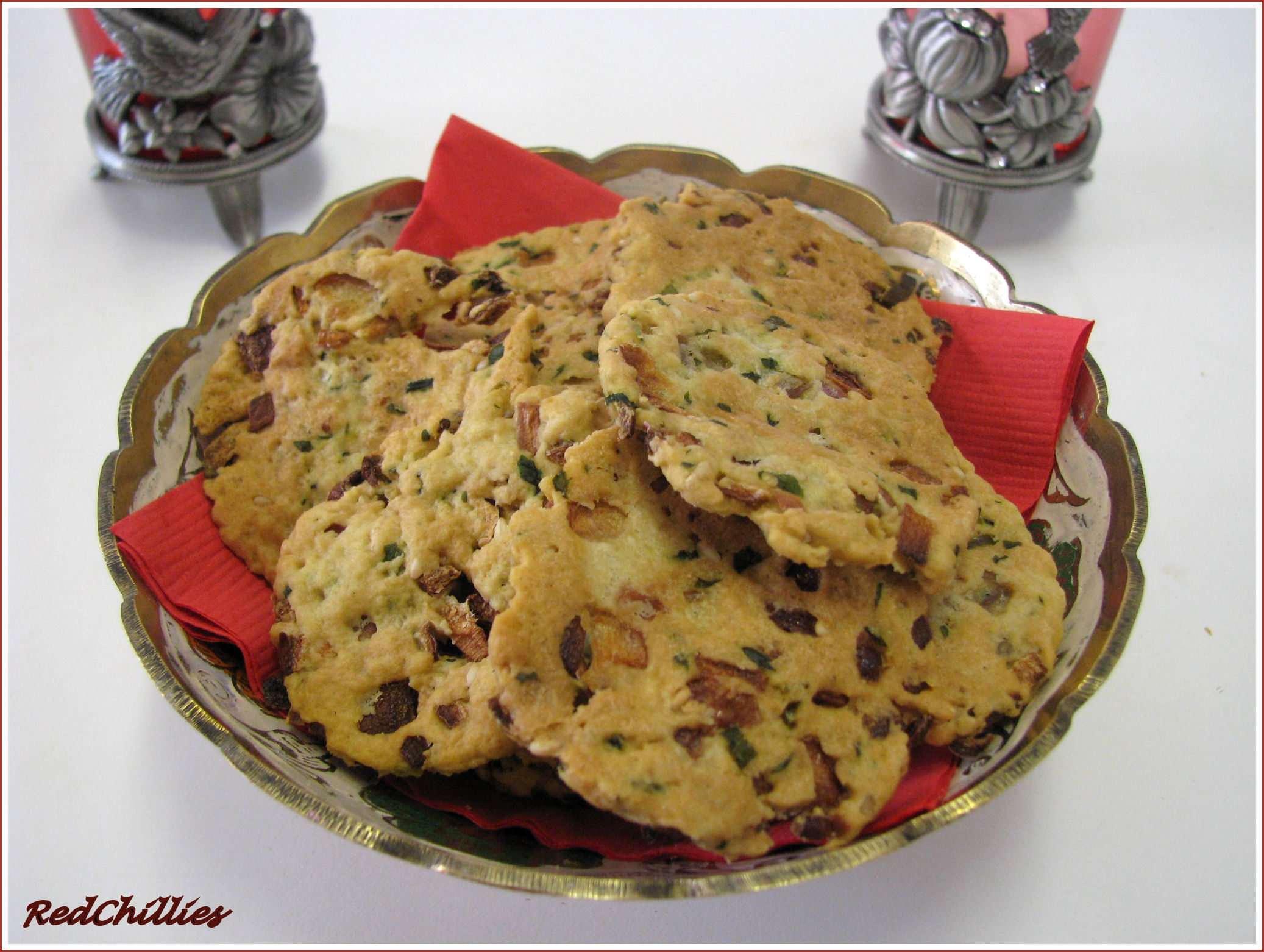 Baked Nippattu, as they are referred to, are common in Bangalore bakeries. They are basically savory cookies, flat and circular in shape with dominant flavoring of baked onion and green chillies. They are salty as well as spicy at the same time and the taste is just divine. Not all the bakeries make the best, but some bakeries specialize in them and worth every bit of it. My father brings it from Srinivasa Bakery in Gandhi Baazar and we love their taste.
Now I am not sure why they are referred to as Baked Nippattu. For all those unfamiliar with Nippatu, these are famous deep fried snack of Karnataka made of rice flour, peanuts etc. But the actual Nippattu does not have onion or All purpose Flour (Maida) like the baked ones have. In my opinion they are a distant cousin of our very own Maddur Vada. Anyway, that is something for the experts to think about.
If you sense some kind of enthusiasm and excitement here, then it's rightly so. Based on experience in tasting it, let me fore warn that these cookies are very addictive. You start off with one, then 2, then 3, you decide to stop but then somehow you loose track and end up eating a fair share. Here is another bad scenario in our case;
It has been around 3 weeks since we got back from India and we must have already wiped off 3 packets of those baked goodies. It is all wrong timing, we come back from work famished and so we raid the pantry, the first thing that attracts us is this and before we know it they are gone. So if you are famished then do not even peek at it, totally not recommended!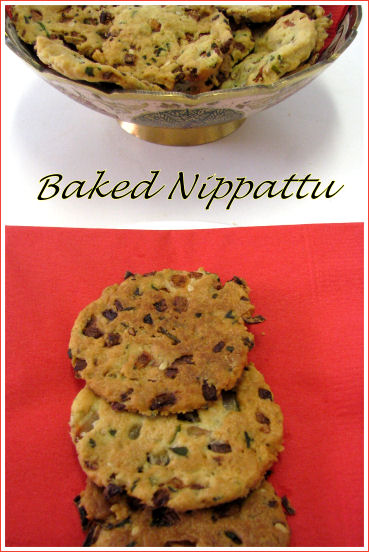 This weekend I was browsing the net and chanced upon finding the recipe for this here at the Cooks Collection. I was very excited when I saw the recipe and read through the ingredients. Having scrutinized the baked Nippattu so many times, all of us in our family had kind of guessed the ingredients in it. One look at the recipe and I had the gut feeling that Ramya (author) had nailed the recipe. I tried this during the weekend and boy was I so pleased. Thanks Ramya for sharing this, I know I will be making this all the time.
I have pretty much followed the recipe mentioned there, I have used all measurements in cups and made some minor changes of my own.
Ingredients
· 2 cups of maida (All purpose flour)
· 1/4 cup water (warm)
· 4 tsp sesame seeds
· 1/3 cup oil
· 4 Tbsp butter (melted)
· 1 big onion(finely chopped)
· 1 tsp baking soda
· 3 green chillies (finely chopped)
· Handful of chopped coriander leaves
· 2 tsp Sugar
· 1 tsp Salt
Update on 3/14/2009: I baked 2 batches of these today and had to mention a note of caution. One batch baked a little longer and that caused the onions to burn a bit and taste bitter. So it is best to take these crackers out of the oven when the crackers are light brown in color.
Update on 09/14/2009
After trying this out few times myself and reading some of the comments, here are few suggestions to keep in mind:
1) While making the dough, as less water as possible. Knead extremely well and keep the dough completely covered in a damp cloth.
2) Roll the discs out as thin as possible, the thinner the better. Use a Rolling pin if necessary. If the discs are thick, they tend to get soft and not crispy.
3) I cannot stress this enough. Do not forget to prick on the circular discs with fork before keeping in the oven.
4) Do not over bake, so keep a close watch toward the end.
5) After they are baked, store in air tight container.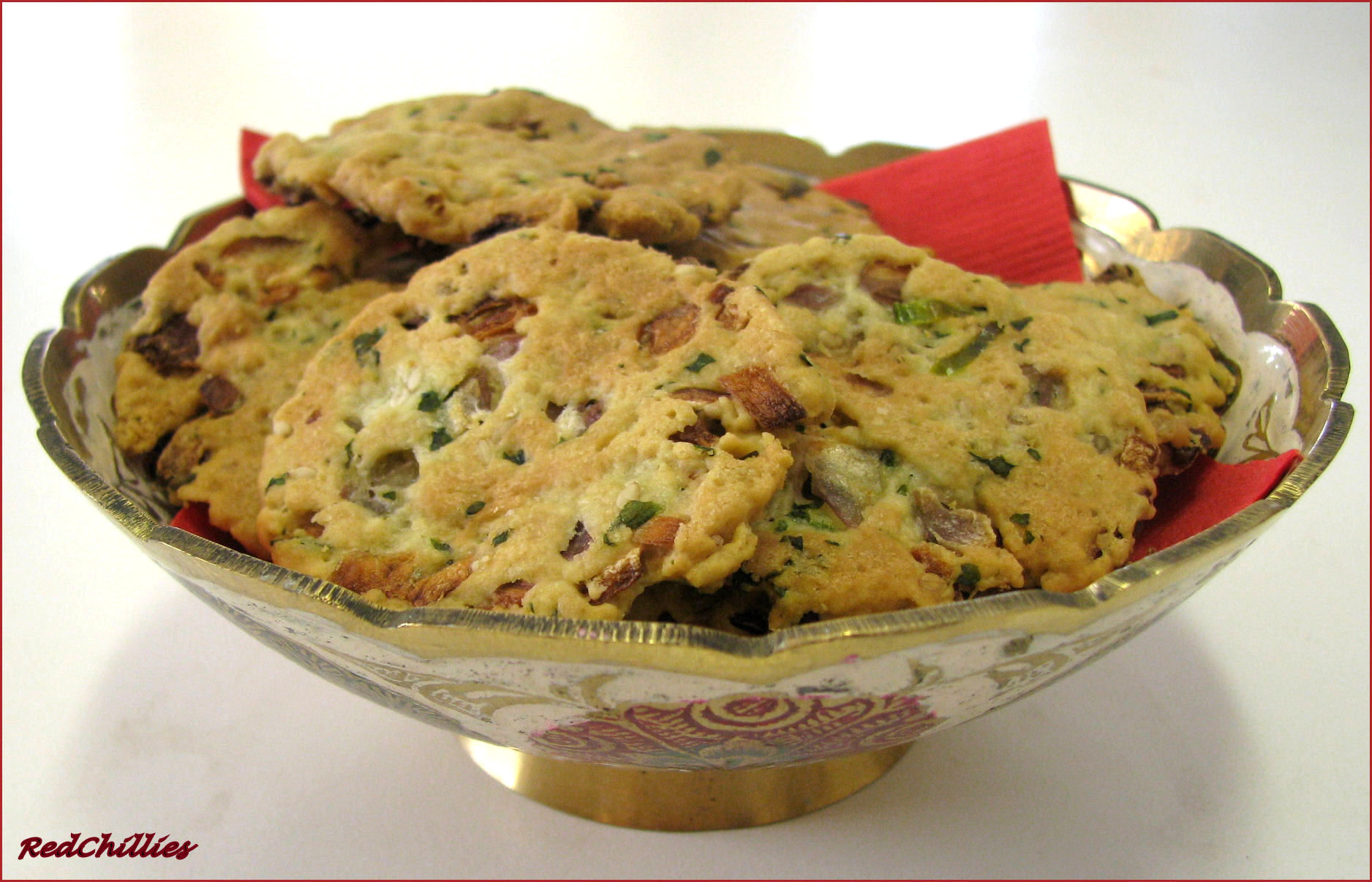 Method
Take a big plate and put in maida, sesame seeds, onions, salt, sugar, soda, chopped coriander leaves, green chillies and mix well. Add the oil and spread it to the mix. Do the same thing with melted butter also, big and uneven lumps will form but that is ok.

Now add the warm water and make thick dough. At this point if you feel there is too much onion, do not worry, the more the better taste. Knead well for about 2-3 minutes and cover this with a damp cloth. Keep it aside for 30 minutes.

Pre-heat the oven to 325 F.

Now from the dough that is already prepared, we need to roll out flat discs. Rolling out like Chapathi/roti did not work out for me as it sticks to the rolling pin.
So instead take small ball of dough and place it in between 2 greased plastic sheets. Apply pressure and make it into flat disc. Remove the top cover and with the tip of your hands flatten the rolled dough and make it as flat and even as possible.

Take a round cookie cutter or any small round lid and cut out small rounds. Repeat this process for the remaining dough as well.

Place the round cut outs on a greased cookie sheet. Make sure to poke holes on all of them with a fork, this way the cracker will not puff and also the air will go out while baking.

Bake for about 25 to 30 minutes until they are brown.