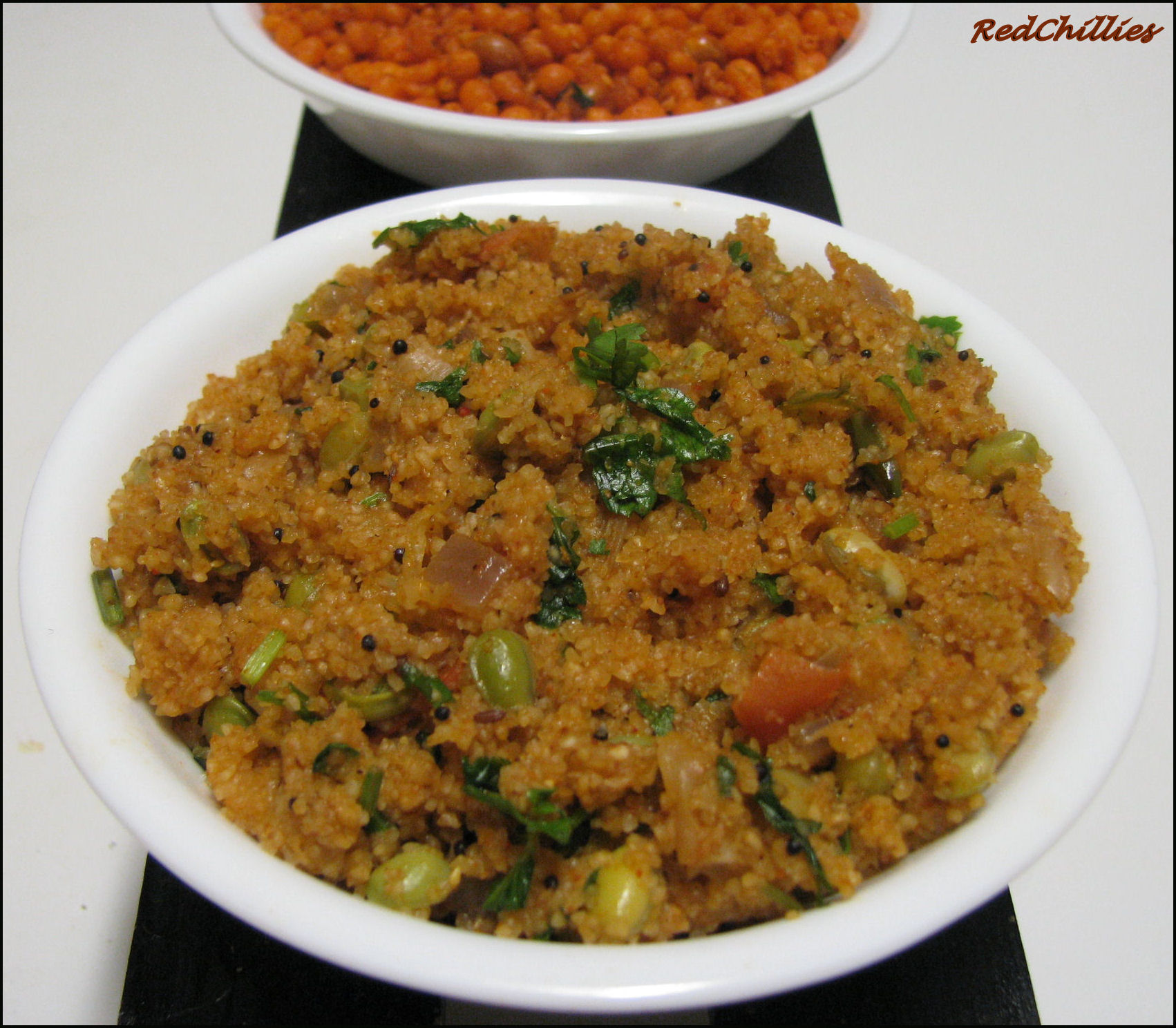 OK, OK I know I have already posted 2 other recipes for Uppittu/Upma here and here. But bear with me, the taste is different from the earlier ones, aromatic and flavorful. This is different because the recipe uses Rasam powder and aromatic garam masala to enhance the flavor of this Upma.
Yet again, I learnt this variation of Upma of adding the masala while I was in India. All the 3 of us, my mother, MIL and me were chatting away to glory in the kitchen while making Upma for breakfast. Half way through my mother reached for garam masala and rasam powder to add to the uppittu, I almost yelped out and proceeded to stop her, thinking that she was accidentally adding the powders to the wrong vessel. But she explained that it was deliberate and proceeded to finish the dish. I was very curious about the taste, but then when I tasted it; it was very delicious and fragrant. Rasam powder adds a very unique taste to the Uppit.
This is a nutritious meal in itself as it is the combination of Sooji(wheat product) and vegetables. This is eaten as breakfast in many parts of India especially the southern side..
We use the coarse roasted rawa (sooji) while making the upma as it is able to withhold the high water temperature and does not form lumps easily. Also do not skip the ghee (clarified butter) in the recipe. It blends very well with the other spices and imparts a strong aroma of its own. We had it with Boondi on the side.
Ingredients
1.5 cup Rava/sooji (roasted coarse variety)

3/4 cup chopped onion

1 medium ripe tomato

3/4 cup avarekai (surthi papdi lilva) cooked

Curry leaves

5-6 green chillies

2 tsp Turmeric

1 Tbsp ghee

1/2 tsp garam masala

2 tsp rasam powder ( I used MTR brand)

8-10 cloves

Jeera, mustard, salt, oil

Coriander leaves for garnishing

Juice of a lemon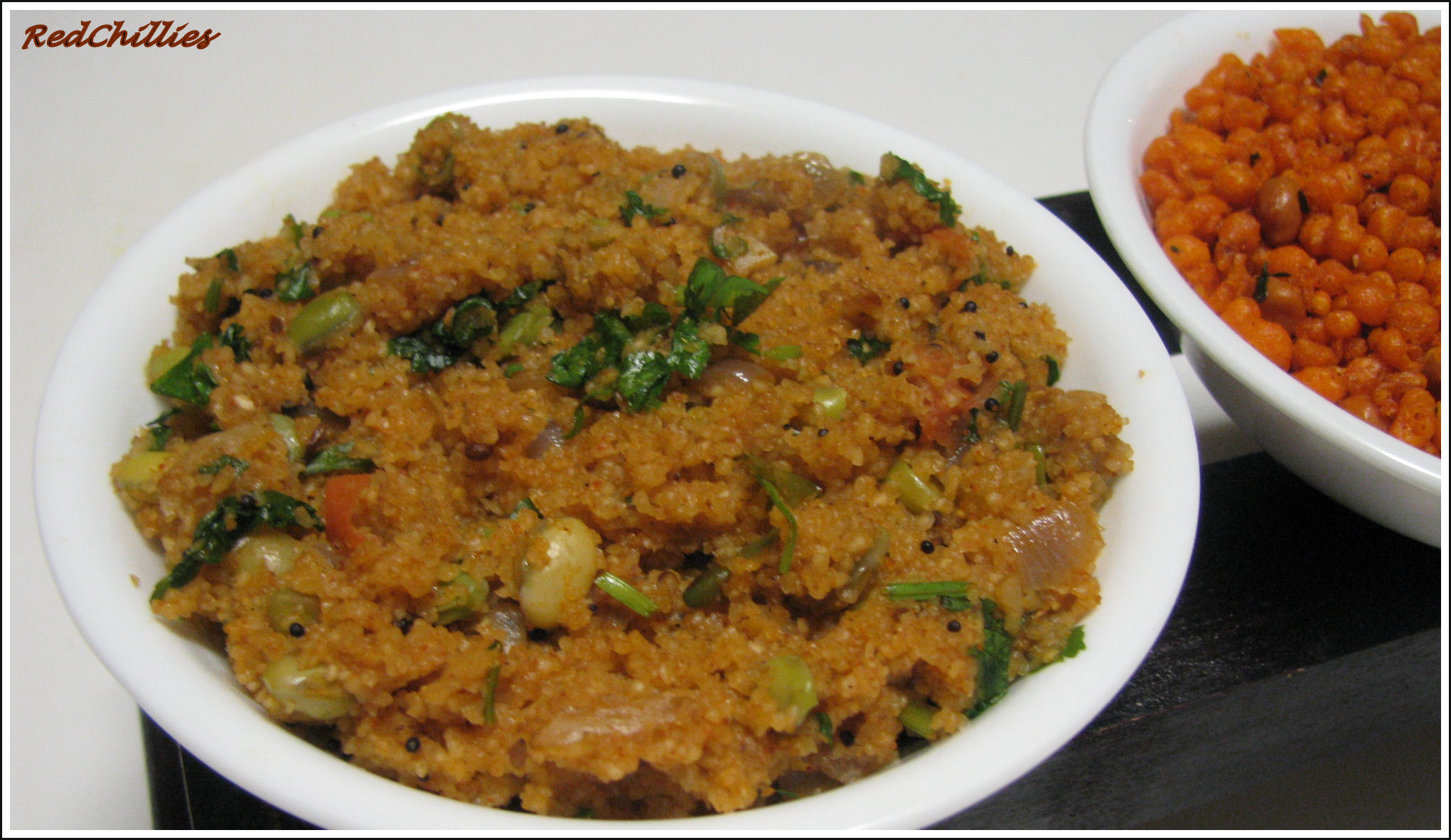 Preparation:
·         Roast the rava with little oil, until it turns light brown and the aroma of toasted rava fills up the room, but take care not to blacken it. Keep aside to cool.
 ·         Meanwhile partially boil the vegetables in water separately. (Make sure it is not completely cooked).
·         If using the frozen papdi liva, then thaw it and boil it in water until cooked. If using the fresh variety then cook it separately.
Method:
·         Heat a heavy bottomed pan, and then add oil, jeera, mustard, curry leaves.
·         Add the cloves and mix until the aroma of cloves fills in. 
·         Next add the diced onions, slit green chillies and sauté until they turn a little translucent. 
·         Add the chopped cooked vegetables, salt and continue to sauté for a while.
·         Add the diced tomatoes, add little oil if necessary and cook until tender.
·         Add the rasam powder, garam masala with little more oil and mix well.
·         Now add 2 1/4 cups of hot water into this, mix well and let it come to a boil.
·         Add the roasted rava, mix thoroughly making sure no lumps are formed.
·         Sprinkle more water if necessary and keep this covered on low flame.
·         Garnish with coriander leaves and put in the juice of lemon. Just before serving add the table spoon of ghee, mix and cover with lid for about 30 seconds. Serve Hot.