The weather here in our neck of the woods has taken a total U-turn. It is raining here everyday for the past 20 days or so. With over cast skies and gloomy weather the surrounding makes it so "un-spring" like.
During the week days when I am out at work, it hardly makes a difference as I am stuck in the cube with bright lighting, controlled temperatures and no glimpse of the outside world. Rain or shine with in the office hours, I pretty much look at the same 'landscape'.
It is however different if it rains during the weekends. We are pretty much confined to our homes and we find it difficult to get even the basic things like grocery to be done.
This past Saturday it rained pretty much the whole day with never seen before thunder and lightning. Call me weird but I am not person that prefers crunchy pakodas with hot tea type of person when it rains.  I find it next to impossible to drag myself into the kitchen and whip some bhajjis or pakodas on a dark cloudy day like that. I would rather prefer to sprawl on a couch and watch some old sappy romantic movie, maybe even shed a tear or twoJ. Remember the movie "One Fine Day"?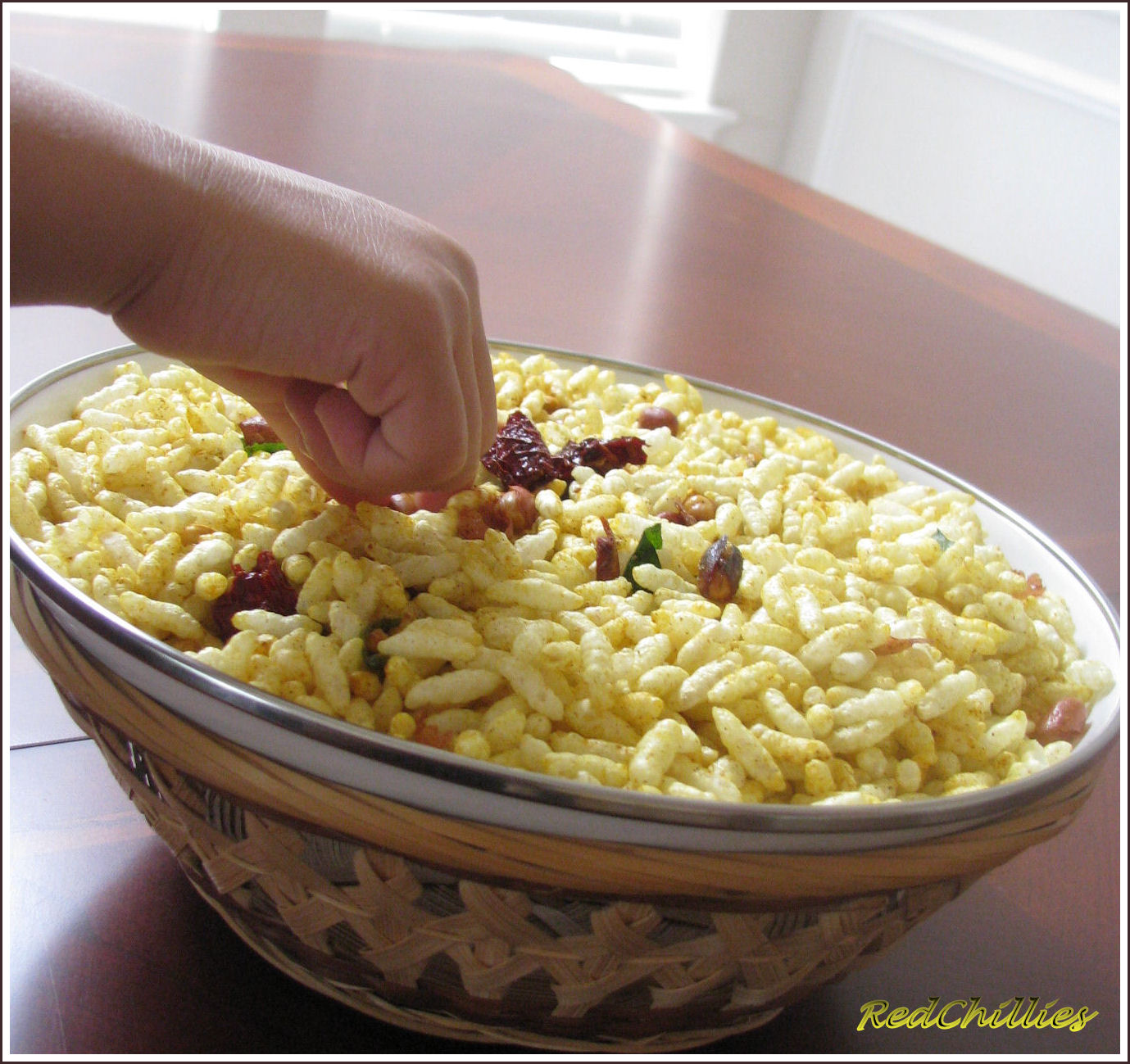 Dear Husband (DH) on the other hand loves pakodas with hot tea during rains. For him it brings back fond memories of the place he grew up in. To keep up with the tradition, he 'volunteered' to make this Spicy Puffed Rice. At least this is a much better option to the deep fried bhajjis or pakodas. You don't feel guilty after the rains are gone. There is some crunch even to this isn't it?
In many parts of India this is sold in small paper cones by local street vendors. This is an easy, guilt free snack to prepare, good enough to satisfy those mid-afternoon cravings. This is can done in little as 10 minutes.
This is my contribution to the "15 minute Cooking event" hosted by Mahimaa at Indian Vegetarian Kitchen.
Ingredients:
3 cups

puffed rice

(available at Indian stores)

A handful of

dalia split (

Kadle pappu

/hurigadle/chutney daal)

1/2 cup peanuts

3-4 garlic pods (crushed into small pieces) (optional replace with Asafetida)

2-3 dry red chillies

Red chilli powder

Turmeric powder

1 Tbsp Oil

 

salt

Curry leaves

Mustard seeds

Jeera (cumin seeds)
Method:
Note

: If the puffed rice is not crunchy enough, then in a flat pan lightly toast it over medium to low flame for a minute or so. Keep aside.

Take a heavy bottom pan, add oil on medium heat. Add the mustard and allow to splutter. Next add curry leaves, jeera and dry red chillies.

Add the peanuts and stir until it becomes crispy, next add the chopped garlic and mix until it turns light brown. (If not using garlic then use asafetida)

Add pinch of turmeric powder, salt, red chilli powder and mix well.

This mixture forms the base, then add the puffed rice and mix well so that the base coats evenly onto the puffed rice. Let it cool. Store in air tight container.

Enjoy with warm cup of tea or coffee.

J