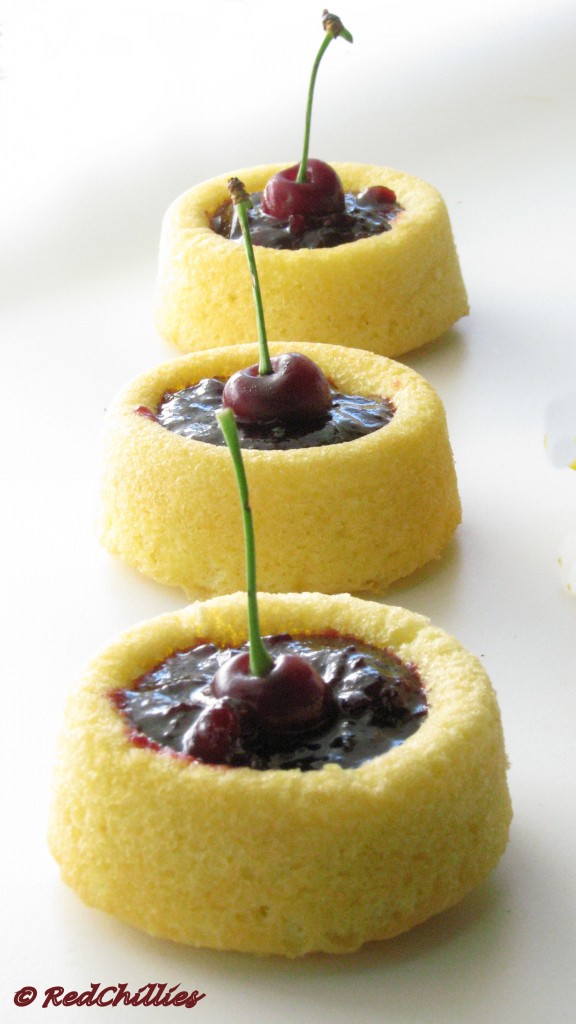 Weekend afternoons is usually the time, when I find some time to do experimenting both with food as well as taking pictures. The little one is asleep and so gives me the "me-time" to do things without interruption. Of course, I take a short nap too, my small luxury and that helps me re-charge and try out things at a leisurely pace.
Late afternoon and early evening is also a time, when I start craving for something sweet along with a warm cup of tea. I enjoy having muffins, cookies, tea cakes rather than salty stuff along with tea.
So last week I was inspired by this idea of Cherry Short cake at Varsha's blog here. I decided to give it a try with some work around and shortcut. Luckily I had some fresh Cherries and Strawberries that day and so decided to use them to make the Preserves.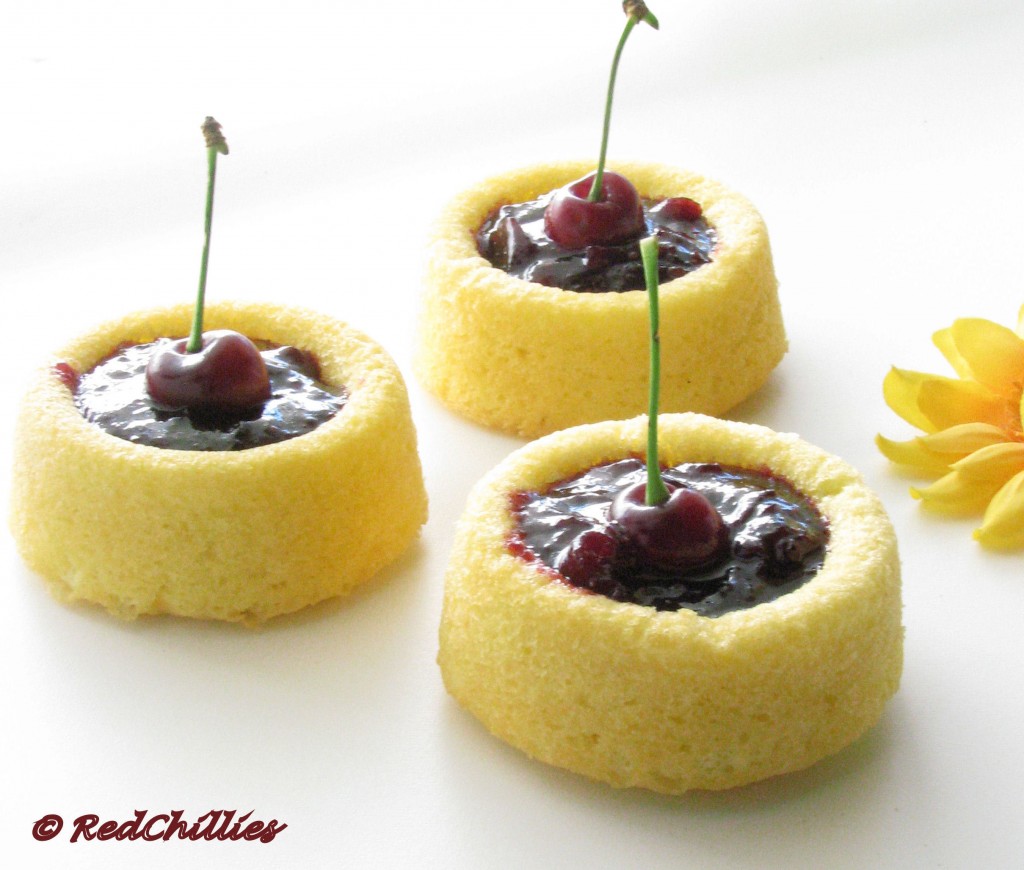 I was also feeling lazy to bake a cake and instead decided to use the store bought Sponge Cake Dessert Shells for this. Add the freshly prepared preserve into the Dessert Shell groove/well and voila there you have it, my version of Strawberry Cherry Short Cake, easy, light tasting, delicious and almost fat free.  
This is not a traditional Short Cake per se, as the primary qualification is to have the cake topped with whipped cream and fresh fruit. OK, I admit I do not like whipped cream and so I do not keep stock of it. But by all means add some whipped cream to this and indulge J
I opted to make Preserves as it has small chunks of fruit in it and has some liquid consistency to it as compared to a jam or jelly and in my opinion pairs well with the light tasting, not too sweet Dessert shells. This is a great idea to serve at parties and the kids will love this too.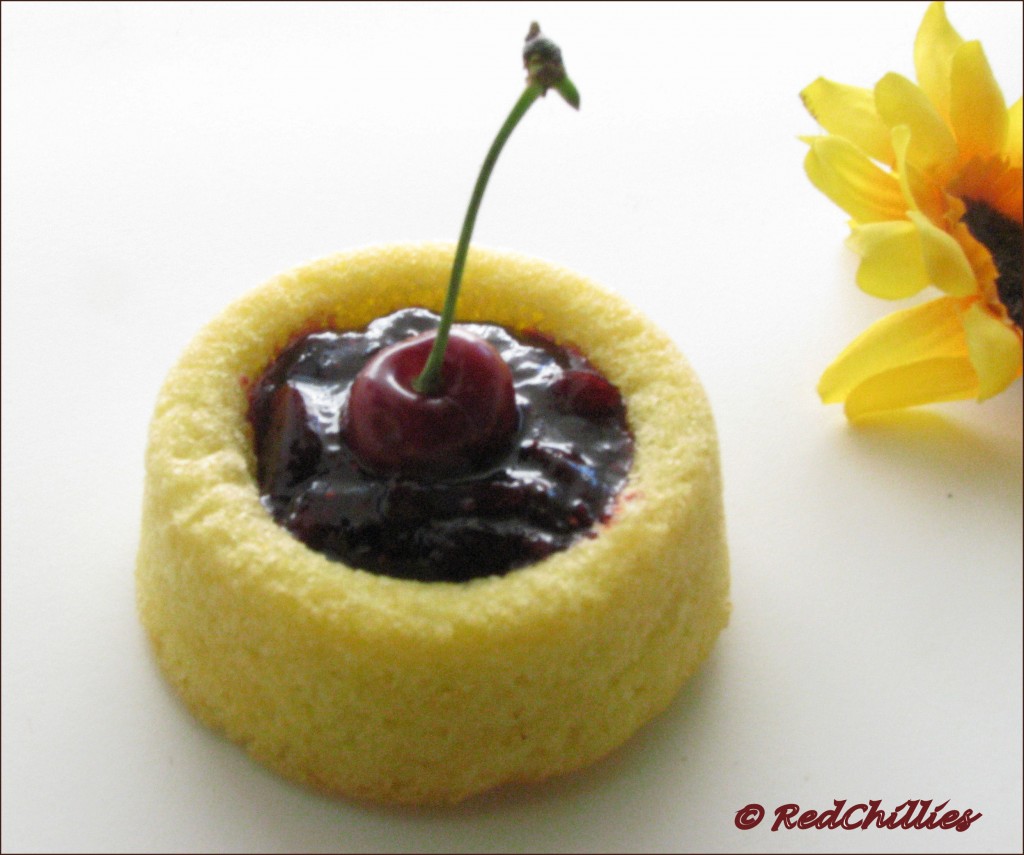 Oh, by the way for all you curious minds out there, know the difference between jam, jelly and preserve?
The U.S. Food and Drug Administration defines these terms, and the definitions can be lengthy. However, as a general rule: Jelly is made from fruit juice; Jam is made from pureed fruit; Preserves are made from whole fruit. (Source)
Note: If you are not able to find the Dessert Shells, do not worry and enjoy this Preserve over warm toast or even a bagel.
This is my contribution to the event 'The Strawberry Feast' at 'My Kitchen Treasures' hosted by Happy Cook

Ingredients: (for the Preserves)
·         2 cups of  strawberries+ 2 cups of cherries, washed hulled, pitted
·         2 Tbsp lemon juice / vinegar
·         1 1/2 cups sugar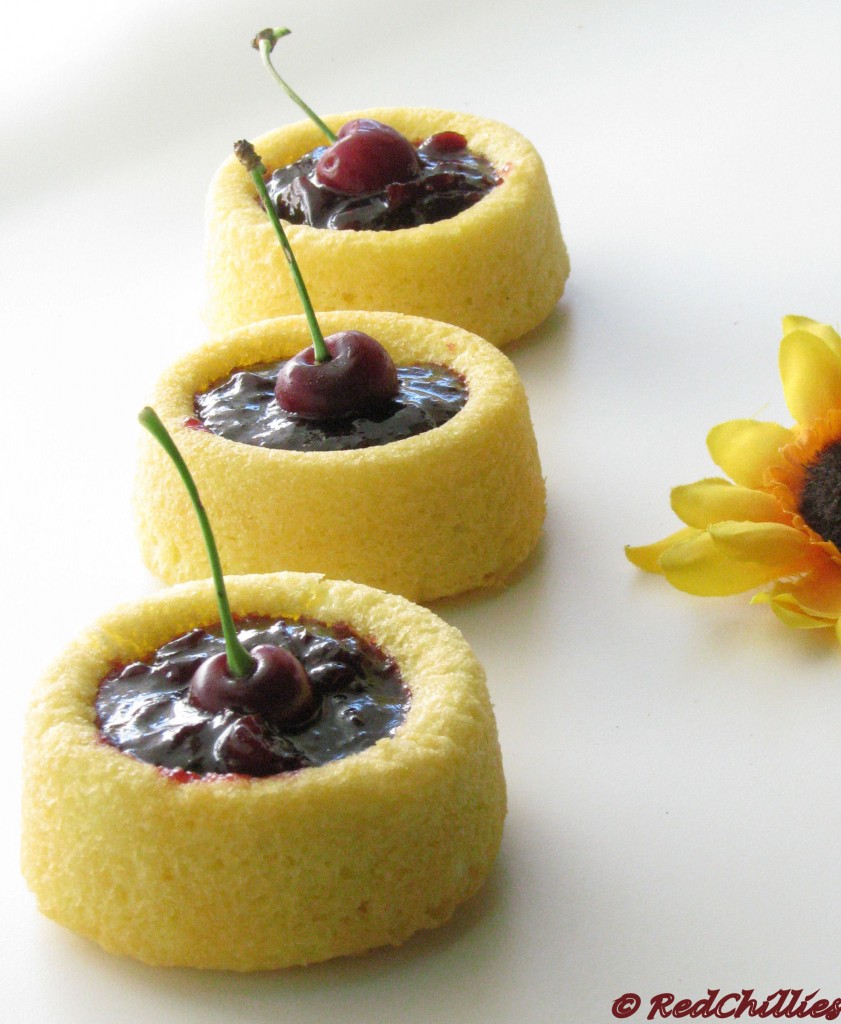 Method:
·         Place hulled strawberries, cherries directly in heavy bottom pan over medium heat. No need to chop the fruits.
·         The fruits begin to break and ooze out their juices.  Stir frequently and this mixture begins to thicken. Reduce heat to low.
·         Add the sugar, lemon juice/vinegar and stir until dissolved.
·         Increase heat to medium stirring frequently until mixture thickens, for about 20 minutes.
·         Allow the preserves to cool. Preserves can be prepared 1 week in advance. Store in an airtight container and refrigerate.
Assembly:
·         Scoop a spoonful of preserve into the Dessert Shells. Top it off with a cherry