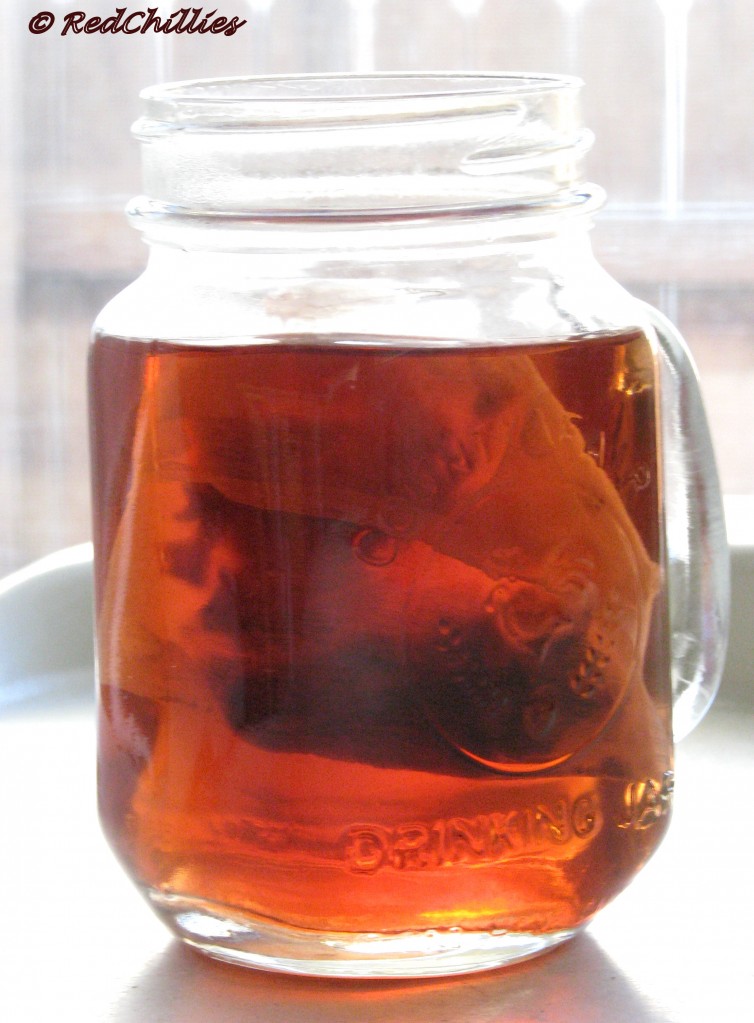 (Freshly brewed Black tea)
As you have already guessed there is no much of a recipe today, just wanted to flash the Ice Tea pictures that I had taken, acknowledge the awards and share a bit about myself.
I would like to thank Nithya, Indrani, Jaya, Bergamot, Pavitra, Ammu,Priya for thinking of me and passing this award to me. I really appreciate it, girls you made my day! 
 Secretly I have been pleased that so many bloggers have thought of me. But I did not anticipate that writing about myself would be such a tough thing. It has been about 10 days now and I am still fiddling to say 7 things about myself. 7 things that are generic, frank and yet appealing. Wish I had something interesting to say, but they seem so mundane.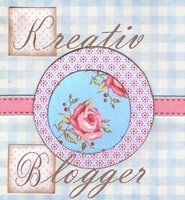 Some random thoughts about me:
I enjoy cooking, experimenting and trying out new recipes. Even after a long day at work, I find it decompressing to come back home and cook for my family.

While it comes to food, I am not fussy, pretty much eat everything and there are very few things I dislike, (vegetarian, of course). However no matter how much I try I cannot get myself to like Paneer, Tofu and Mushrooms.

I have a phobia of dogs, cats etc. I had an incident with a dog when I was very young and ever since I avoid them and stay clear from them.

I hardly cry while watching movies.

 

(OK, I admit I avoid watching tragic, melodramatic movies) The only exception to this is the movie

Masoom

. I can watch this a hundred times, yet have a bucketful of tears.
I am a morning person; I can wake up pretty early feeling charged and refreshed.

 

I am not fond of jewellery, the exception to this however are earrings. I am a sucker when it comes to pretty earrings.

I am a private person and even with closest friends I find it difficult to share any secrets. On the other hand, I am very close to my family and share every single thought, happening, fear etc. Once I start they do not hear the end of it, good or bad

J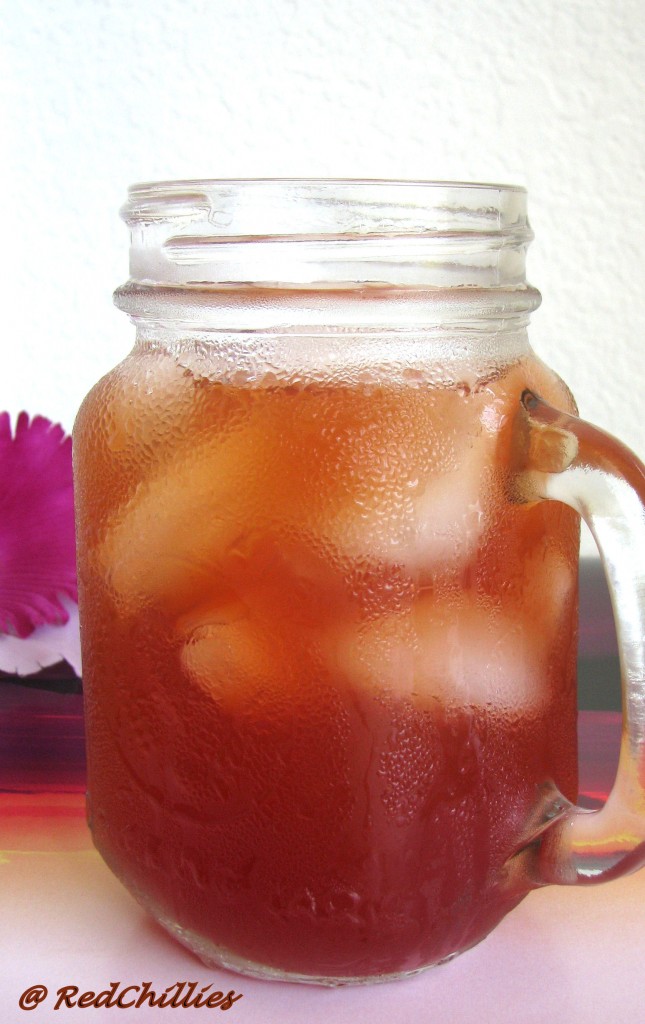 (Brewed Black Tea with Ice, POM juice and hint of Apple juice)
1) What is your current obsession? Food Photography and Blogging.
2) What are you wearing today? Capri and Tee
3) What's for dinner? Vegetable Pulao
4) What's the last thing you bought? A bunch of Tees from JCPenny
5) What are you listening to right now? "If you leave" by OMD.
6) What do you think about the person who tagged you? Lovely and Talented
7) If you could have a house totally paid for, fully furnished anywhere in the world, where would you like it to be? Anywhere as long as Iam with my family.
8) What are your must-have pieces for summer? Sunscreen lotion, cotton clothes, sunglasses
9) If you could go anywhere in the world for the next hour, where would you go? Bangalore
10) Which language do you want to learn? Spanish
11) Who do you want to meet right now? My parents
12) What is your favorite color? Lavender and Pink
13) What is your favorite piece of clothing in your own closet? Black and red striped Tee
14) What is your dream job? Food Stylist
15) What's your favorite magazine? Reader's Digest, The Economist
16) If you had $100 now, what would you spend it on? Tripod, camera lens
18) Who are your style icons? Too many to name
19) Describe your personal style? Casual and comfortable
20) What are your favorite movies? Masoom, Taare zameen par, DDLJ, Shawshank Redemption, Pretty Woman, Usual Suspects, God Father
21) What inspires you? Reading about people who succeed against all odds.
22) Give us three styling tips that always work for you? Cleanse, Moisturize, Sleep
23) Coffee or tea? Tea
24) What do you do when you are low or terribly depressed? Listen to Music, Cry and Eat!
25) What is the meaning of your name? Beloved
26) Which other blogs you love visiting? Way too many to name
27) Favorite Dessert/Sweet? Jahangir(Indian dessert), Badusha, Besan Laddoo
28) Favorite Season? Fall
29) Who inspired to start a blog? I was impressed seeing other blogs
31) Most important tip for a successful career? Persistence, pragmatism
32) What is your favorite cuisine? Indian
Here is yet another tough part and that is passing this award to 7-10 more bloggers. I have thought about this, but could not select just 10 bloggers. There are so many deserving and talented bloggers out there, doing great job. So I have decided to pass it to everyone here.