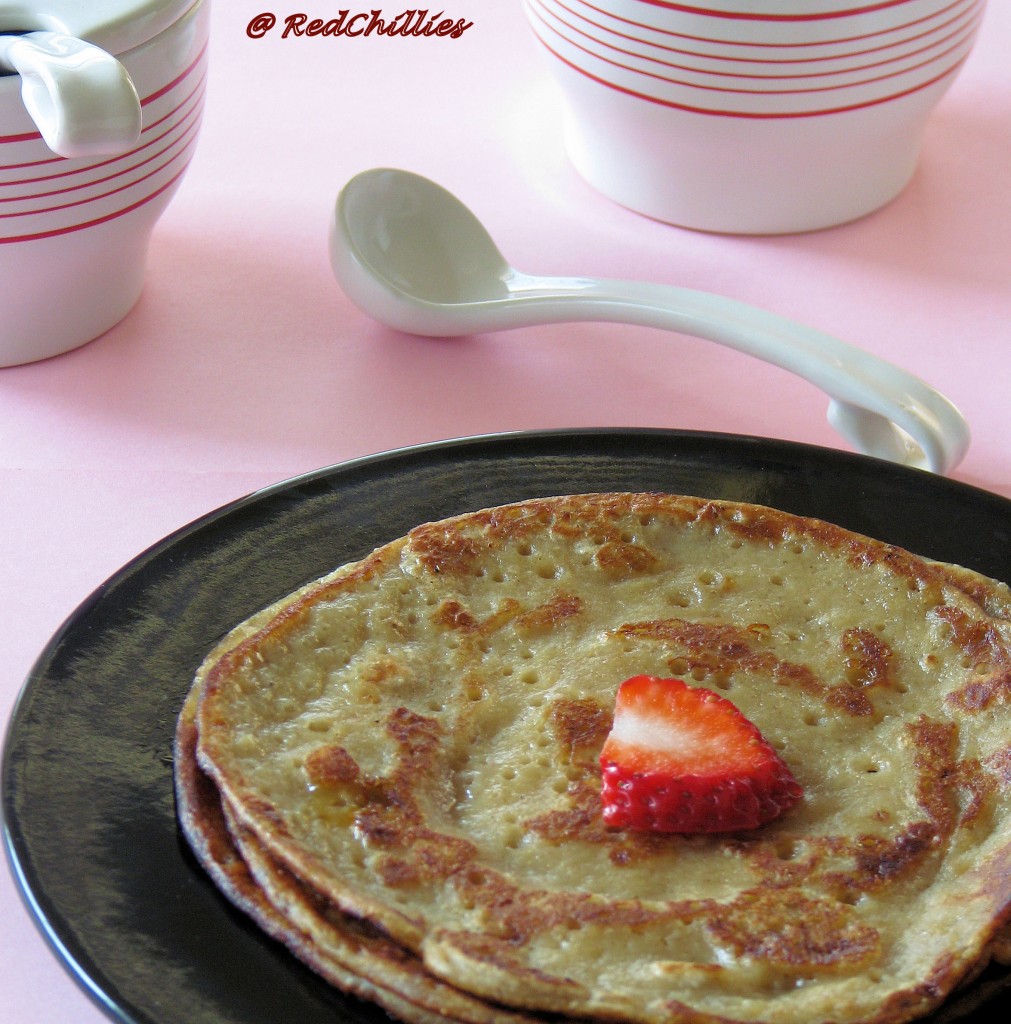 Sometimes change is not bad after all. Recently at work, I moved my desk from one place to another (please don't ask why!) and I am totally enjoying it. Nothing has changed in terms of my job, my position, my work load etc everything remains the same. But then the people who now site by me and the environment have changed and definitely that has made a positive impact on me. Not to mention that this place is much quieter and warmer J Keeping fingers crossed and hoping that the good spirit lasts. 
Based on the spirit of change I made these sweet Banana Dosas. In our family we are so used to the idea that Dosas are savory, that it takes a while to digest the idea of sweet ones literally. Now the main reason that compelled me to try this was to try this on my 4 year old. He has a very small list of things the he likes in food and being a typical Mom I try ways to expand that repertoire. He likes savory Dosas and also bananas, so I planned on making this Dosa based on an idea of Eggless Banana Pancake. He liked the taste; however he could not eat more than ¾ of it at a time.
As I said before this is a good one to make if you need some change from the regular savory Dosas or can be made as accompaniment with regular Flour Dosas. I have known many people who like to eat the combination of sweet and salty together in a meal.
This Dosa does not require any fermentation or grinding. It is a good way to use up the over ripe bananas. If you prefer go ahead and substitute Soy Milk with regular milk, sugar with jaggery and cinnamon with cardamom powder. 
This is my contribution to the event "It's a Vegan World- Indian" an event hosted by Graziana. This event "It's a Vegan World" is a brain child of Vaishali of Holy Cow.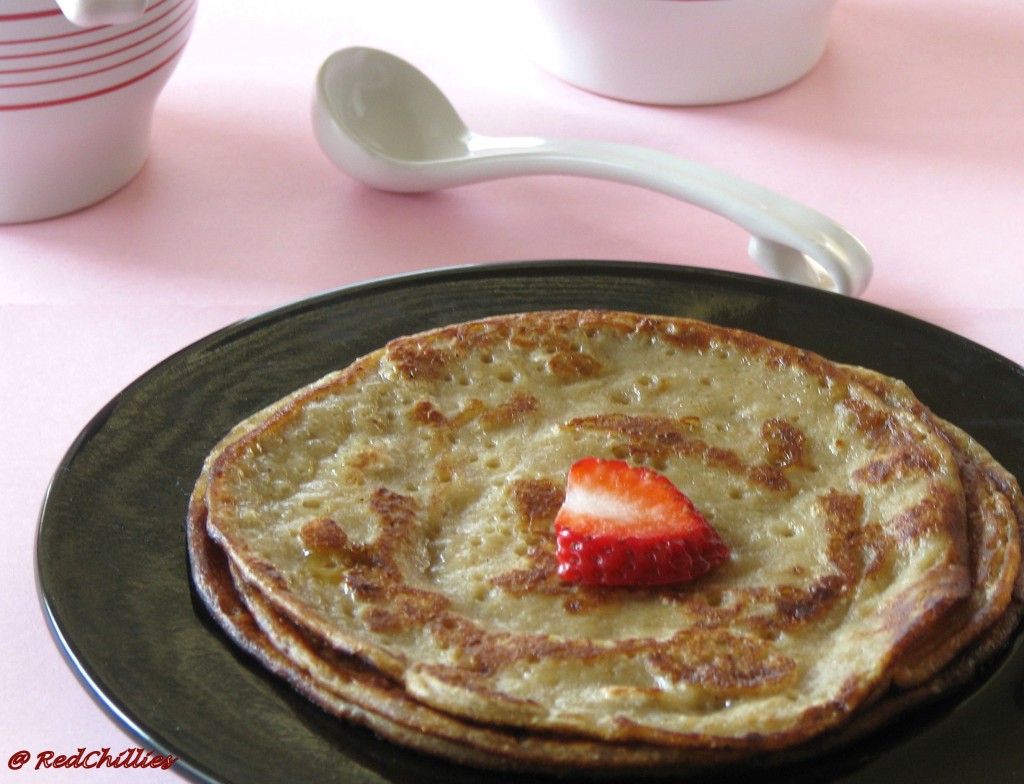 Ingredients:
 1 cup wheat flour  
 ½ cup sooji/semolina  
1/4 cup rice flour
2 over ripe bananas (mashed)
Soy milk (use regular milk if you don't prefer Soy milk)
Sugar per taste (substitute with jaggery)
1 tsp baking powder
½ tsp powdered cardamom 
Salt a pinch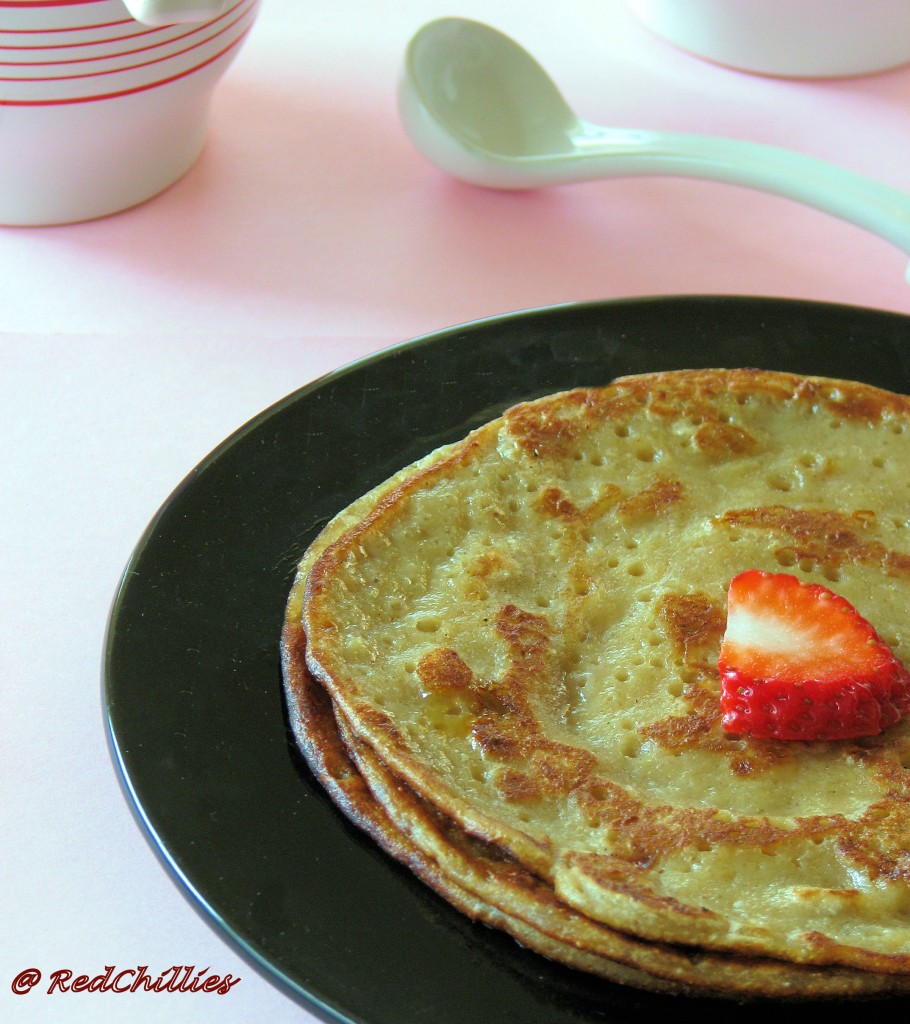 Method:
Mix the different flours along with salt, sugar, baking powder.
Blend the mashed banana along with milk into a thick shake.
Add this to the flour, cardamom powder and mix well. Add more milk if necessary.
The batter should be comparatively thick for this. Let it sit aside for 30 minutes.
Heat a dosa flat pan/ tawa. Make sure the Tawa is not very hot, otherwise the batter will stick to the pan.
Spread the batter on the tawa like utthappa. Do not spread around the batter a lot like we do for a regular dosa. Little spreading around shoud do.
Do not touch it for a while; add oil and shallow fry like Uthappa. (Note: The oil to be added to this dosa should be little more compared to the urad dosa)
Once browned, turn it on the other side. There is no need to cook it for a long time.
This can be eaten as is and does not require any sides.