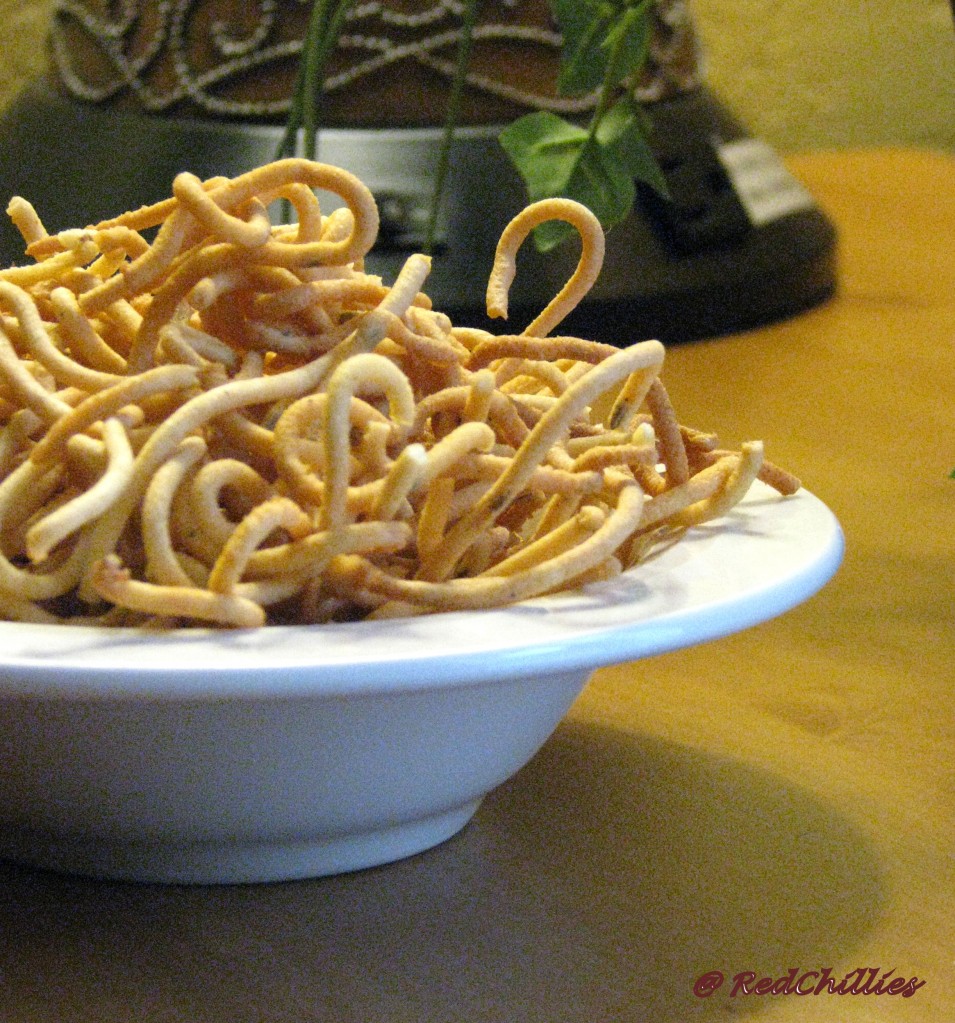 Quite frankly the description that I have provided for 'Thengolu' is just a hodgepodge of words and does not seem very appetizing. One has to taste it to really experience the taste, flavor and crispiness of it.
Thengol/ Thenkuzhal is a South Indian deep fried savory dish more like Sev, however this has Urad Flour instead of Besan and has shape of noodle/vermicelli. They are crispy, delicious and have the nutty flavor of urad flour in it.  They are great accompaniment with tea/coffee. They are addictive and when started to consume they are gone in no time!
Back home in Bangalore our neighbor used to prepare this for Krishna Janamashthami along with other assortment of goodies. She would be kind enough to offer some to us and we would enjoy it with great relish. Being exposed to Chakli, Sev, Tukdi, Kodubale etc, this was new to us, but nevertheless the taste was awesome.
Years later after my marriage and coming to the US, I forgot all about it. During my initial years of experimental cooking I happened to chance upon the recipe here. . Back then before the advent of blogs Payaswini's Recipes(mainly for Karnataka recipes) along with Bawarchi used to be my favorite website for recipes. Anyway I am glad that I found the recipe there and tried it. It is a great hit among our family members. If you have all ingredients on hand, it is really easy to make. I plan to make this as one of the snack items for the upcoming Diwali/Deepavali festival.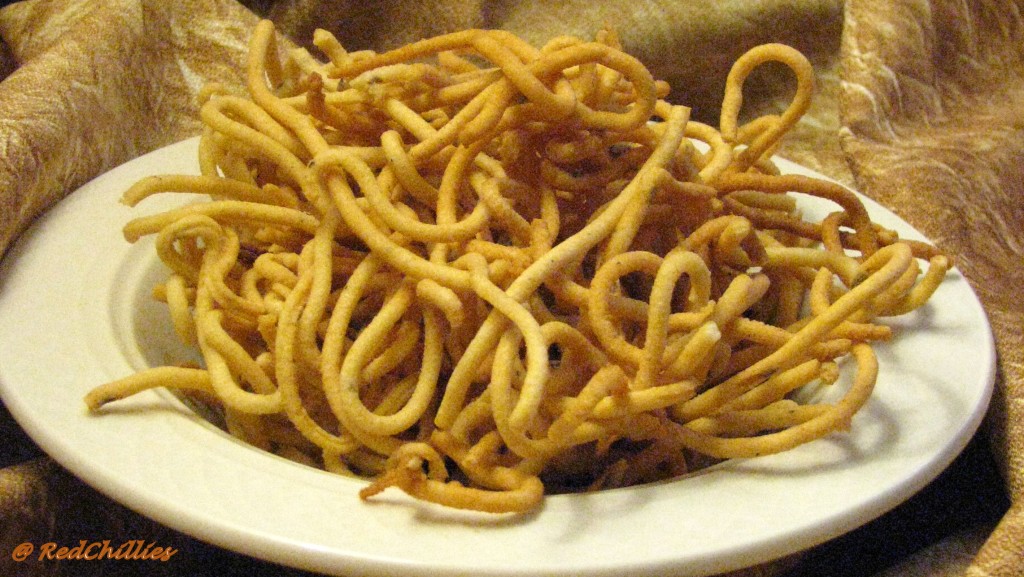 Ingredients:
2 cups rice flour
 1 cup urad flour
 1 tsp cumin seeds
 1/2 tsp asafetida
 Oil to deep fry
 1 Tbsp melted butter
 Salt to taste
Method:
Take a big plate and first mix the flours, salt, cumin seeds, and asafetida together. Add melted butter and mix well to form some crumbs.
 Add water to this in small batches and make soft dough (pretty much like chapathi dough). Keep it covered and set aside for about 30 minutes.
 Take a deep frying pan and heat oil. Use a Chakali press and the sieve used to make Sev (however the perforation for this is slightly bigger than the Sev).
Put in some dough in the Chakli press and release the 'noodle' that comes out of the press directly over the oil. See picture for this here.
 Deep fry these in hot oil until they turn golden brown. Drain on paper towel.
 Store in an airtight container after they are cooled.