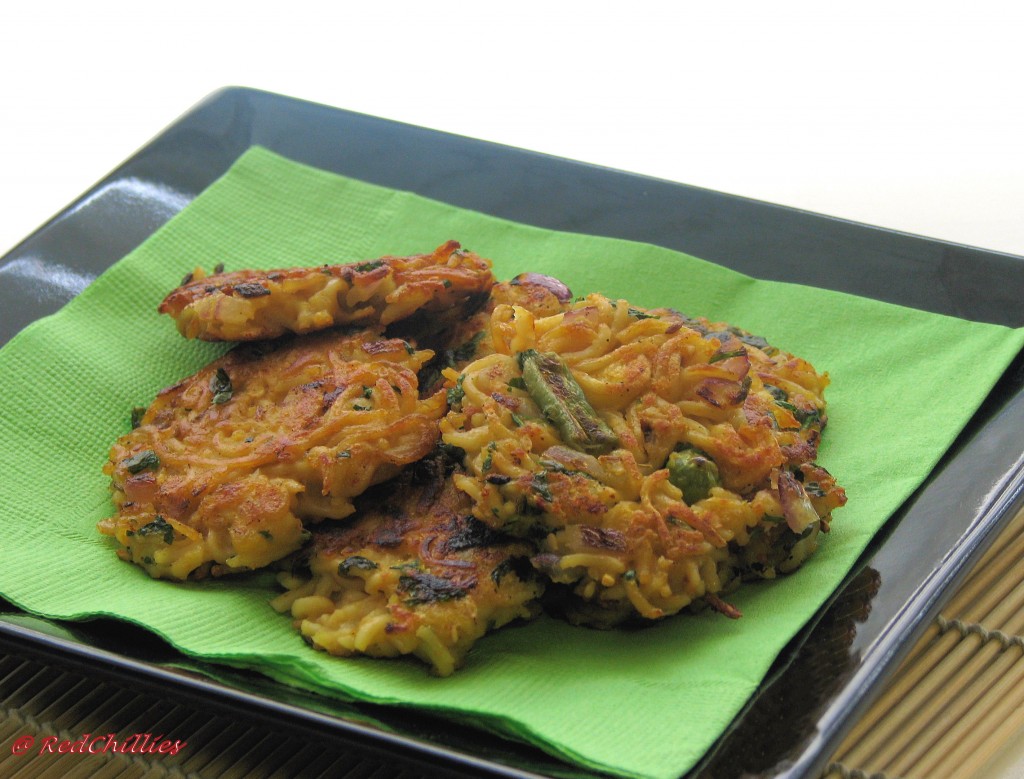 I subscribe to those free weekly newsletters from Tarla Dalal.  They arrive every week without fail; however they promptly go to my Spam box section.  Not that it bothers me but if I remember to peek at my Spam section then I do look at them, for the recipes ideas and the pictures of the recipe.
I managed to look at this week's recipes and I am glad I did not miss it as it had good deal of Kid related recipes. There were quite a bit of recipes this time (I don't remember how many) but this noodle cutletcaught my attention the most.
I decided to give this a try, mainly because I loved the concept (who knew you could make cutlet/patties from noodles?), wanted to use the left over noodles that we had for lunch and also to lure the 4 year old to try something new and appealing. Quite frankly DS did not like this much. He likes the Maggi Noodles, but did not like this cutlet. Not even with tomato ketchup.
 On the other hand, I loved it (with ketchup, of course!) and felt it was a good change to the usual Potato Pattis. In my opinion it tastes good, if the outer sides are cooked crispy and the insides are soft. The next time I try this, I would coat it with bread crumbs before shallow frying them. The cutlets along with warm tea (at least for me) cheered up the gloomy Saturday evening we had last weekend.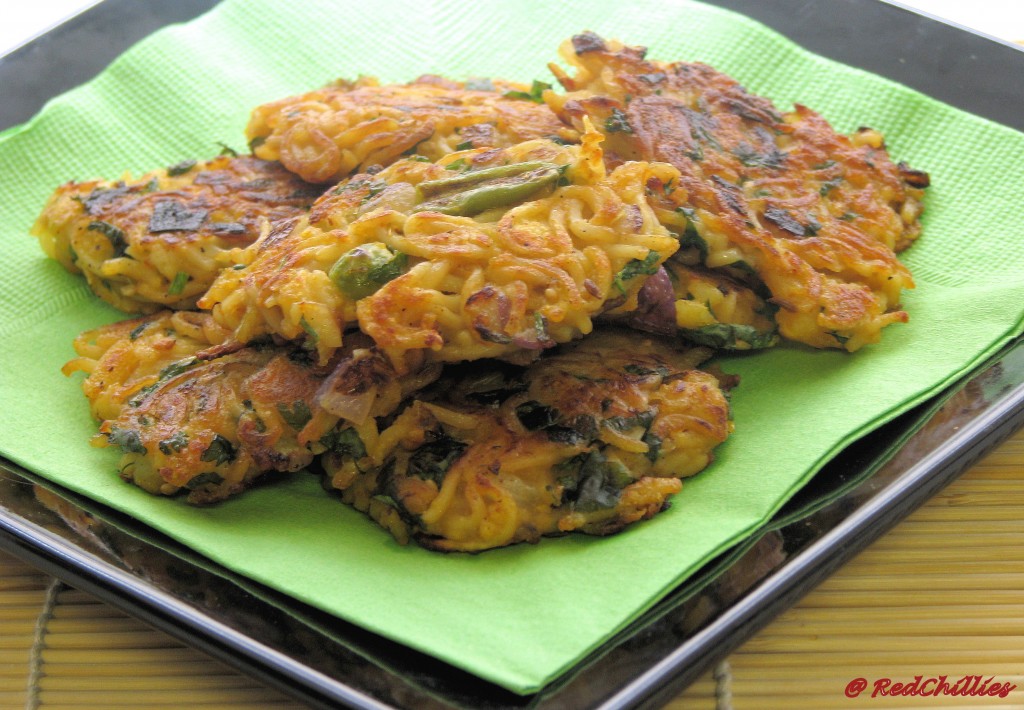 Source:
Ingredients:  
½ cup finely chopped mixed boiled vegetables (carrots, beans, cauliflower etc) 

¼ cup boiled, peeled and mashed potatoes 

½ teaspoon finely chopped green chillies 

¼ cup finely chopped coriander 

1 teaspoon jeera

½ cup chopped onions

1 tsp Garam masala/chat masala

1 tsp Aamchur powder (optional)

Salt to taste 

Oil for shallow frying
Method: 
Cook the instant noodles in boiling water without the tastemaker.

Drain the water (if any) completely and allow to cool.

Combine all the ingredients including the noodles in a bowl and mix well using your hands. Check taste and adjust accordingly.

After a minute flatten the top and make into small pattis. Cover with lid and cook on medium flame.

Cook on a greased pan on both sides till golden brown using a little oil.

This tastes good, if the outer sides are crispy. So the cooking will take a longer time. 

Serve hot with tomato ketchup.