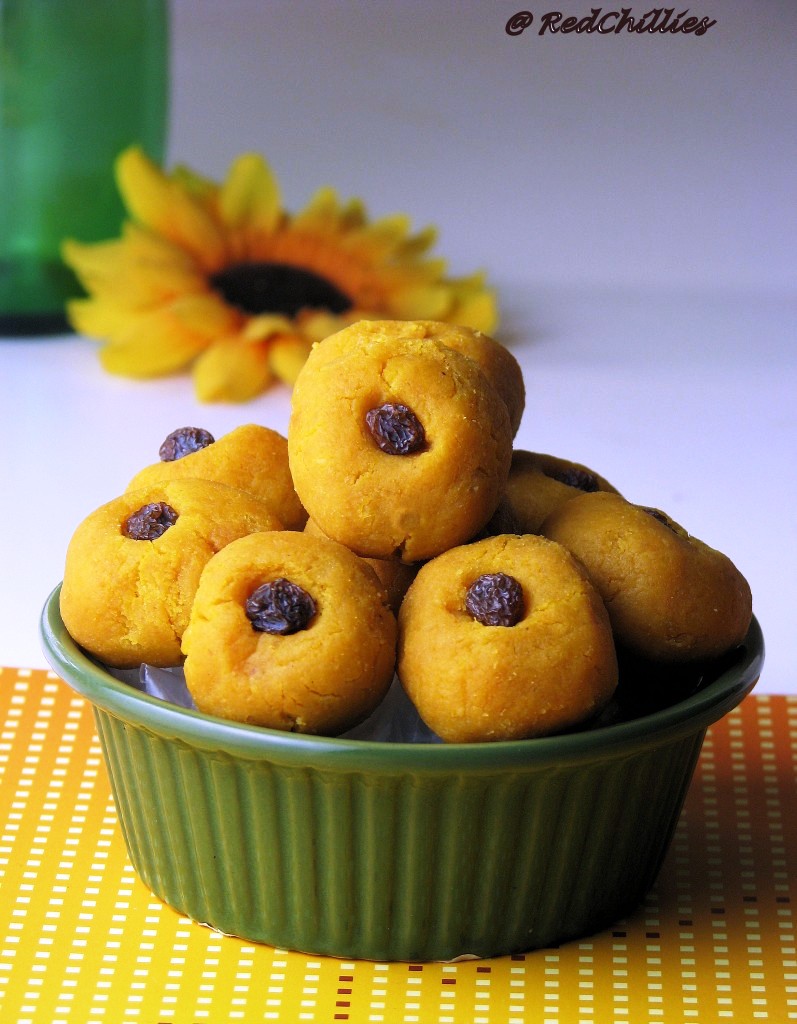 We love mangoes at home; both the raw and the ripe fruity ones. We prefer eating fresh mangoes, but during mango off-season we succumb to temptation and buy those big Mango pulp cans from the Indian store. I tried Mango ice-cream with the pulp and after that a good bit of mango pulp was left over. I usually store the left over in the refrigerator; however I do not like storing it for a long time and so think of ways of using it quickly.
Now the other day while I was in the process of making Kalakand, it suddenly stuck to me, why not add some mango pulp to this mixture and make Mango Kalakand. Seemed like a good idea at that spur of the moment.
So I went ahead and did an experiment and mixed, micro waved small quantity of Mango Pulp along with Ricotta cheese and Condensed Milk in the hope of making Mango Kalakand. However it was not successful. I felt that the taste of Condensed Milk which tastes like Khoya/ Mawa when cooked had over powered the flavor of Mango. The taste was like a regular Kalakand and the flavor of Mango was lost was in the process of cooking. So I thought of a different approach.
In my next experiment, I used Evaporated Milk instead of condensed milk, Mango Pulp and Ricotta cheese. I also used Jaya's idea of using Ricotta cheese, coconut and then came up with idea of Mango peda. I did not use cardamom powder as I wanted the flavor of Mango to stand out.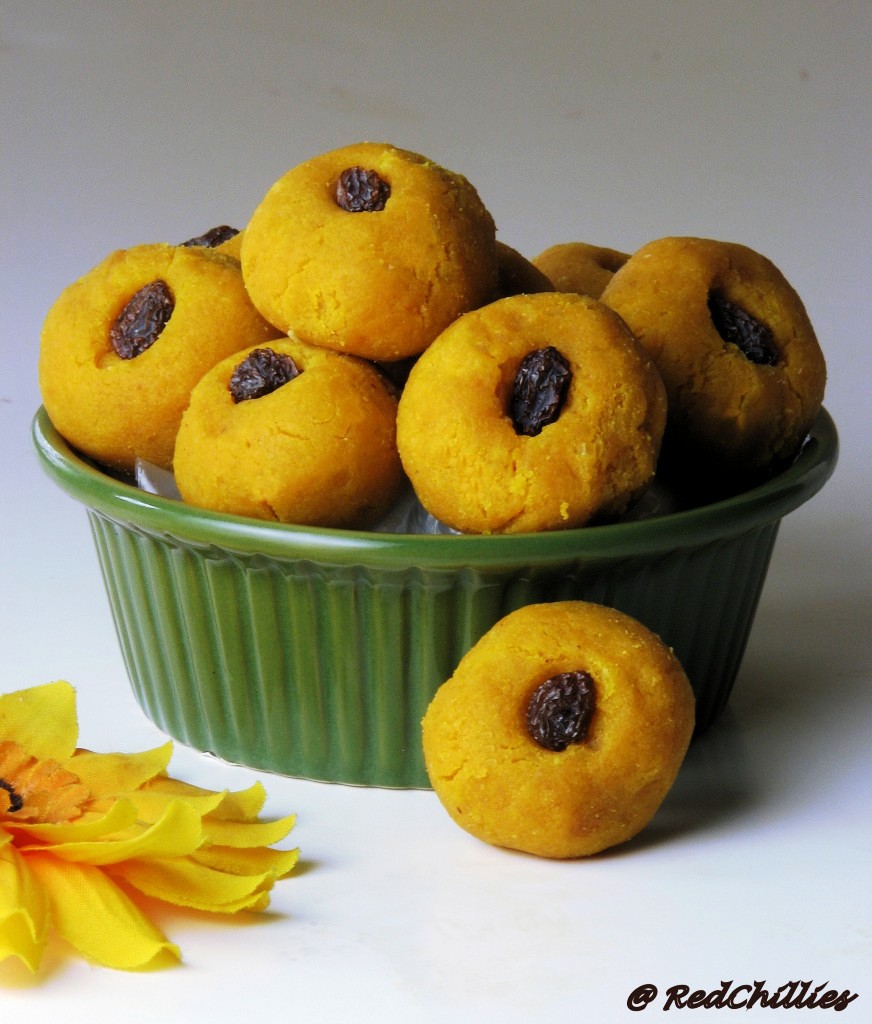 Ingredients:  (Makes 10 pedas)
1.5 cup ricotta cheese (packed)
 2 cups mango pulp (make sure the mango pulp is thick, else reduce the quantity)
 4 Tbsp evaporated milk
 Sugar (optional) depending on the sweetness of the mango
 ½ cup shredded coconut
 Cardamom powder (optional)
 Raisins/Chopped nuts(optional)
Method:
 Take a microwaveable dish (recommend using a tall glass dish) and lightly grease it.
 If using the coconut, then place the shredded coconut in the dish, microwave it until it is toasty/nutty and has that light brown color.
 Next add the ricotta cheese, evaporated milk, and mango pulp mix well and microwave for 4-5 minutes.
 Take it out and mix very well and microwave for another 4-5 minutes. The mixture tends to boil and spill over, so be careful.
 Now set it aside and let it cool for 5 minutes. Mix in between. (I do this because it thickens when it cools. I feel that cooling in between and then microwaving again speeds up the thickening process)
 After it has thickened place it in the microwave for another 4-5 minutes, until the mixture becomes dry, grainy and no longer sticks to the hand. 
 Add the cardamom powder (optional) and mix well.
 This is very forgiving. If it becomes too dry, then add a spoonful of evaporated milk and microwave again. In my microwave it took 30 minutes to complete.
 After this is cooled down, take a small portion, make balls and then flatten it on your palm. Make a dent at the centre with your thumb. 
 Place a small piece of the raisin/nut in the center.