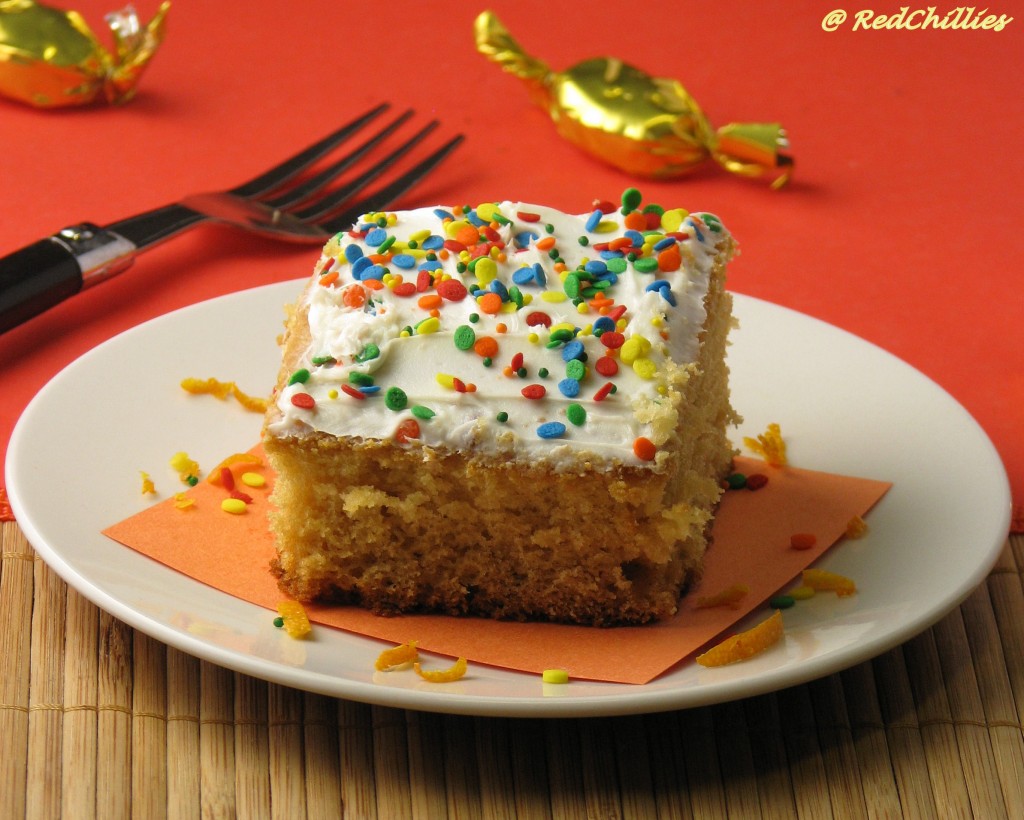 You know how kids like celebrating their birthdays, getting presents, cutting cake, blowing candles etc? OK, so our 4 year old is no different. He enjoys celebrating his birthday; and the part that he likes the best is singing Happy Birthday to him, followed by blowing off the candles. The joy on his face at the end of it all is priceless. We are sure he would not mind repeating the process every single day and still enjoy the same. In fact, we have heard him say "Happy Birthday" and blow candles even in his sleep.  
As a result of this innocent fascination we celebrate his mock birthday every now and then. Any opportunity we get, we buy a small cake, sing and let him blow the candles. So for this Christmas, we planned on doing his mock birthday and make it a special day for him. The morning started off with a gift from Santa, a toy helicopter just like he had wished for. As a bonus Santa in spite of being busy and stuff called up his dad and told how proud he was of the 'big boy'. 🙂
In the evening I baked this simple Eggless cake and he helped me with the mixing etc. I used store brought icing  and then he topped it off with some sprinklers. He chose 10 candles, put it on the cake and had fun time blowing it, all this after we sang "Happy      Birthday" to him (of courseJ) OK, so the gift and the blowing ritual made his day. He went around telling anybody and everybody about the gift and the fact that Santa is very proud of him.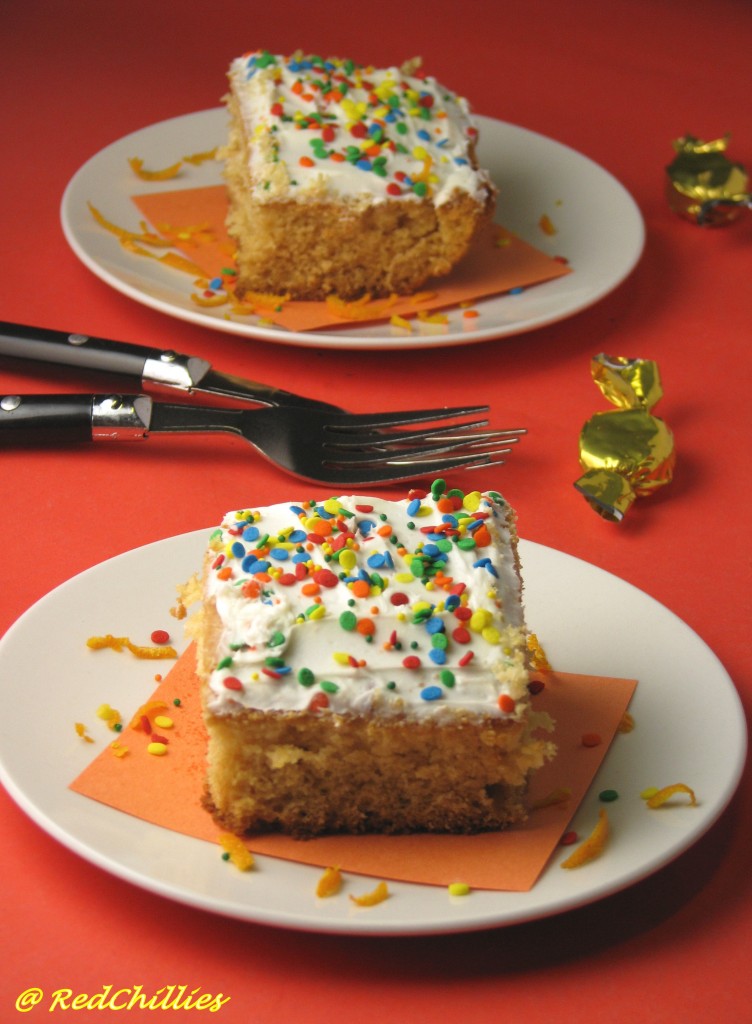 Some of his quotes that has us in splits:
He "Like yesterday when I was a baby I was in your tummy?" [This is verbatim, "like yesterday" is his favorite phrase and uses it at least 50 times a day]
Me" Yes, sweetie"
He" Why did you eat me? I get hurt. 🙂
———————————————
Me: "What do you want to be when you grow up?"
He: "I want to be a daddy." 🙂
OK, coming back to this cake recipe, I made this based on the recipe at All Recipes. I must have told this before, but I love that site. Especially for a novice baker like me, the comments, ratings and feedback from the people who have tried it, helps make a judgment; understand what to expect and to make necessary changes as required.
Taste: This is an eggless cake and it is a plain cake, so I was not expecting too much out of this. The cake turned out soft and spongy (little dense) but not moist. It was not sweet tasting, (loved the flavor of orange though) but the thin layer of store brought icing made a big difference to the taste. I personally feel, without the icing the taste would not be that pleasing. Good one if you are looking for something quick, easy and light tasting.
Recipe Source: All Recipes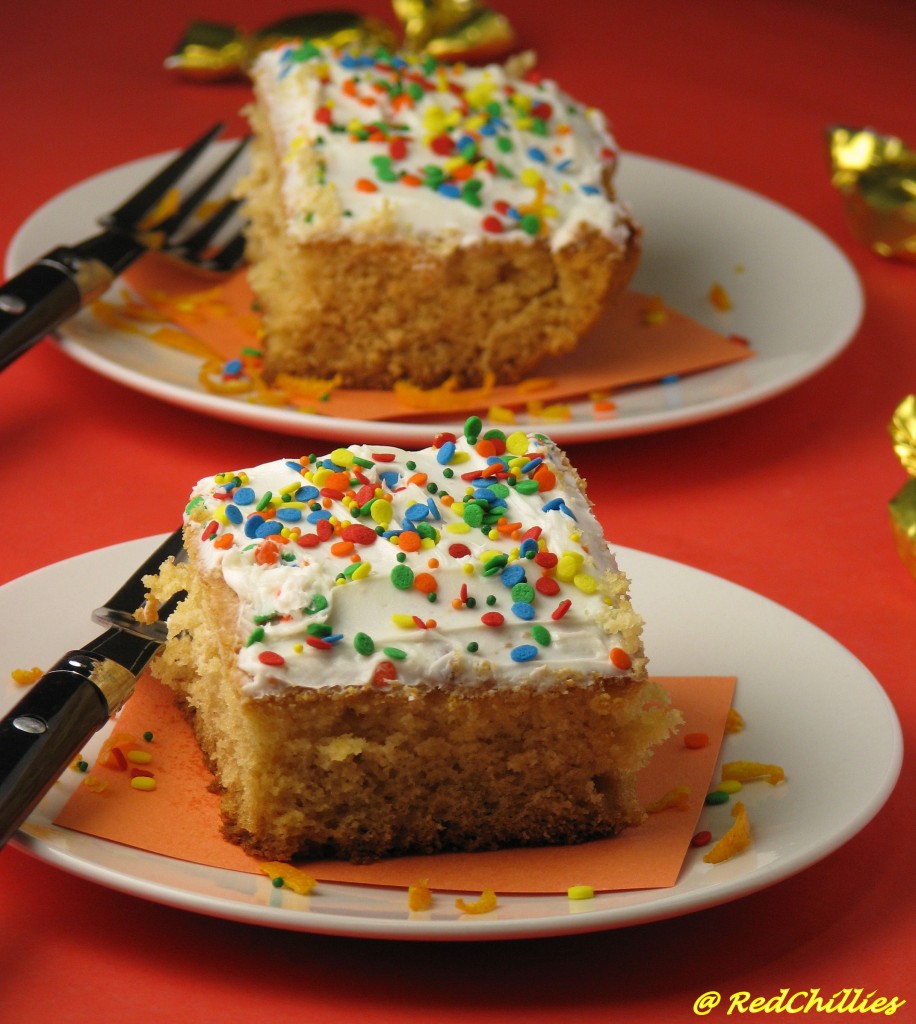 Ingredients
 
1-1/4 cups all-purpose flour 
1 teaspoon baking powder 
1/2 teaspoon baking soda
1/2 cup sweetened condensed milk 
1/2 cup orange juice 
1 tsp sugar
1 tsp orange/vanilla extract 
1 tsp vinegar
1/2 cup softened butter 
Salt a pinch
Icing: I am yet to make icing of my own. I used this store brought icing
Procedure:
Preheat oven to 350 degrees F (175 degrees C). 
 Sift together the flour, salt, baking powder and baking soda.
In another bowl, mix together sweetened condensed milk, orange juice, vanilla/orange extract and softened butter. Add this to the dry ingredients and mix well and pour into greased cake pan. 
Bake in the oven for 25 to 30 minutes, or until a knife inserted in the cake comes out clean. Allow to cool. 
 Put on a layer of icing as per the instructions.