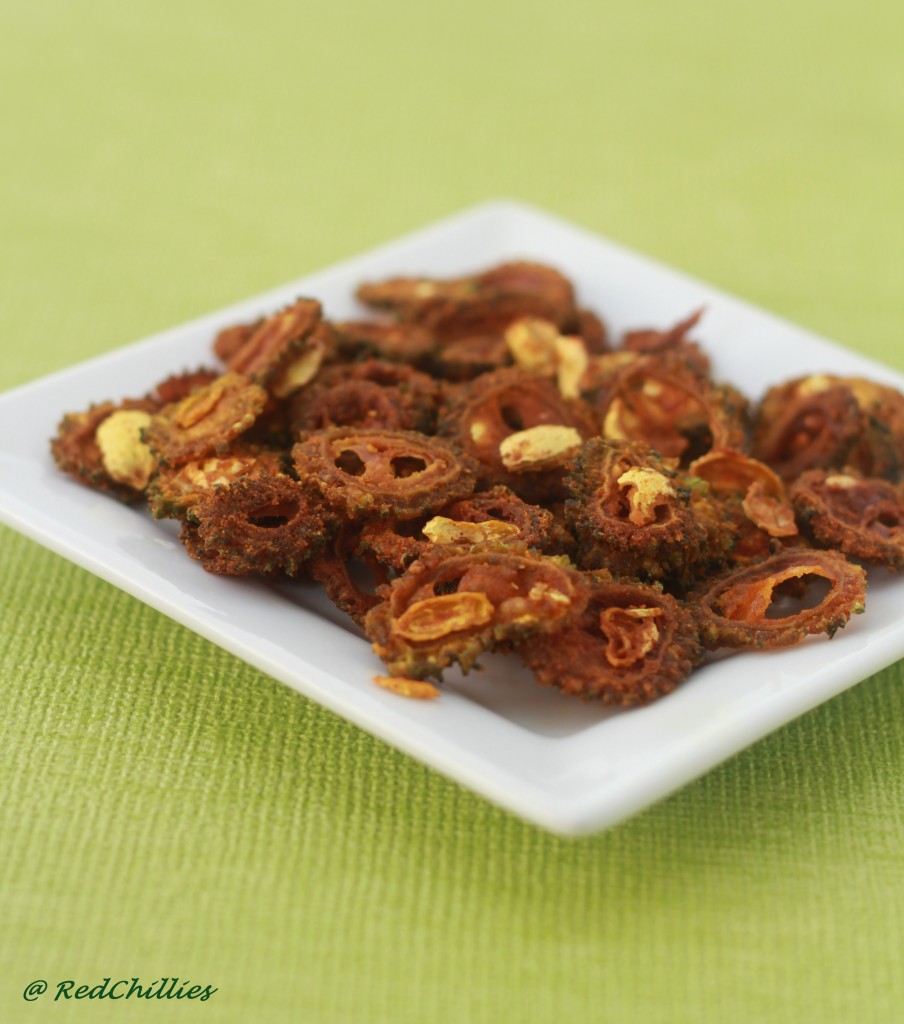 Whenever I go through my old posts, especially the ones I posted when I just started blogging, I think to myself, "Oh, I should I have provided more information" or "the picture is so bad" or gosh, "what was I thinking when I wrote this" etc. Not that I am an expert or that I write any better but some things just stand out and makes me want to re-write those posts again.
Incidentally Jaya of Desi Soccer Mom came up with a great event idea for re-posting and so I am posting this recipe for Bitter gourd Crisps which I feel needs some major re-writing. My original post for this is here.
This recipe has been our family favorite for years. This is prepared in the microwave. It is one of those recipes that requires less effort but has a surprisingly wonderful taste; more like the deep fried Bitter Gourd Chips. Whenever I have prepared it for my friends they have enjoyed and relished it.
Both DH and I love bitter gourd and luckily we get good bitter gourd/Karela all year round at our Indian grocery store. We make these crispy bittergourd rings at least once a fortnight. They are easy to make, do not require baby sitting and are healthy, low-fat too. Done the right way, they taste pretty much like Bitter Gourd Chips. They form a good side tem with simple Daal-Chaawal or with Khichidi and yogurt.
Taste: When you first take a bite, you get that crisp taste that lingers in your mouth and toward the end there is a bitter taste along with oil, salty and spicy taste. Let me assure you though that the bitterness is masked and not at all dominant.
Off this goes to Jaya's re-post event at Desi Soccer Mom.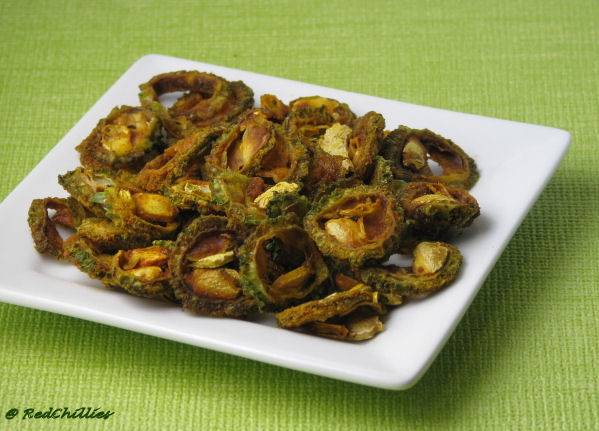 Ingredients 
 
1 big Bitter gourd /bitter melon/hagalkayi(Kannada)
 Oil, salt
 Turmeric
  Red chilli powder (optional)
Method: 
Clean the bitter gourd thoroughly, peel the ridges and cut it into thin circular disks (about 1/8 inch).In fact, thinner the better to get a crisp taste.
 Take a bowl, put 2 tsp of oil, salt, turmeric, and red chilli powder and mix well. Toss in the chopped disks and mix so that each disk gets a proper coating.
Take a microwavable glass plate and place the coated bitter gourd disks each in its place. Do not stack or overlap the disks.
Place this in the microwave for 3 minutes. After 3 minutes, pull out the plate and move around the disks, just to make sure that they don't stick to the plate.
Microwave for 2 more minutes again and pull it out. Spread about 2 more tsp of oil and turn them around.
 Continue to microwave for few more minutes and check if they have crisped. [This depends on the power of the microwave, but ours takes about 12 minutes].
Repeat the process until they all become crisp.
This can be eaten as snack or accompaniment with Rice-Daal, Pongal, Upma, Poha etc.