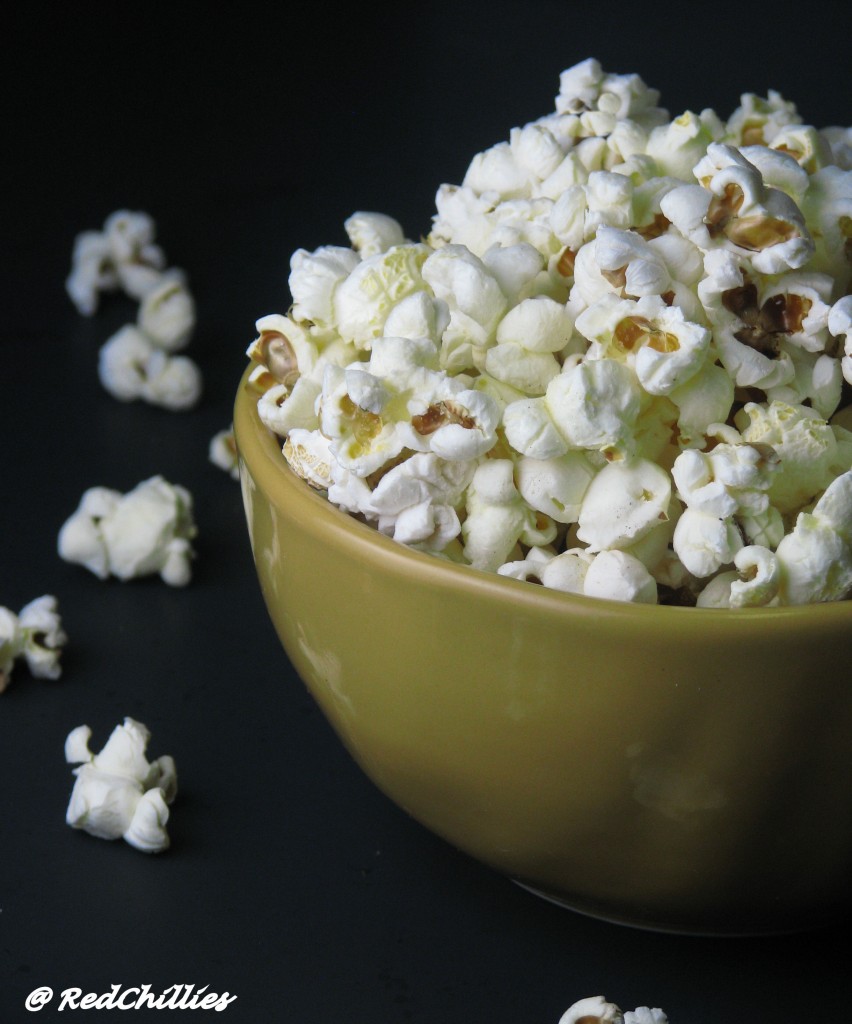 While talking to one of my friends last week, I mentioned that I refrain from the store brought popcorns and usually make popcorn at home. She was taken aback and thought that it was a complicated process, involving lots of steps and could not imagine preparing it at home. I don't blame her, because of the amount of commercialization, the high tech gadgets that is used for making popcorns makes us feel that it is time consuming and tedious. I walked her through the steps and finally convinced her that it could be made in a kitchen with just 2 basic 'gadgets' a pan and a lid!
This is an old time recipe that I have learnt from my mother and she had been following this stove top old fashioned way of popping kernels for almost 15 years now.
Air-popped popcorn is naturally high in fiber, low in calories and fat, contains no sodium, and is sugar free. This can make it an attractive snack to people with dietary restrictions on the intake of calories, fat, and/or sodium. (Source)
A note about the buttered popcorn available at the stores; it is not real butter but it is just flavored butter. What is shocking is that this is offered to kids at school on the pretext that it is low fat and also a healthy choice.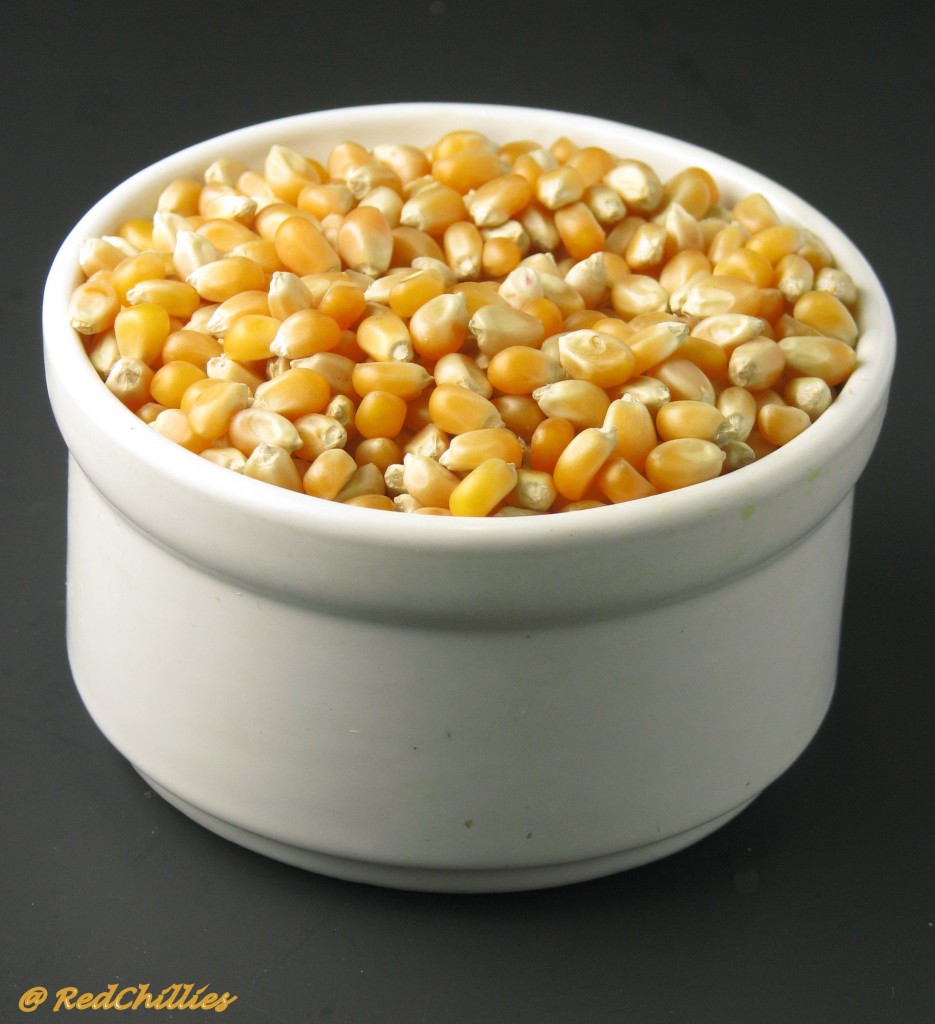 (Popcorn Kernels)
Diacetyl and acetoin are two compounds that give butter its characteristic taste. Because of this, manufacturers of margarines or similar oil-based products typically add diacetyl and acetoin to make the final product butter-flavored, because it would otherwise be relatively tasteless. Diacetyl, when used in artificial butter flavoring (as used in many consumer foods), may be hazardous when heated and inhaled over a long period. (Source)
Making popcorn at home is really simple; it does not take more than 5 minutes and as an advantage we get to control the amount of oil or salt that goes into it making it really healthy and nutritious. Just a little bit of kernels goes a long way in making a small bagful of popcorns.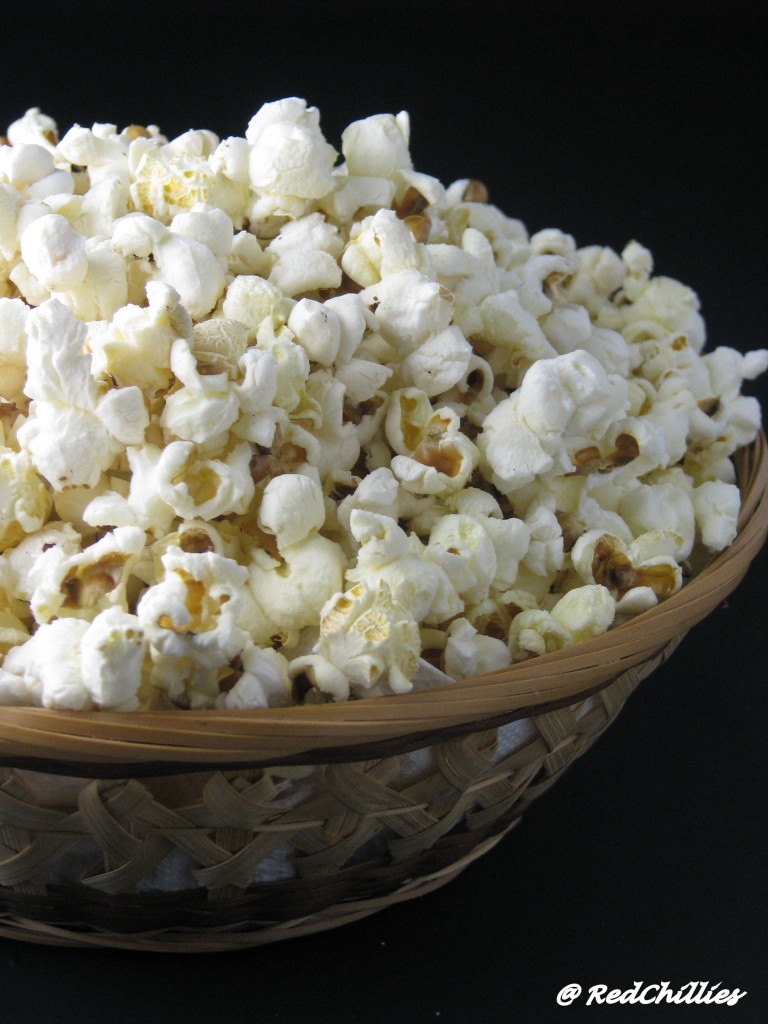 Ingredients:
½ small cup popcorn kernels
 3-4 teaspoons oil ( I use canola oil)
Salt
Note:
Use a good quality, heavy bottom Kadhai/karahi/Wok for making this. If the base is not thick then kernels will begin to burn at the bottom.
 Try with lesser quantity of kernels if making for the first time.
 Have a lid handy that will completely cover the wok, when the kernels begin to pop.
 Please exercise caution when handling popping kernels with open lid, as it splutters oil.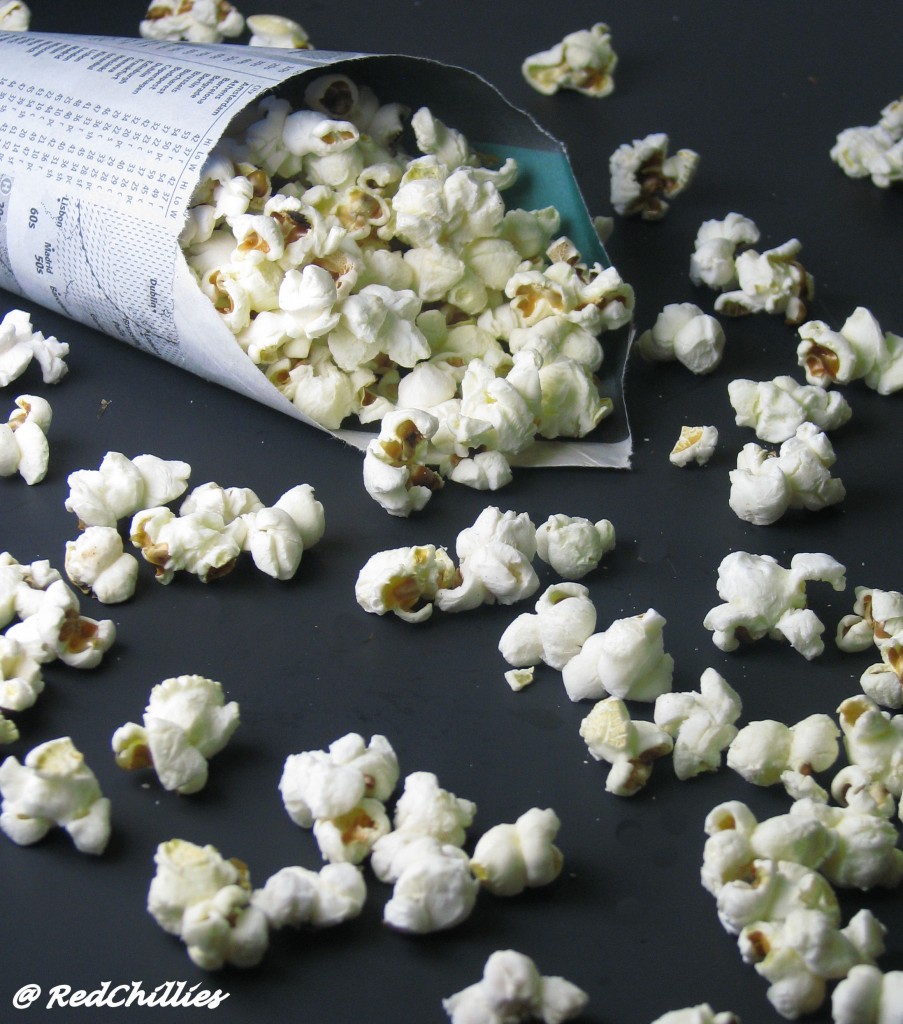 Method:
 Please read the note carefully (above) before proceeding.
Take a heavy bottom pan/Kadhai and heat the oil on medium high heat.
(Kadhai/Wok with a lid that I use for making popcorn)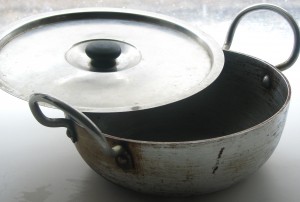 Temperature test: Drop 2-3 popcorn kernels and wait until they pop up. Once they pop, this means that the oil has reached the correct temperature.
 Note: Please stand back, when the kernels pop as they tend to splutter the oil along with the popped kernel.
 Now add the remaining kernels, mix it so that it forms a flat layer and cover it with a lid. Covering with a lid is an important step otherwise the kernels will fall all over the place when they pop.
 Give the kadhai/wok a slight shake about 2 times to prevent the kernels from sticking to the bottom.
 After a minute or two, you will begin to hear the sound of the kernels being popped one by one and they sound like fireworks! Resist the urge to remove the lid as the kernels might pop out and it could be little dangerous.
 Let the popping continue. The moment the sound of the popping dies down, switch off the heat and remove the lid. 
 If seeing this for the first time, it is really an amazing sight! You will see the kernels popped up like delicate flowers. (There could be some kernels on the bottom that have not popped).
 Sprinkle salt over this just when it is hot and stir it with a wooden ladle. Be cautious as the pan/kadhai is very hot.
 Set aside and allow to cool and then transfer to paper/plastic bag. Store it in airtight container/bag for future use.