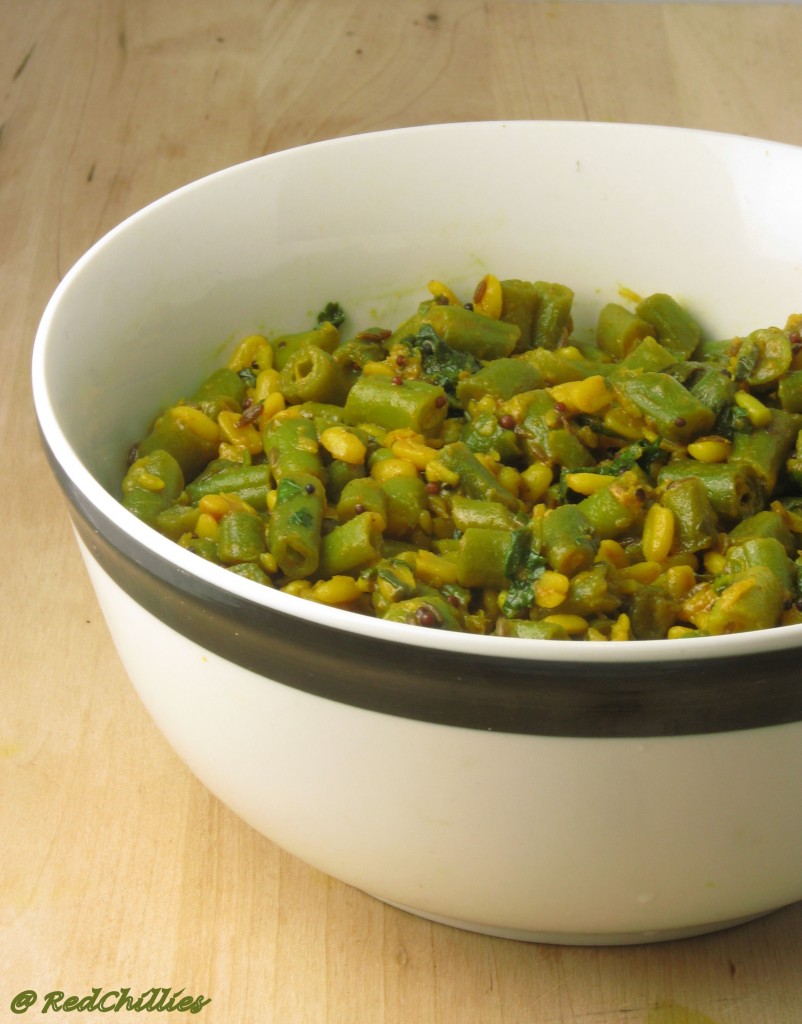 Onions and garlic play an important role in my everyday cooking. In fact, it would be fair to say that my cooking starts with the chopping of onions. Garlic, I could do without as there are many recipes for which I do not use it; but not onions as I use it very religiously.
I guess it was a few days ago, probably Thursday or so when we were out of onions. I could do without many other items, but being so used to cooking with onions, I felt lost. Anyway I did not have the mood to go to the store to get them, so instead decided to cook without them.
Growing up at my Mom's place, Monday and Thursday would be two days in a week that she would do her cooking without garlic and onions. Now that I think about it, she had a wide range of non-repetitive menu items and she would cook up a storm without battling an eyelid. Sigh!
I did look at the internet for recipe ideas and then zeroed on this recipe from Jaya. Luckily I had beans and soaked moong daal, so made the Sabji after making few modifications of my own. It tasted so good that we could hardly make out the loss of onions. Good one to make during festivals and also during fasting. Thanks Jaya for this quick and easy recipe.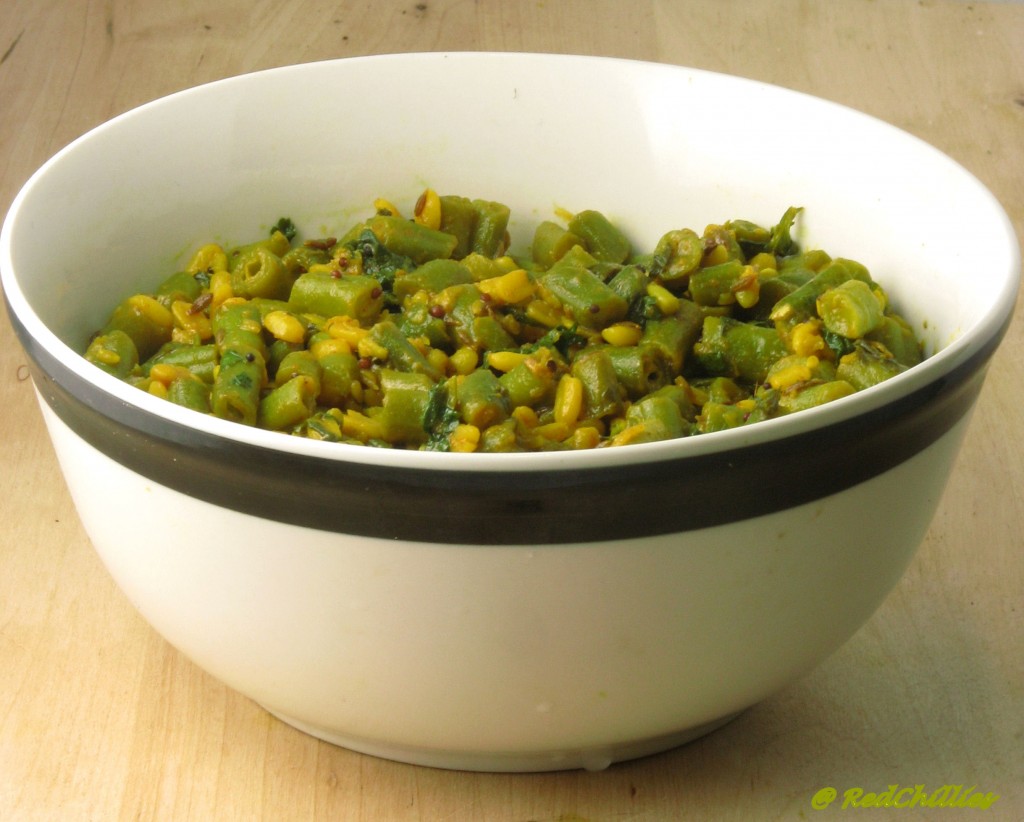 Recipe Source: Adapted from here.
Ingredients:
 1/4 cup split yellow moong daal
 4 small cups of chopped green beans 
 2-3 Curry leaves chopped into pieces
 2-3 finely chopped green chillies
 Juice of ½ lemon
 2 Tbsp grated coconut
 Handful of chopped coriander leaves
 
 Seasoning/ Tadka
 mustard seeds
 cumin seeds/jeera
 turmeric powder (haldi)
 asafetida powder (hing)
 Salt, oil
Method:
 Soak the split moong dal for at least 2 hours. Keep aside.
 Take a pan/kadai, and then heat about 1 Tbsp of oil. Add mustard seeds and when they splutter add jeera, curry leaves and hing. 
 Drain the water from the moong daal. Now add the chopped beans, moong daal, salt, turmeric and green chillies to the seasoning and mix well.
 Add water and mix well. Keep this covered on medium high flame and stir in between so that it does not stick to the bottom. 
 Sprinkle water in intervals and stir. Check for seasoning and salt. Continue until the beans and daal is cooked. 
 Garnish with coconut, coriander leaves. Lastly add a juice of lemon and mix. Serve hot with Rotis/chapathis or Rice.