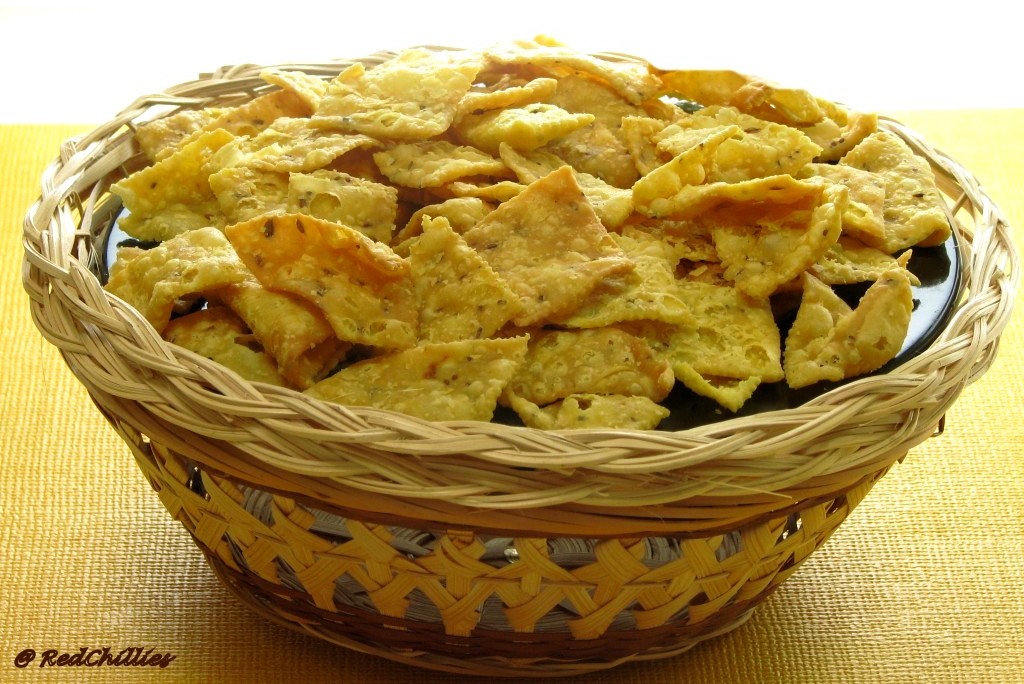 TGIF! The weekend is finally here and I am so glad that this week is finally behind us. This week was particularly exhausting, with lots of activities both on the home and the work front. Added to this we have now enrolled our 4 year old for soccer class, so that means one more activity to squeeze through in our already busy schedule. On the brighter side the kiddo is very happy with his soccer activity and I officially get to be called the soccer mom. 🙂
 Moving on to the recipe, these are deep fried savory diamonds (for lack of better term).My mom had prepared and sent these along with the other goodies. Different regions in India refer to this with different names. In Konkani they are referred to as Shankar Pali/ Tudki and in Hindi as Namkeen. It is amazing how even with almost similar ingredients; the taste could be totally different.
Relishing these treats opened up a floodgate of memories. Come Diwali, and this had to be one of the items among the array of dishes (faraal) that my mom used to prepare. She would start her preparation a week before Diwali, but then me and my brother would sneak in and finish off half of the goodies much before that.  So she would take good care to either hide it or put it in a place beyond our reach.
Anyway, these are simple to make with readily available ingredients on hand. They are crispy and have that melt-in-your-mouth texture. Trust me; these are so addictive that they are gone in no time.
 Hope you all have a wonderful and relaxing weekend.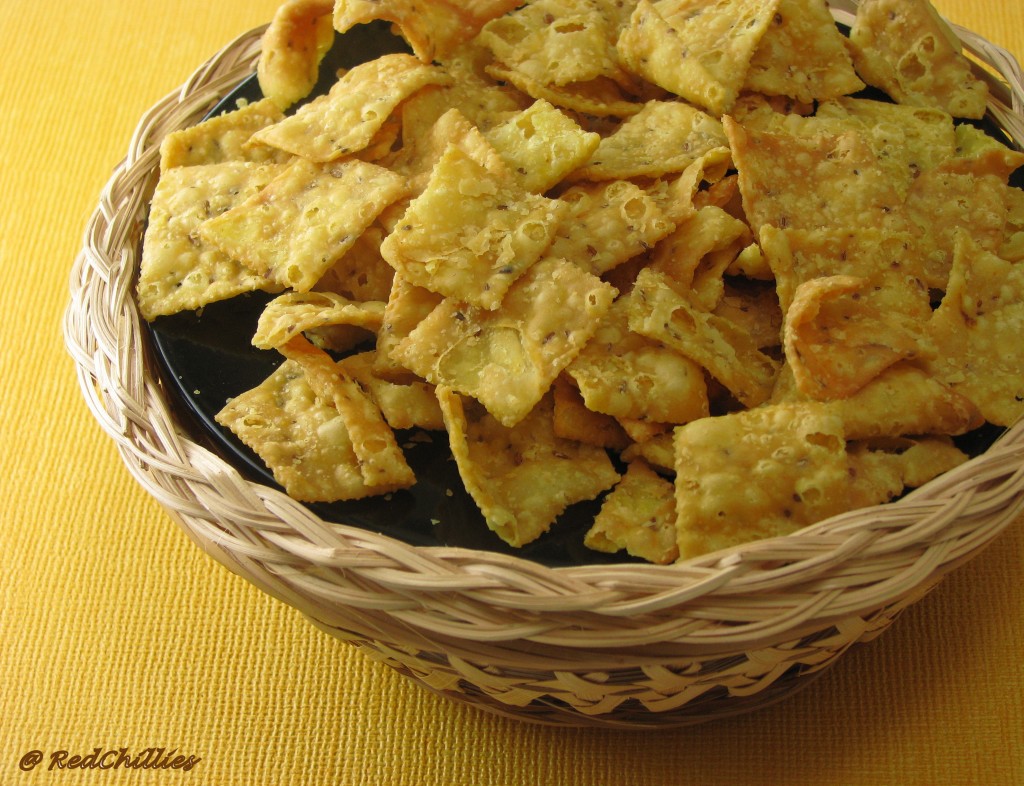 Ingredients
1 cup maida or AP flour
1/2 tsp turmeric powder
1/2 tsp red chilli powder
1/2 tsp Ajwain
1 tsp Jeera/cumin
1 tbsp hot oil
Water
salt to taste
oil for deep frying
A note from my mom about measurement in grams: 100 gms of Maida was used , there will be 150 to 160 gms of Shankar pali and the numbers is about 75 pieces of 1″x1″ diamond shape pieces.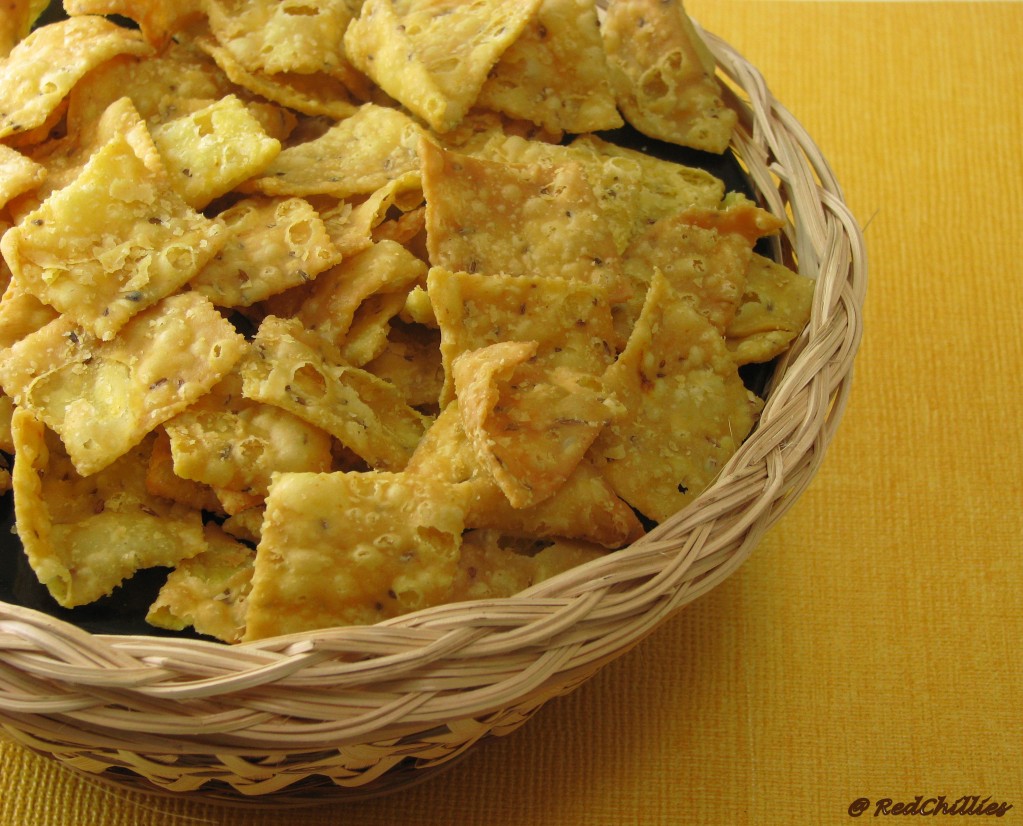 Method: 
Mix the flour, turmeric, chilli powder, salt, Jeera, ajwain and add the 1 Tbsp hot oil.
When the oil is cool enough to handle, mix it into the flour and mix well.
Using only as much water as required, knead into firm dough.
Keep the dough aside covered for 1-2 hours
Break into 6 equal parts and roll out each part into a circle of about 7-8 inches. Roll out the circle as thin as possible.
Cut into diamonds or squares or diamonds with a knife, cutting wheel or pizza cutter.
Heat oil in a heavy bottom pan and to test for the right temperature drop a small part, if you hear the sizzling sound then it has reached the right temperature.
Deep fry these pieces Fry in hot oil until crisp.
Take them out of the oil when they look light golden brown into a shallow dish on a paper towel.
They will continue cooking a little even after they are taken out.
Store in an air-tight container.