Hope you are all having a good weekend. The weather here in our neck of the woods is pretty good, with pleasant mornings, evenings and warm afternoons. On Saturday morning, the weather was just perfect for the kids to play their soccer match. They have practice during the week and the actual match during the weekend. It's amusing to watch the tiny tots play; of course, they don't go by the book, they bend the rules, fight, fall and yet have fun. (Mind you, I am talking about 4 year old's here). Here are some observations from a novice mom who  sits and watches from the sidelines.
It is not uncommon for players on the field to: 
Kick the ball into the opponent team's net, display a proud look and rejoice for scoring a goal. Of course, the coaches play along and give them the hi-fi's!
Cry, shreikh and run to mom/dad because somebody else in their team scored a goal.
Fight with fellow player because he/she refused to share the ball.
Fall on the ground and throw a fit just to draw some attention from the coaches and parents.
Leave the ground while in the middle of the game and play on the nearby slides instead.
Throw the ball using hands, instead of kicking. 
Have I mentioned that nobody keeps track of goals while the kids play? It is all done in good spirits, mainly with intention of learning and enjoying.
After we got back home from the match, we felt like drinking something cold and filling. We still had plenty of strawberries left over from an earlier loot; so I decided to put them to good use and made this quick and easy Strawberry Smoothie, which I adapted from here.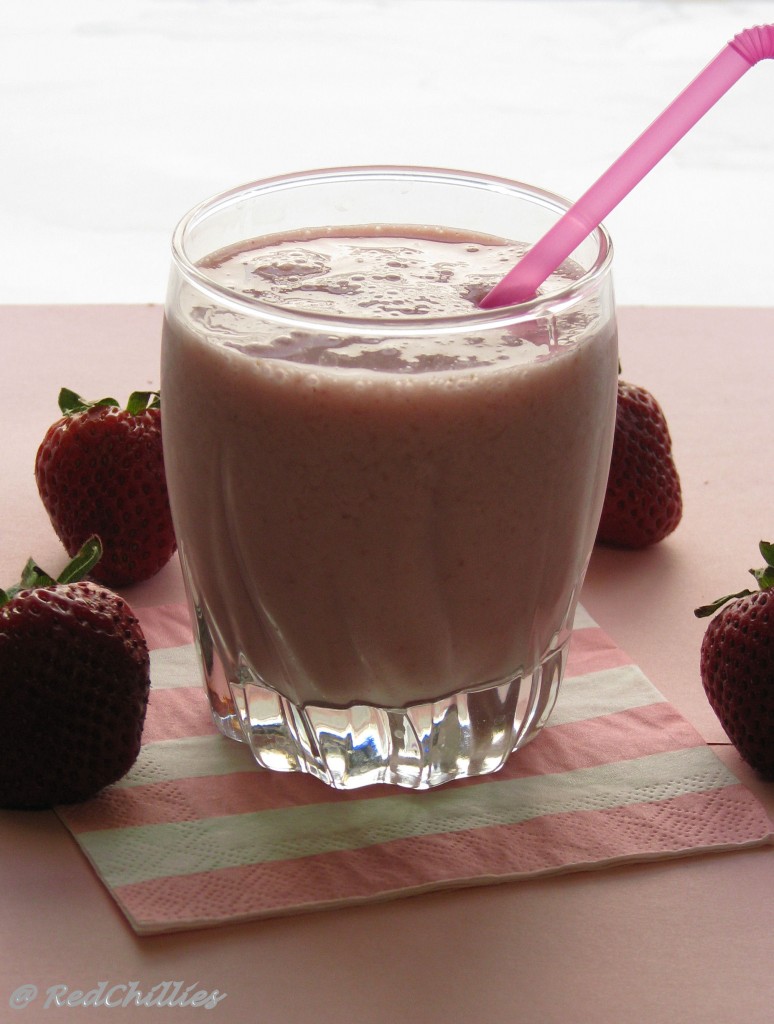 Slushy Strawberry Smoothie
Ingredients:
6 medium strawberries
1.5 tsp of sugar
1 cup milk
1 cup of ice cubes
Preparation:
Blend strawberries with milk till well. Now add the ice cubes and blend on high.
Add sugar and blend again about 1 minute. Serve cold.
Note: There is a problem with comments on new posts, and until a good solution is found, the comment section will be disabled.