The wistful part about the weekend is that it is not long enough and gets over in no time; here you are dreaming of lazy, casual Saturday morning, anticipating in doing things in a relaxing, causal way and before you know it you are driven to a hectic, groggy, rush hour Monday morning in no time. The transformation 0-90 mph takes place at the blink of an eye! This week was very hectic for us, with so many activities lined; we hardly were at home the whole of Saturday and Sunday. 
Oh well, moving on… as is becoming a routine, DS is taking the idea of making/baking some new during the weekend pretty seriously. During the week, as and when he remembers he asks what we are going to bake during the weekend. The chocolate lover that he is usually asks for something that has chocolate ("Chlocate" as he calls it) in it.
 This week however, I did not have to do any planning as DS knew exactly what he wanted. Thanks to Caillou; there was one episode in which the bubbly Caillou goes gaga over Chocolate Pudding and prefers it over anything else. At the end of at all, we had one mesmerized 4.5 year old who could not stop talking about Chocolate pudding, proclaiming his love for it and how that was his most favorite dish. Errr…. the problem? DS (or for that matter his mom) had never tasted or seen Chocolate Pudding before. 
Persistent pleads were made to make the dish and so the mom caved in and a search was duly performed. The criteria were to look something that was not rich, easy to make and ingredients that were available on hand. So here goes:
Off this goes to MEC – Kids Party Food at Asan Khana . This event is a brain child of Srivalli.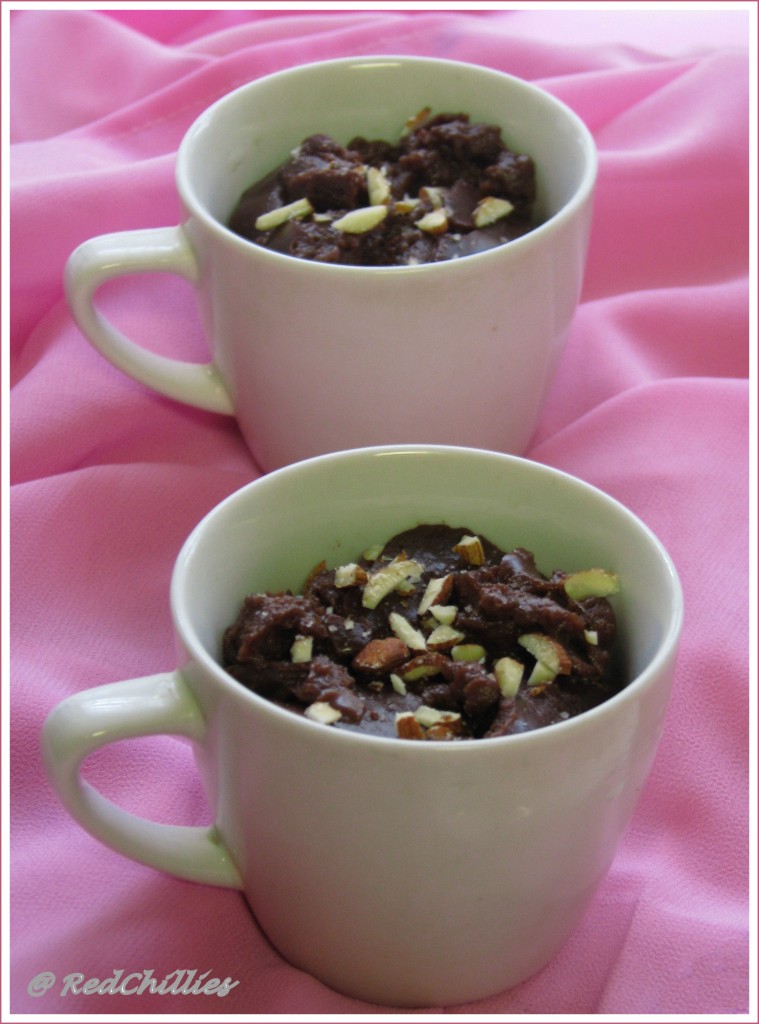 Recipe Source: Adapted from here.
 Ingredients
1/3 cup unsweetened cocoa powder
1 Tbsp butter
1/2 cup white sugar
2 cups milk
Pinch of salt
3 Tbsp cornstarch
2 tsp vanilla extract
3-4 Almonds chopped (optional)
Serves: 4 
Directions
In a microwave-safe bowl, mix together the dry ingredients sugar, salt, cocoa and cornstarch.
Add milk a little at a time and mix so the mixture does not form dry lumps.
Place in the microwave, and cook for 2 minutes on high.
Stir then cook at 1 minute intervals, stirring between until it is shiny and thick. Mine got over in 3 minutes.
Note: The mixture thickens a bit after it is cooled down.
Stir in vanilla and the butter and mix again.
Chill in the refrigerator and serve cold. Garnish with almonds before serving.
Taste Test:
 This pudding does not have the rich and creamy taste mainly because this is devoid of excess fat and cream. It is light tasting, but has a good chocolate flavor, with no hint of the corn starch. This is a good one to make if you have a chocolate craving and want something quick, light and low-fat. Tastes good with some nuts sprinkled on it.