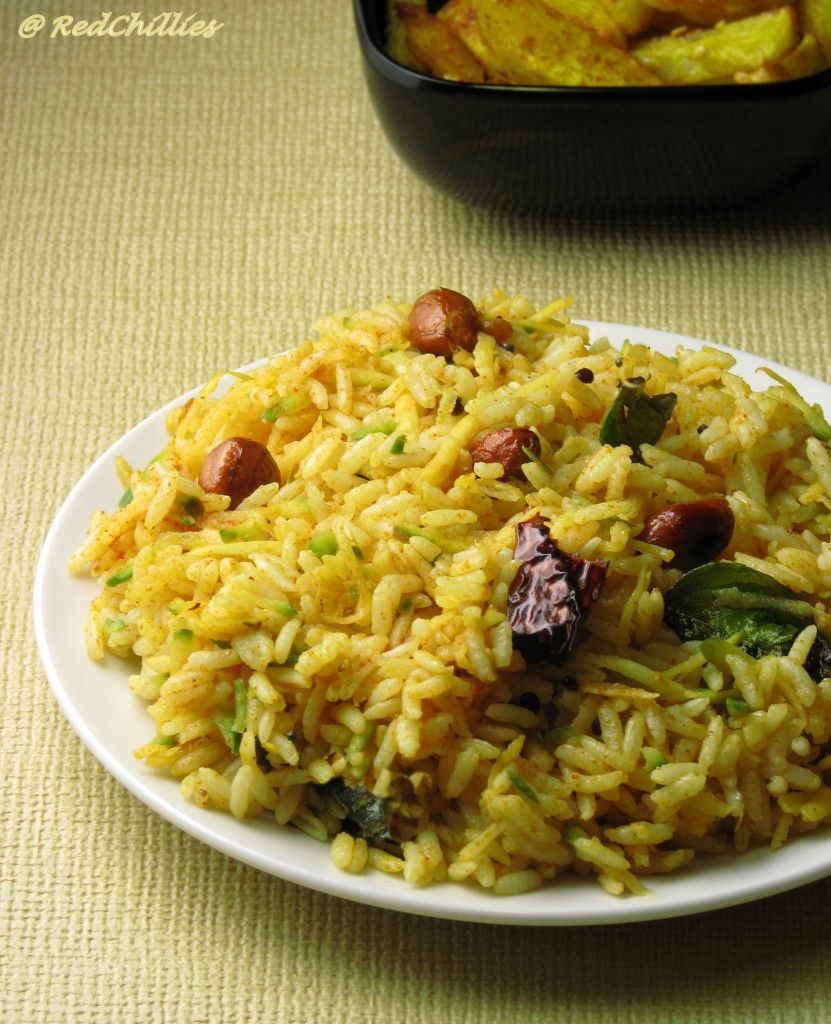 This Raw Mango Rice called as 'Mavinakayi Chitranna' in Kannada is a variation of the usual Mango Rice recipe that I have posted here. In the latter version, all the ingredients are mixed and cooked over the stove top; where as in this version, the cooked rice is mixed along with raw mango paste and then aptly seasoned. Of course, for this version the seasoning plays a very important role and needs to be as strong as possible. This is achieved by using good asafetida, fresh curry leaves and good dried chillies. 
I got this recipe from my MIL who happened to see this in a cookery program on TV. She passed along this recipe last week. Since I had a raw mango, I gave it a try this week and we loved the taste. The tanginess for this rice comes from the raw mango and there is no need to add lemon juice to this. 
I have also posted a basic variation of Chitranna (without any raw mango) here.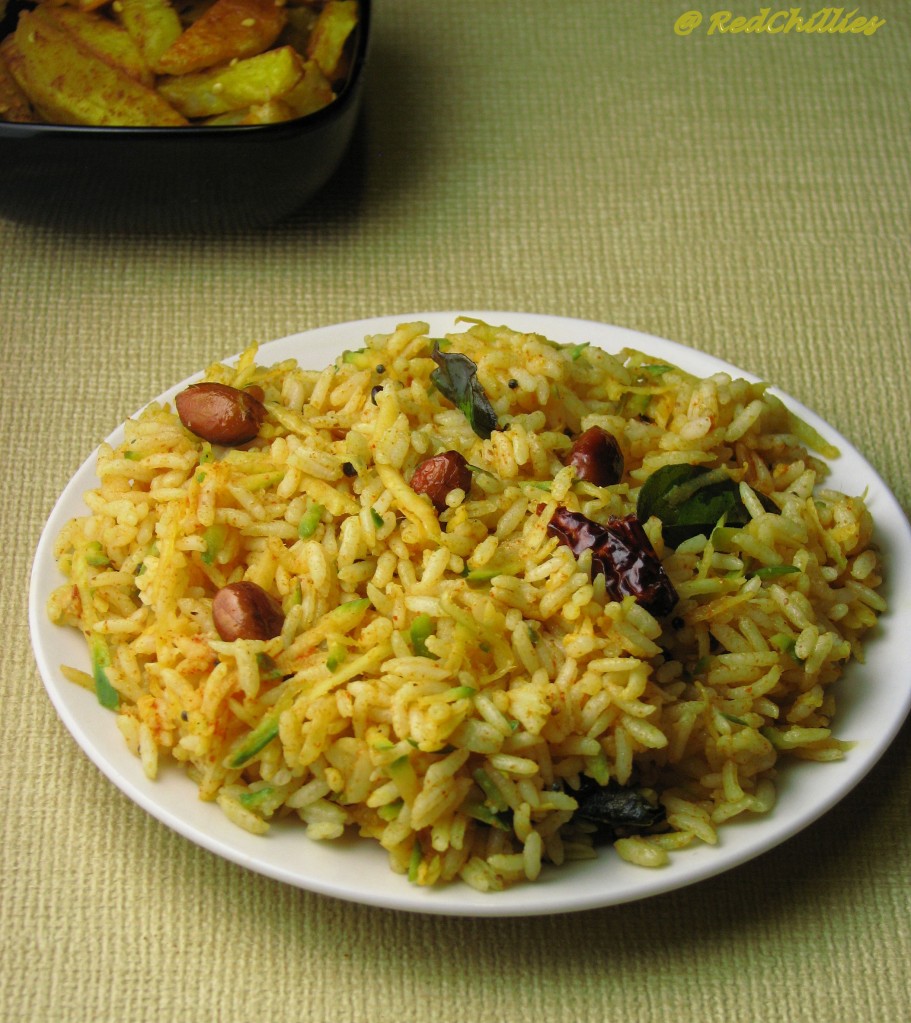 Ingredients:  
2 cups cooked rice (warm)
1 cup grated raw mango (green mango/ kairi/mavinakayi) [roughly remove the skin, no need to remove it completely]
½ cup shredded coconut
3-4 green chillies (chopped finely) /red chilli powder
salt
To Powder: 
1 tsp mustard seeds 
¼ tsp methi seeds  
For the seasoning (tadka) 
4-5 Curry leaves
Asafetida a pinch
¼ tsp Mustard seeds
1 tsp Urad daal
½ cup groundnuts/peanuts
Dried red chillies (broken)
Oil  
Serves: 4
  Method:
Slightly roast the mustard seeds and methi seeds with little or no oil. Powder it and keep aside.
Mix together the coconut, green chillies, grated raw mango, salt using hands.
Take a big plate and spread out the warm rice making sure there are no lumps. Add salt, little oil and the grated mango-coconut paste from above.
Add the mustard seeds methi seeds powder and mix well with hands. Check for taste and adjust.
Now prepare the seasoning: take a big pan, add oil on medium heat. Add mustard seeds and allow to splutter, and then add peanuts, asafetida and keep stirring.
Add the urad daal, curry leaves, dried red chillies and mix again until the urad daal browns evenly.
Pour this over the rice mixture and mix well. Serve warm with some yogurt and some roasted pappads.