CSNStores had asked me if I would be willing to do a product review and I gladly agreed. They have more than 200 online stores and choosing one product was no easy task. But then we had plans of buying a grill and we used this opportunity to buy a grill from Cookware. After some research we decided to settle down for this grill"
George Foreman Indoor/Outdoor BBQ with Dome Cover – GGR50B". So far we have had a positive experience with this grill and would recommend it to anybody. Please read the review for more details about the grill.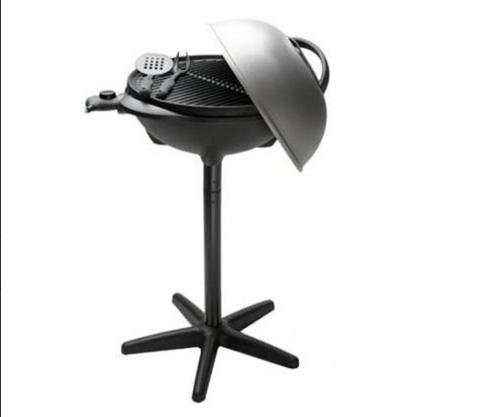 Shipping and Delivery from Cookware: There We had a positive experience with their shipping. Even though we requested Standard Shipping, we received an email that the product would be shipped to us much earlier (much to our delight, of course). We were able to track the shipment online and so we had the correct estimate of the delivery date. The product arrived on time and thanks to Cookware for the prompt delivery!
Assembly: When the product arrived, just me and the kiddo were at home. The packaged box was light and I had no problem moving it and unpacking it. Since I was excited, I could not wait for DH to come home and do the assembly. It was a no brainer and by looking at the manual I was able to do the assembly in about 5 minutes.  What impressed me is that the whole unit was very light weight. The grill along with the stand etc weighs about 27 lbs.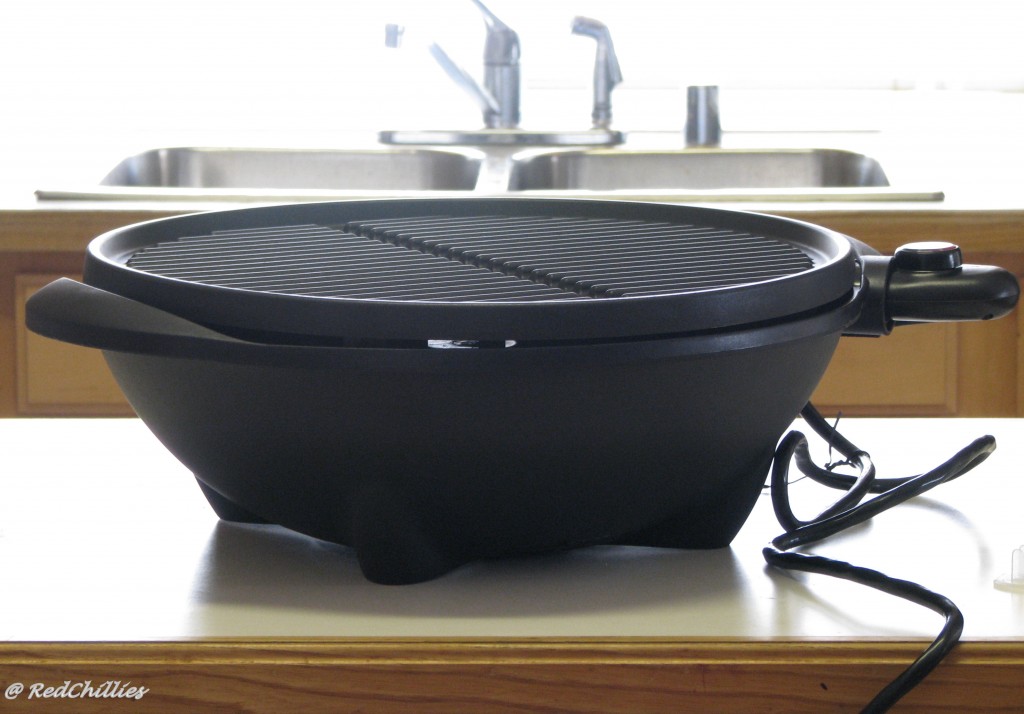 (The grill perched on our kitcehn aisle)
Features of the Grill: The grill uses electric heat, with adjustable range from low to high. The grill can be used either indoors or outdoors. So on days when it is either too hot or cold outside, the grilling can be done inside. The best feature (in my opinion) about this is that the grilling can be done either on a tabletop/aisle or on its pedestal. I like to grill on our kitchen aisle, so that I can keep an eye on it while taking care of other things. DH on the other hand prefers to do the grilling on the stand itself. Of course, you need to keep a close watch on the kids and make sure they are not running around too close to it.
Grilling: The grilling surface heats up very quickly. There is a sloping grate base draws fat away from food to collect in easy-to-empty tray. This helps in 2 ways, one the food does not retain food and the fat/oil doe not stick to the grilling surface. The high domed and vented lid helps create a circular flow of hot air to ensure even cooking, but frankly we have not used it that much. So far we have grilled vegetables and burgers and the experience is good.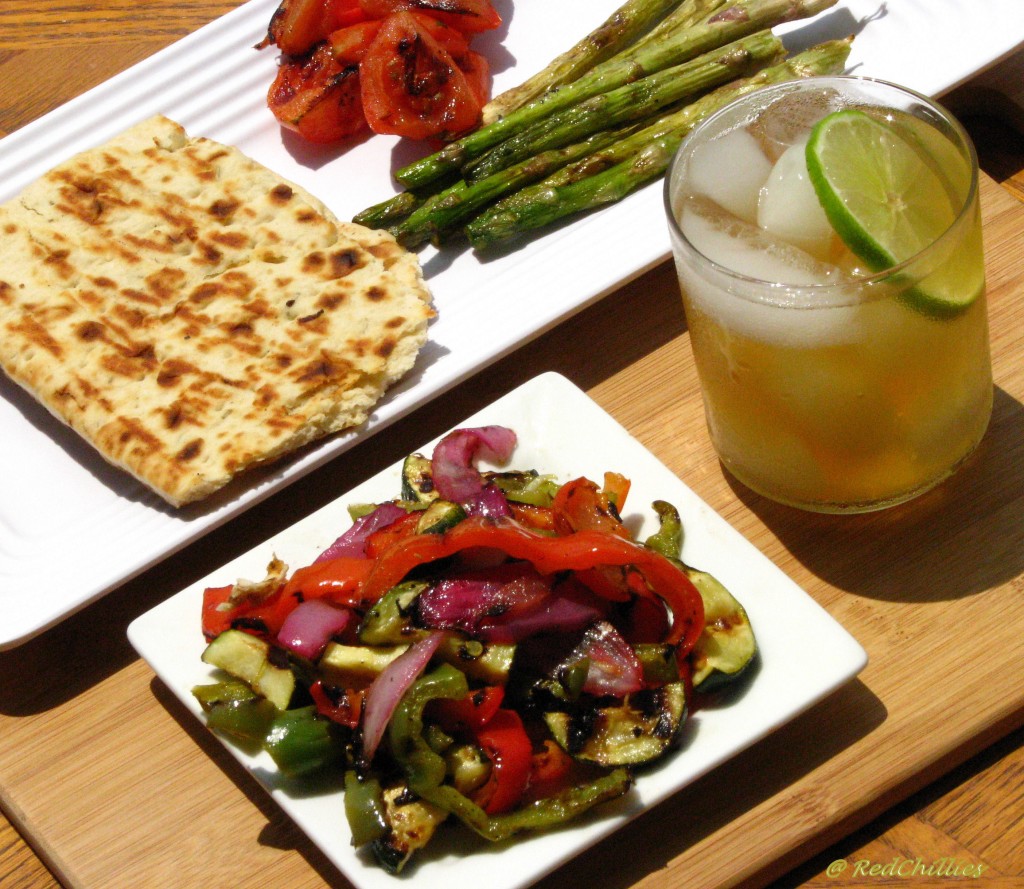 Cleanup: The grill has a non-stick surface and is pretty easy to clean. The way I do it is first wipe the base with paper towels to remove as much grease as possible. Then keep the base rinsed in some water and then wipe with soap and sponge over the kitchen sink.   
Grilled Vegetable Flatbread Sandwich Recipe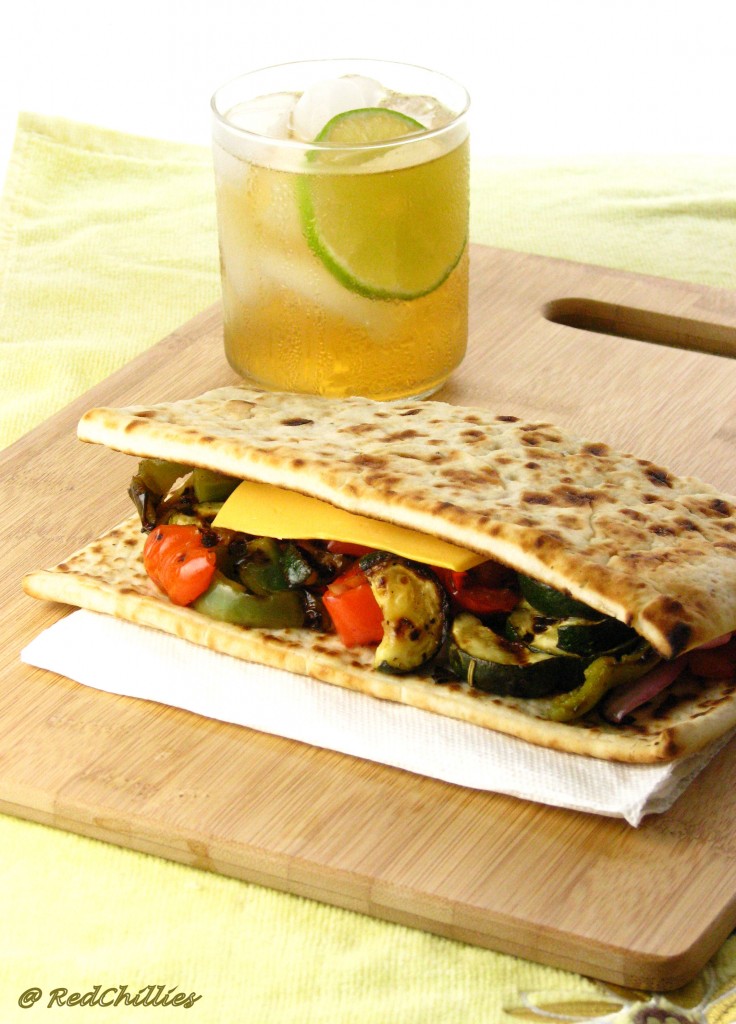 Ingredients 
1/2 cup thickly sliced zucchini
1 cup red bell pepper (chopped)
1 cup green bell pepper (chopped)
1 cup chopped red onion
5-10 asparagus
2 tomatoes
2 Tbsp olive oil
Juice of lemon
1 tsp chilli flakes (per taste)
1 tsp rosemary (I used dried)
1 clove garlic crushed
2-4 Flatbread
4-8 cheese slices (depending on preference)
Method
Marinade: In a small bowl, whisk together olive oil, rosemary, lemon juice, chilli flakes and crushed garlic.
Now place the zucchini, red bell pepper, green bell pepper, red onion, asparagus, and tomatoes in a large bowl.
Add the marinade and toss well. Cover bowl and let it marinate for an hour or two.
Preheat grill to medium heat. Place the chopped marinated vegetables on the grill. Cook for 12 to 15 minutes, until tender.
Place the flatbread on the grill for few seconds, place the cheese slices for few seconds. Add the grilled vegetables and serve hot.