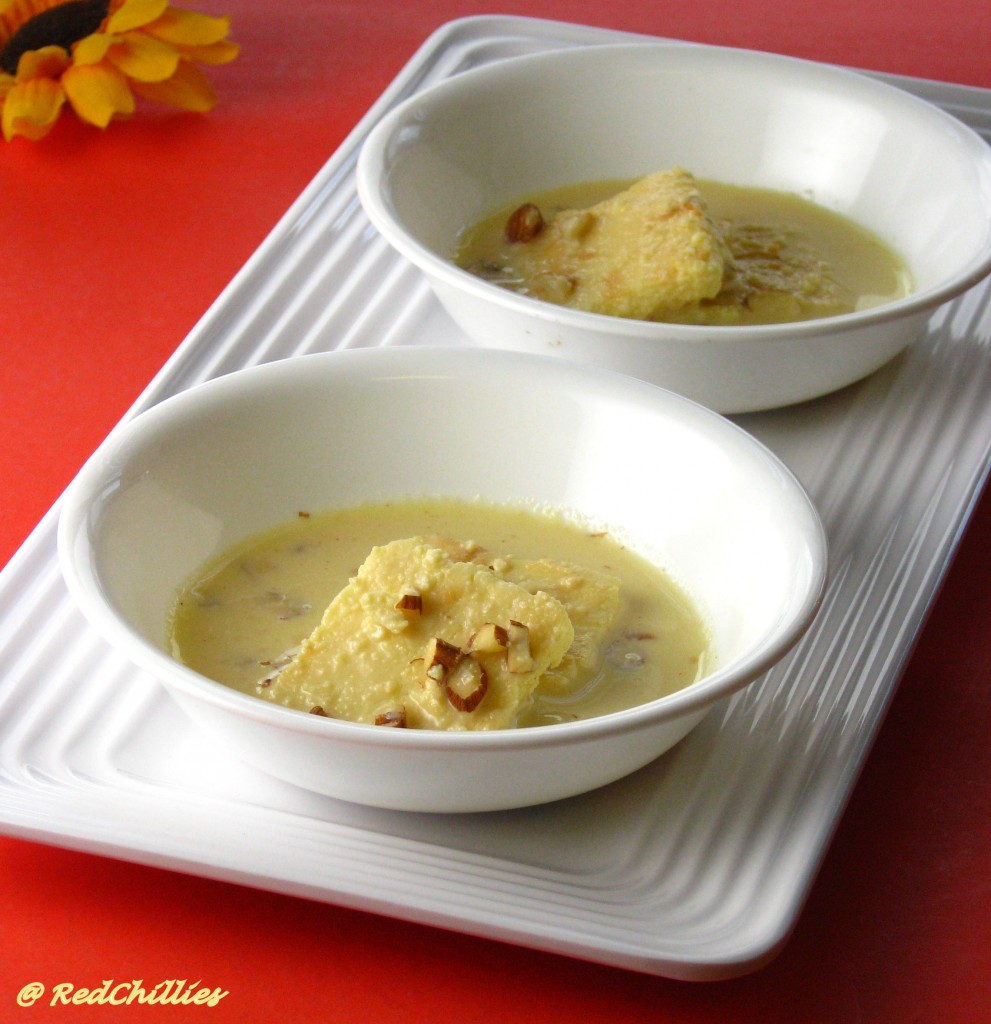 Ras Malai is a popular dessert in India. Ras malai consists of sugary, cream to yellow-colored balls (or flattened balls) of paneer soaked in malai (thick milk) flavored with cardamom.
It was only after coming to US, I learnt to make this easy Ras Malai using ricotta cheese (as substitute for paneer) and that makes the recipe simpler. I am not sure if this is the authentic taste but I am sure it is close to the original.
This is a very easy dessert to make, even though the steps may seem complicated. But if you try it once, you will get a hang of it and realize how simple it is to make. The dessert by no means is a low-fat and not the right one to eat if you are counting calories. But then the taste is delicious, creamy and tasty that it is definitely worth a treat. And come on, a little dessert never hurt anyone right 🙂
Since this is a fail proof recipe I usually make this when we have guests over. And it has not disappointed me so far.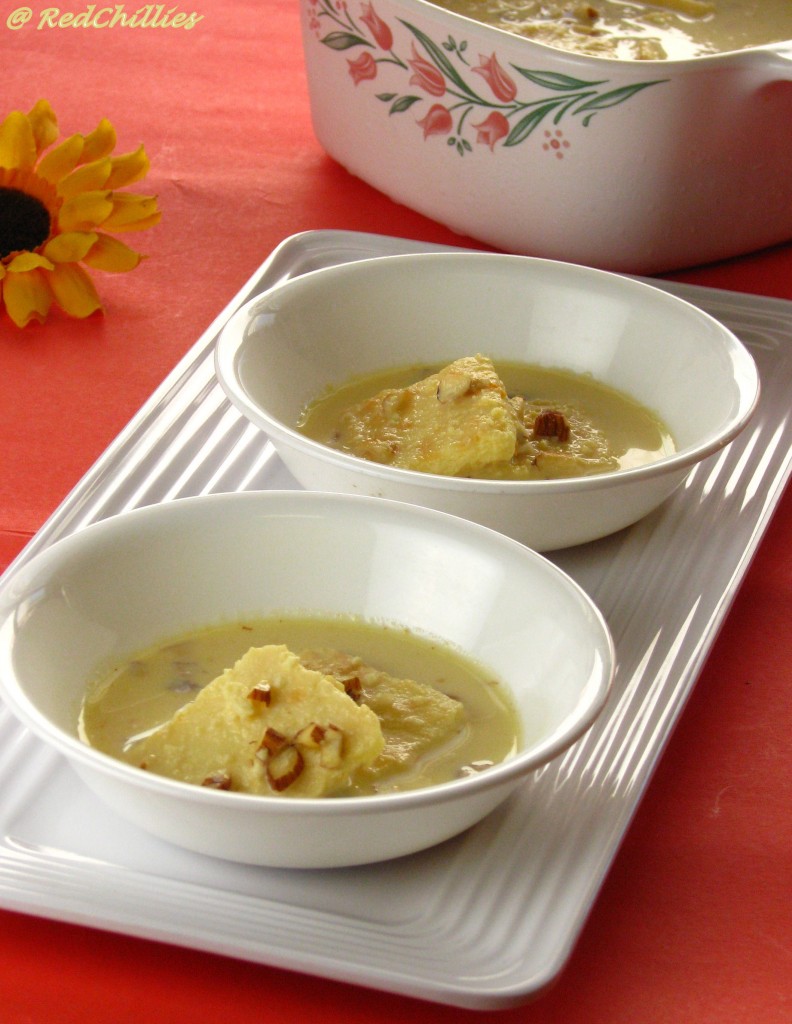 Rasmalai Recipe
Ingredients 
15 oz ricotta cheese /425 gms/ 1 tub ( I used part skim)
½-¾ cups sugar ( use less if you don't like it sweet), also note that the milk will be sweet
 4 cups milk ( I used 2% milk/ whole milk is preferable)
1 cup half and half ( optional, no need to use this if using whole milk)
½ tsp cardamom powder
3/4 cup sugar
4-5 strands saffron
Almonds/pistachio (chopped into fine pieces for garnishing)
  Makes: 15-20 medium pieces
Method
To make the malai/ricotta squares– Pre-heat oven to 350F.
In a bowl, mix together the ricotta cheese and the sugar well. (Make sure there is no water in the cheese)
To drain the water, I wrapped a cheese cloth around the container (after opening the lid)and turned it upside down for about 1 hour. If there is little water, it is ok as it dries up during baking.
Next take a baking dish (I used square), grease it and then spread the ricotta sugar mixture so that it is about ½ inch thick. Make sure it is evenly spread especially at the center.
Note: I sometimes put in a foil of aluminium on the baking sheet, press it tight so that there are no creases around the edges and then grease it with oil spray. After that I level in the ricotta sugar mixture and then bake. This prevents the ricotta squares from sticking to the baking sheet and comes out easily after baked.
Bake it for 40- 45 minutes until a pale brown color is formed at a top or knife inserted in the middle comes back clean.
Keep a close watch while baking and make sure it does not brown; else the ricotta part will not taste good.
After it is cooled, cut them into desired shapes like squares/circles/diamonds. I cut them into squares.
To make the Ras/ Sweet Milk/ Syrup: In a big container, boil the milk stirring in between so that it does not stick to the bottom.
Reduce the flame and then add sugar, saffron, half and half, let it simmer and continue to stir in between.
Let this quantity reduce a bit and thicken and then add the cardamom powder.
Keep aside for cooling and when it has come to room temperature, add the cut ricotta pieces and almond pieces to the prepared milk/ras/syrup.
Keep it in the refrigerator for 6-8 hours before serving. Serve chilled!