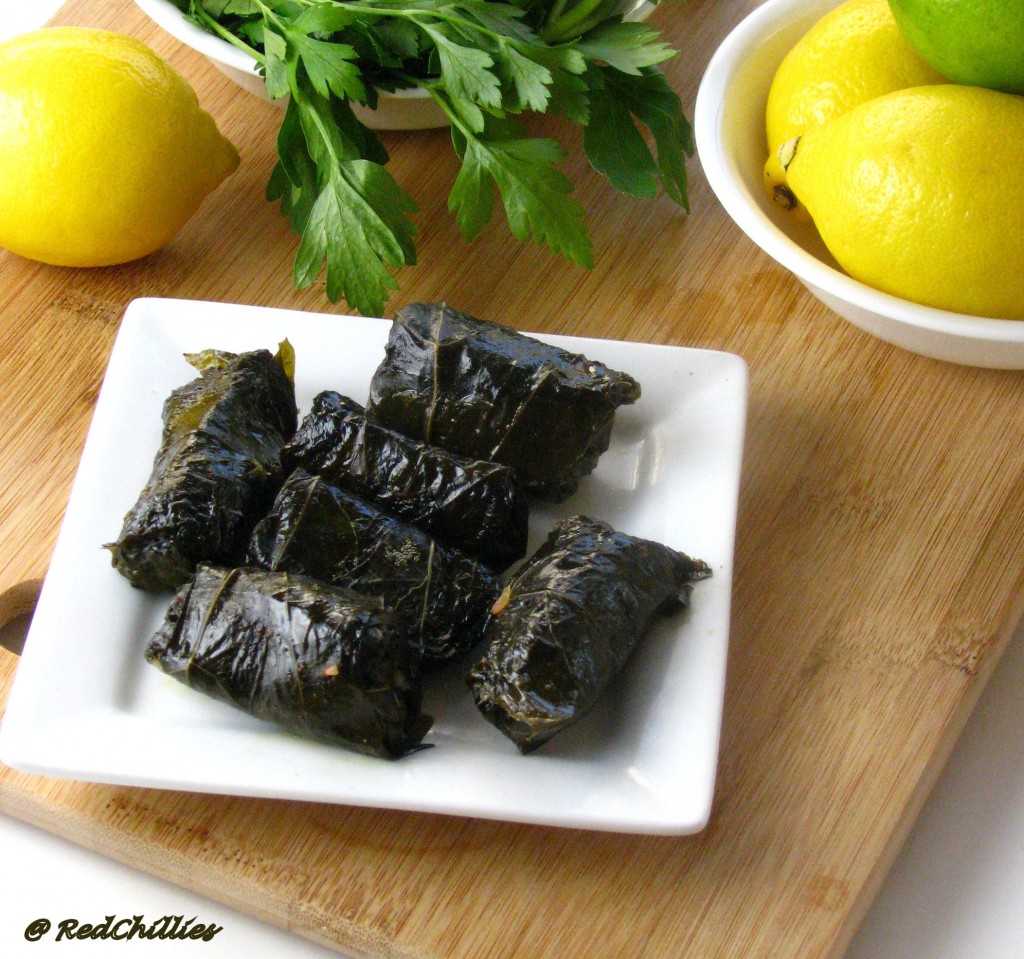 One of our favorite things to eat at a Mediterranean/ Greek restaurant is dolmas and the falafels….no wait dolmas and tabouli…hmmm maybe hummus and pita bread.  What ever it is this is one cuisine in which we eat only the appetizers and yet feel filled and content. What is not to like about an assortment of Hummus, falafel, Babaganoush, Tabouli, dolmas, and pita bread all offered in one plate, right?
Wait a second, did somebody say, what are Dolmas? Dolma in Turkish simply means "to be stuffed". Dolmas are grape leaves traditionally stuffed with a mixture of rice and or meat and then cooked. They are a specialty of Middle East and parts of the Mediterranean region and are served as appetizers. The vegetarian/meatless ones are usually served cold and the one with meat warm.
Speaking of Dolmas, we ventured into making them at home thanks to DH. Compared to the two of us DH is adventurous when it comes to prepared new foods at home.  Left on my own, I would have never tried making this myself and would have been content eating the store brought one's even if they were drowned in vinegarL.
Anyway, we tried this at home after looking at some videos and recipes online. Contrary to what we had imagined this is not all that complicated to make. For a first attempt, this came out better than what we had expected.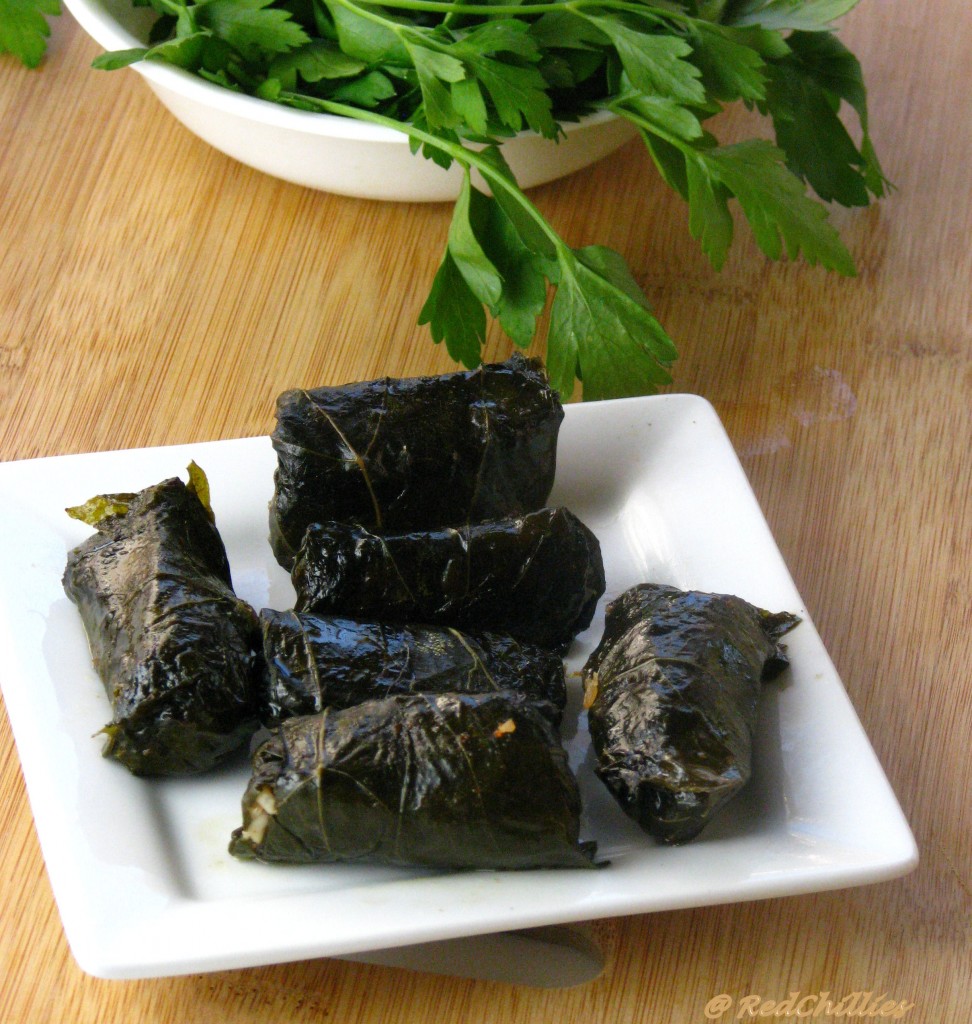 Vegetarian Dolma Recipe
Adapted from: Dedemed's Cooking
Yields: 16 dolmas
Ingredients
16-20 grape leaves (we used the ones from pickled jar) [We got our grape leaves from Whole Foods.
1/2 cup long grain uncooked rice (soaked in water for 1 hour)
3-4 leaves fresh mint
1/4 cup chopped onion
1/2 cup chopped parsley (packed)
1/2 tsp red chilli powder
1 tsp salt
1/2 cup lemon juice
1/4 cup olive oil
Method:
Drain the water completely from the soaked rice.
Now to this rice add chopped parsley, salt, onion, chopped mint, chilli powder, ¼ cup lemon juice and mix well.
Separate the grape leaves individually from the jar. This part took the longest time as we had to separate the leaves, making sure not to break them.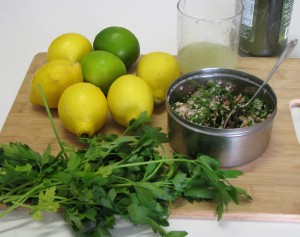 Gather up all the ingredients including a flat board to roll the grape leaves.
Rinse the grape leaves to remove as much brine as possible.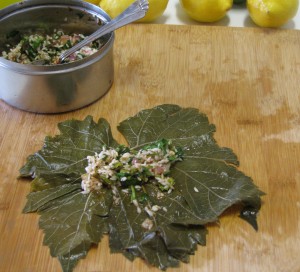 Take one grape leaf (remove any hard stems if any) and place shiny side down. Make sure the edges are flat and that the leaf veins are on the top.
Spoon about 1 Tbsp of the rice mixture in the center near the base of the leaf.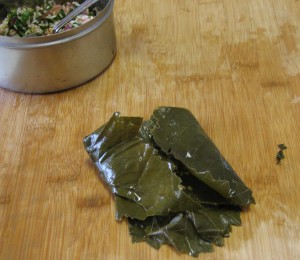 Fold the top sides over to cover the filling.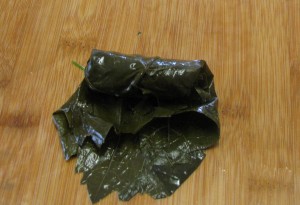 Next fold both sides inward lengthwise and then tightly roll leaf toward pointed tip end to make like a closed cigar/burrito.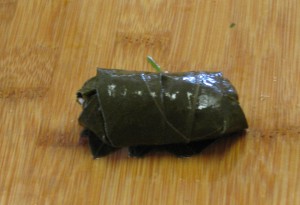 The rolled grape leaf is done. Repeat this procedure with the remaining leaves and the rice filling.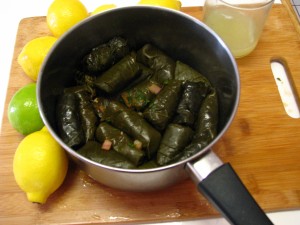 Take a medium sized pot and line the bottom with sliced carrots or potatoes. Make sure they are sliced flat and have the same height. This forms the base for placing the rolled stuffed grape leaves.
Place the rolled grape leaves on the sliced carrots making sure they are compact.
Now take a glass plate that will fit inside the pot and place this glass plate on top of the rolled grape leaves.
 On top of this place another heavy object.  (We kept a heavy porcelain bowl that would fit on the glass plate.
Heat this pot and add the remaining lemon juice, 1 cup water and bring it to a boil. After that turn down heat to medium and let it simmer. 
Cook for 45 minutes- 1 hour on low heat. Check the water level often and add more as necessary. The rice should be cooked by now.  Now  add 1/4 cup of olive oil and cook for 15 more minutes.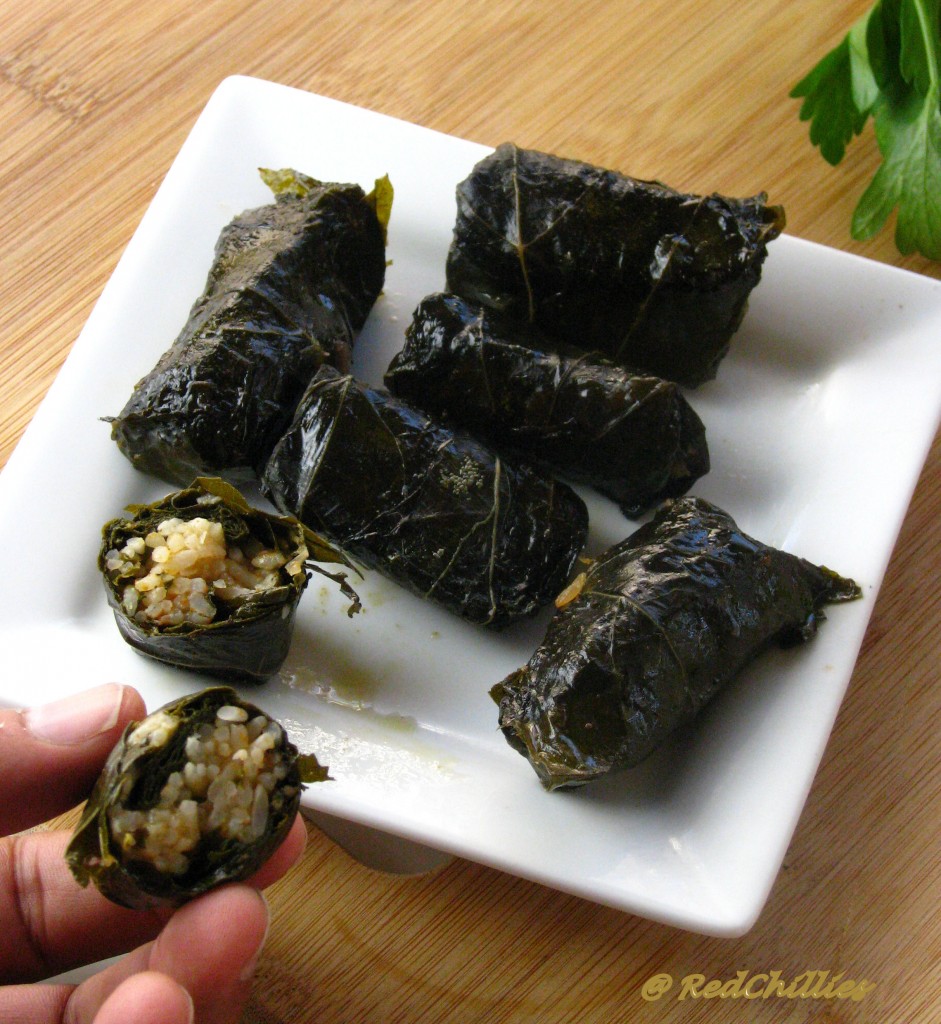 Let this sit aside for 1-2 hours until the juice and the oil is completely absorbed.  The inside should look something like this.