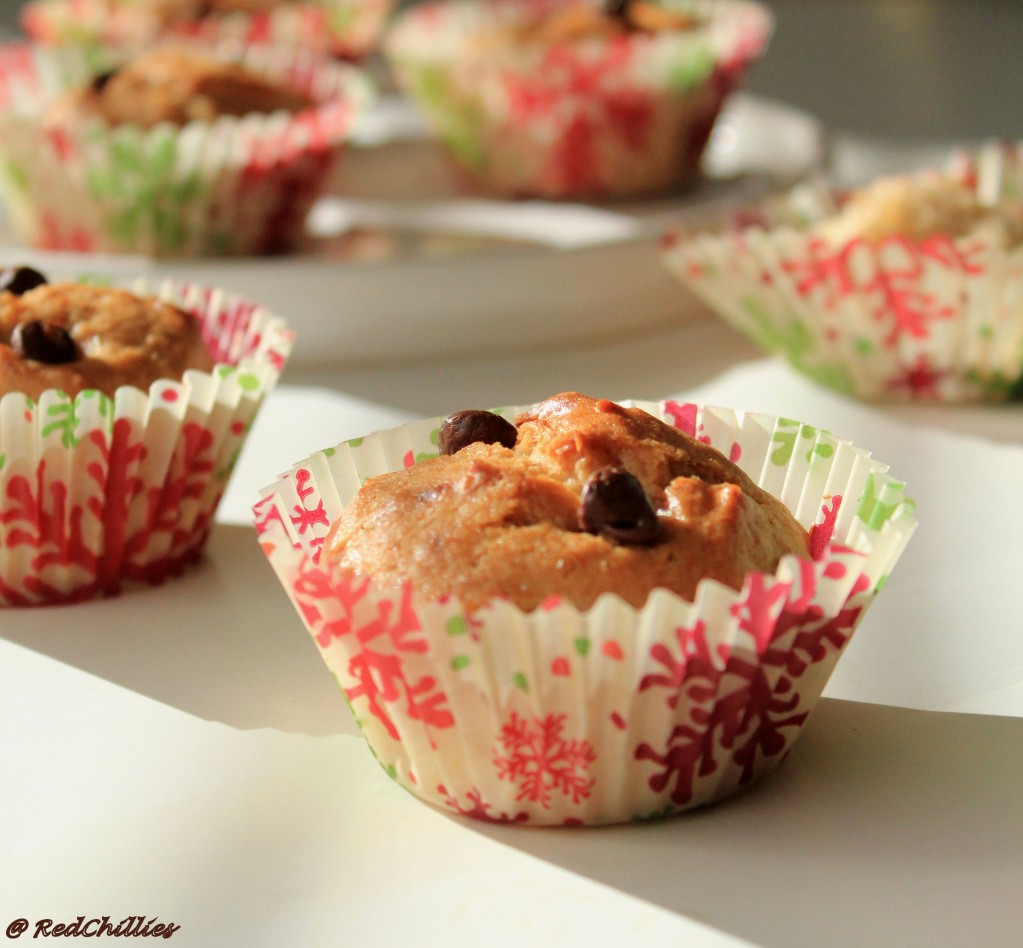 Baking or cooking with kids has been fun experience so far for me. It is a good way to connect with them and they learn things about different ingredients, measurements, concept of wet and dry etc. So time permitting I use the opportunity to bake with our 5 year old. 
Of course, there are some funny, wild, exasperated moments but you learn to take them as they come along. For example even a task as simple as stirring the dry ingredients in a bowl somehow brings up the picture of bad guys, chasing them, fighting with them and in the process dropping half of the dry ingredients onto the floor. While measuring the chocolate chips most of it goes inside the tummy rather than in the batter. When glared at he replies "but he (chip) wanted me to eat it". 
Here are some more of his funnies. His morning ritual while brushing his teeth is to stand on the scale and weigh himself. It is a feeling of triumph when he sees the scale rise giving him the feeling of growing big and tall. Most of the days, it stays steady sometimes it goes up by 0.5 lbs but then one day he found that he had lost a pound. He stood in a corner and cried tears streaming down his cheeks. With all hopes, I stood on the scale and cried too, for the completely opposite reason (of course). Such is life!
And then last week we had been to a sandwich place that was Wi-Fi enabled, DH tried to explain what Wi-Fi was and asked "Do you know what wi-fi is?" Pat came the reply, "Yes that is Amma, and she is your wi-fi". We burst out when we realized that he was confused between wife and wi-fi.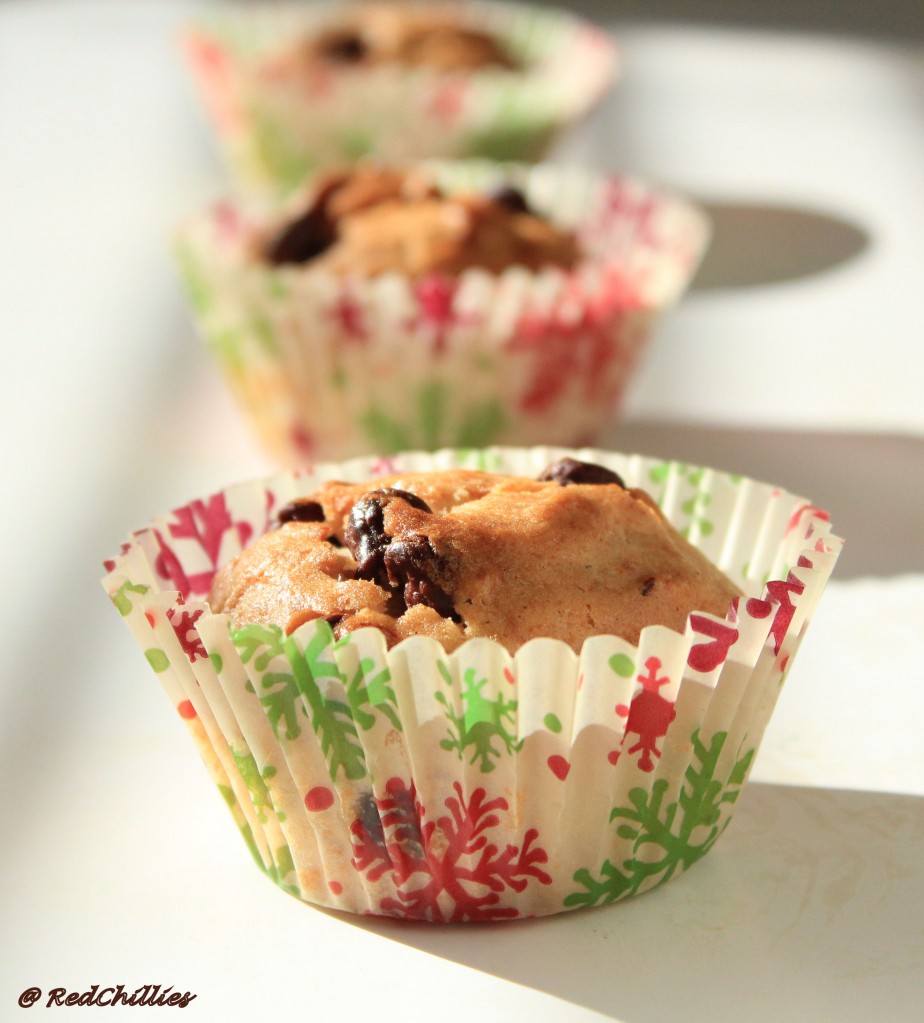 Coming back to the recipe we had some overripe bananas that I wanted to use and the kiddo loves chocolate chips in everything and so I was on a lookout for a muffin recipe. I found this is simple recipe of Banana Chocolate Chip muffins in the Joy of Vegan Baking Book.
 The good thing is that these muffins are low fat, soft (not moist though) and one that you do not feel guilty about eating. You can eat it either for breakfast or as a snack. Feel free to substitute blueberries, cranberries, peanut butter chips instead of the chocolate chips and it has a different taste altogether.
Ingredients:
1 cup all-purpose flour
1 tsp baking soda
½ tsp cinnamon
1/4 teaspoon salt
½ cup sugar
1/3 cup oil
1/2 teaspoon vanilla extract
2 small ripe bananas
½ cup chocolate chips 
Yields: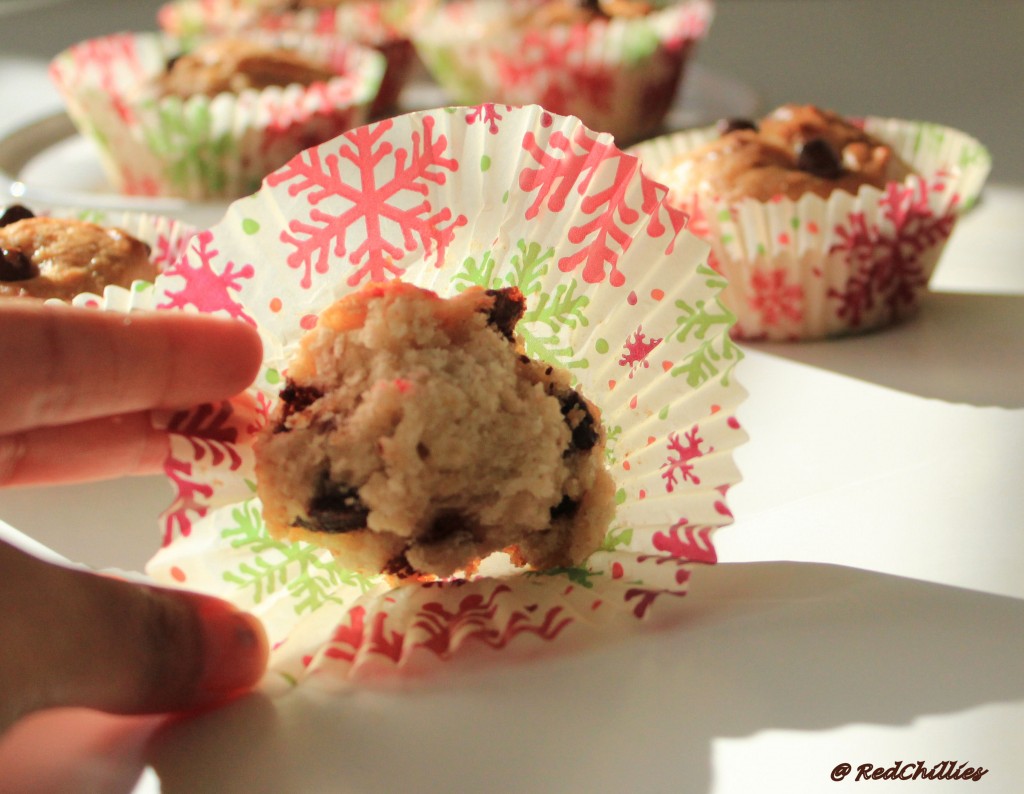 Method:
Preheat oven to 375 degrees F (190 degrees C).
In a bowl, mash the bananas with fork and to this add sugar, oil and vanilla. Mix well.
In another bowl, combine flour, baking soda, cinnamon and salt.
Stir the flour mixture into the banana mixture until just combined. Fold in the chocolate chips.
Lightly grease and dust 6 muffin cups (or line with paper bake cups), and pour the batter into each one of them until they are 2/3 covered.
Bake for 20-25 minutes or until a toothpick inserted in center comes clean.