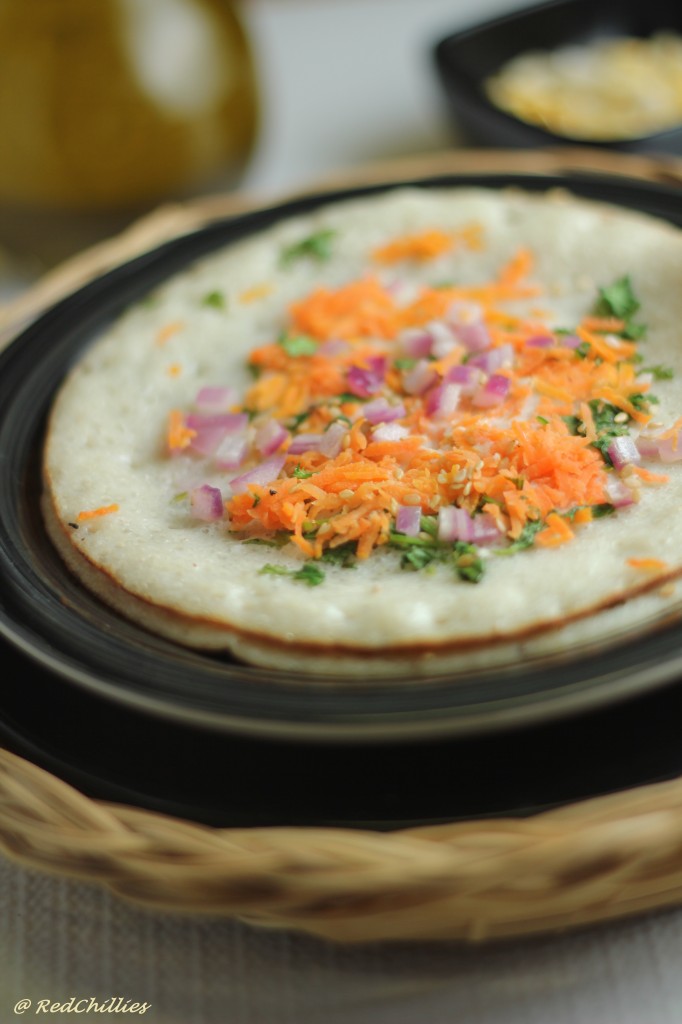 I would like to kick start the Dosa Month @ RedChilllies with the famous and tasty pancake from South India. These are savory pancakes that are topped with vegetables and made using left over dosa batter. These are soft and spongy but crispy around the edges with plenty of holes and little bit sour. Of course, you can always make this using fresh dosa batter (not few days old) and get away with the sourness.
But they are thick unlike the crispy plain dosa. Uttapam is traditionally made with tomatoes or an onion-chilli mix; other common ingredient choices are coconut or mixed vegetables. Uttapam is sometimes called an Indian pizza or pancake and is usually eaten with sambar or chutney.
My mom used to prepare this for us when we were young; I remember she used to add mixture of onion, coriander and poppy seeds to the dosa. But at that time I did not know that they were referred to as Uttapam, got to know of the name only few years ago when we had it at a restaurant.
I prefer taking these for picnics and or on road trips. Unlike the regular dosas they remain soft and they do not need any additional side dish like chutney or sambhar. They can be eaten as is or even along with dry chutney pudi. These are usually kid's favorite, good way to sneak in some extra veggies in their diet.
Adapted from Veggie Platter
Ingredients:
Dosa Batter (should be little thick, use as required)
½ cup onion (finely chopped) [I used red onion]
1 green chilli (finely chopped)
½ cup carrot (finely grated)
 ¼ cup chopped coriander leaves
salt
 Oil (as required)
Method:
Sprinkle little salt over the chopped onion and grated carrots. Mix them along with coriander leaves and green chillies. Keep aside.
Heat a Dosa Tava on medium high heat. Make sure it is lightly greased.
Sprinkle some water in the center and when the water almost evaporates pour a ladle of dosa batter in the center.
Spread the batter in a circular motion from the center towards outside. Do not spread a lot. It should have the same thickness through out.
Sprinkle some of the onion mixture on the dosa and lightly press it with the ladle. Start from the outer edge and then toward the inner edge. Do not add too much in the middle.
Put a spoonful of oil around the edges of the dosa and little on the top.
After the bottom part has cooked, flip the dosa over and let it cook on the topping end for about 10-20 seconds.
Transfer to a plate. Serve warm with chutney, sambhar or eat them as is!