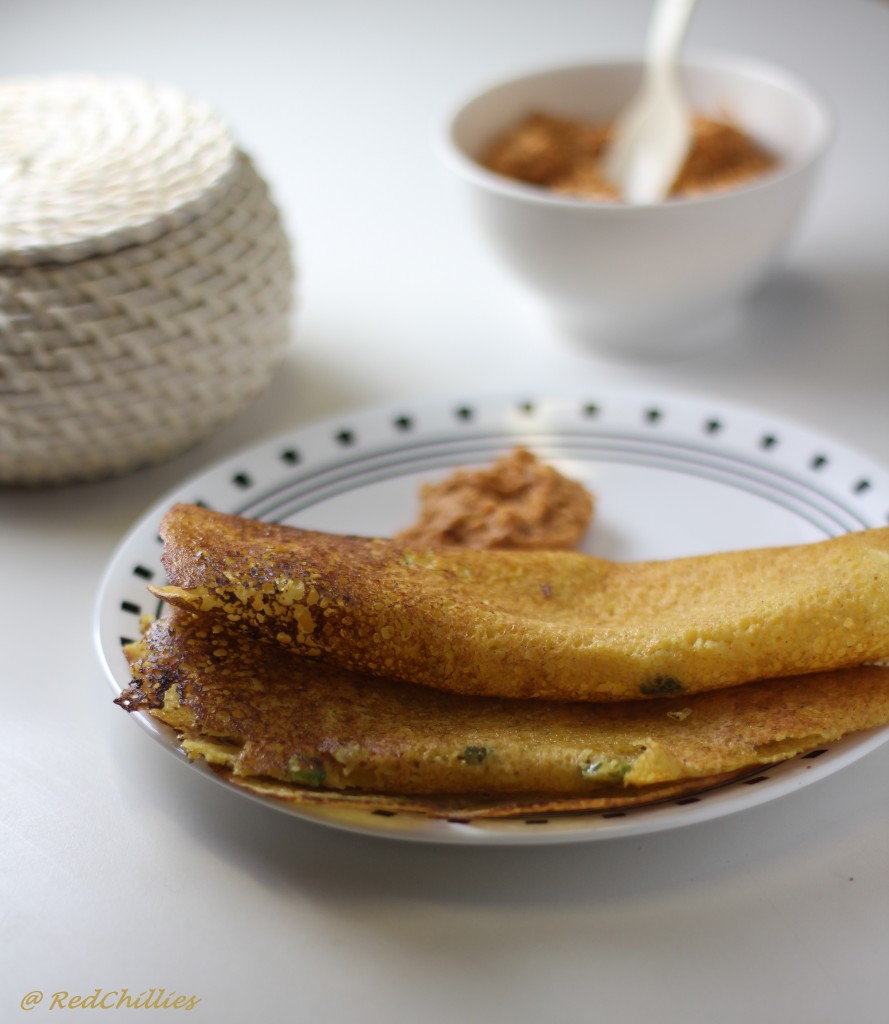 You know how you plan something in advance, have plans to execute it methodically but then something happens and the plan takes a 180 turn? Well, this is what happened to me last week. Here I was all geared up for my Dosa Month event, and had few dosa recipes in mind to try and post but then I got bitten by the FLU. So I had to deal with the usual high fever, body aches and chills and was restricted to bed/couch for almost 4 days. As expected I did not have the energy to move or walk let alone cook and post. 
Anyway, it has been 3 days since I recovered and I have got most of my energy back. Hopefully I will be able to post few of the recipes I had in mind. 
Here is a simple dosa made out of cornmeal, Corn Meal dosa. This is an instant dosa and so that means no grinding or fermenting is required. This tastes a whole lot like Rava Dosa with some after taste of corn. 
Category: Instant No Soaking, Grinding or fermenting required. 
Recipe Adapted from: Simply Spicy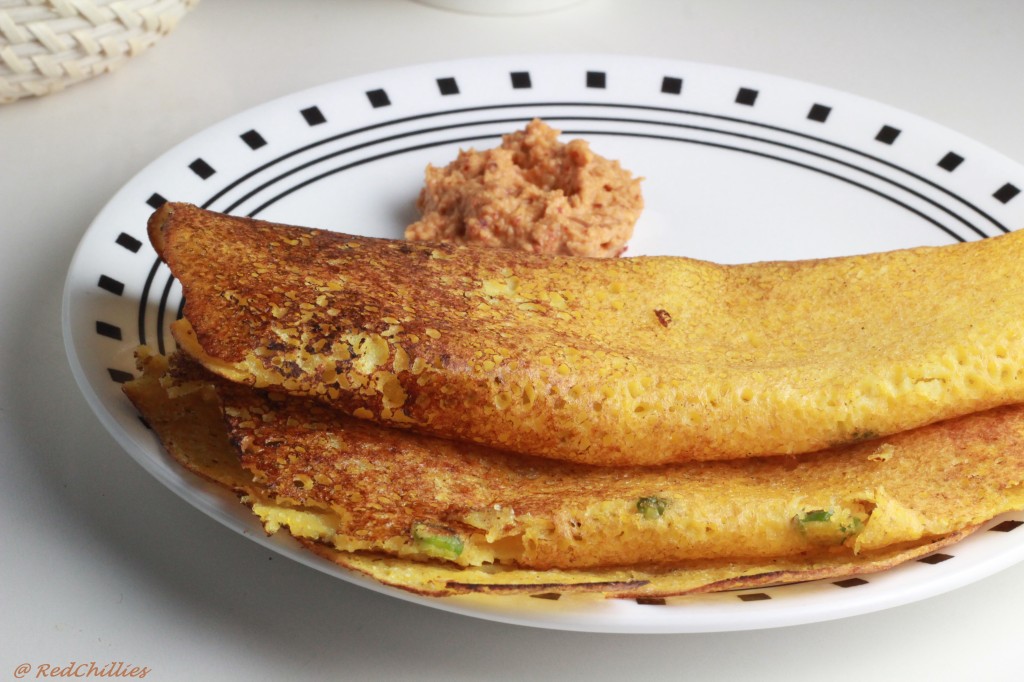 Ingredients:
¼ cup rice flour
1 green chilli chopped finely
1 cup  yellow cornmeal
¼ cup sooji/rava/semolina
Turmeric (a pinch)
1-2 tsp chopped coriander leaves (optional)
Salt to taste  
Seasoning 
1/4 tsp cumin seeds/ Jeera
¼ tsp mustard seeds
4-5 curry leaves chopped
oil

Method:


In a bowl mix together the cornmeal, turmeric, semolina, rice flour, salt, chopped green chilles and coriander leaves.
Add water and make a smooth paste. The batter should be thin (unlike a regular dosa).
Heat little oil in a pan, and then do a tadka/seasoning of add jeera, mustard seeds, curry leaves.
Add this to the batter, stir and keep aside for 20-30 minutes.
Heat a dosa tava/non-stick pan and grease it lightly.
Mix the batter again well and add more water if needed.
Take a ladle full of batter and pour starting from the center and then towards the edges. You will not be able to spread the batter like a regular dosa and also this dosa will not be round.
Spread oil around the edges and through the holes. Cook until the bottom part gets lightly browned and then flip it over and cook on the other side. Spread little more oil.
Fold the dosa and serve hot along with chutney.