If you love mushrooms, mushroom dishes and love to cook with them, then why not try to grow them on your own? After all, growing your own veggies is a fulfilling, rewarding experience. However the process could be time consuming and for many even not possible due to the lack of space. But then what if you could grow mushrooms in just 10 days, right out of a bag and all on windowsill? Too good to be true? Well, that is the idea behind the project at Back to the Roots.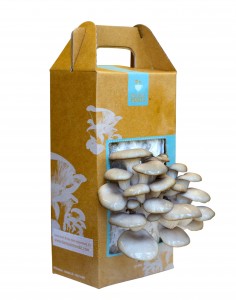 Back to the Roots is a company founded by two guys during their last semester at UC Berkeley in Oakland, California. Here is what Nikhil Arora one of the co-founders has to say about this project, "We just launched the Easy-to-Grow Mushroom Garden, which now let's anyone grow up to 1 1/2 lbs of gourmet oyster mushrooms in as little as 10 days…right out of the little brown box! Just set on a windowsill, mist twice a day, and watch them pop right out by day 7! The soil inside is composed entirely of recycled coffee grounds – a safe & sustainable soil for the mushrooms."
 It is a fun family-kids project and I know that I would love to have one for my 5 1/2 year old. Who would not love to see products grow in just 10 days? Plus it is eco-friendly as the mushrooms are grown using recycled coffee grounds as soil.
 Head to their site to read their story, get inspired and also get some cool mushroom recipes. Also check them out on FaceBook and Twitter.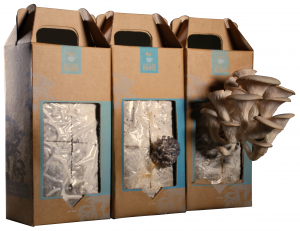 Also they just launched a campaign, where if you post a picture on their FB page of your fully grown kit in hand, they will send a sustainability curriculum and free kit to an elementary school of your choice. 
Discount code: If you would like to purchase your very own kit, visit Back to the Roots and enter the discount code mushrooms4me10 at checkout for 10% off your purchase.
Now onto the Giveaway. The folks at BTTR have offered to give a Back To The Roots Oyster Mushroom Growing Kit free to one lucky reader! 
Now onto the rules, there are not many but then please read carefully
Leave a comment here on this post telling your favorite mushroom dish.
Be sure to leave a valid email, so that I can contact you.
Deadline for this giveaway is Sunday July10th midnight US Central Time.
Only one entry per person and one lucky winner will be chosen. 
Note: This giveaway is open to U.S residents only. Good luck!