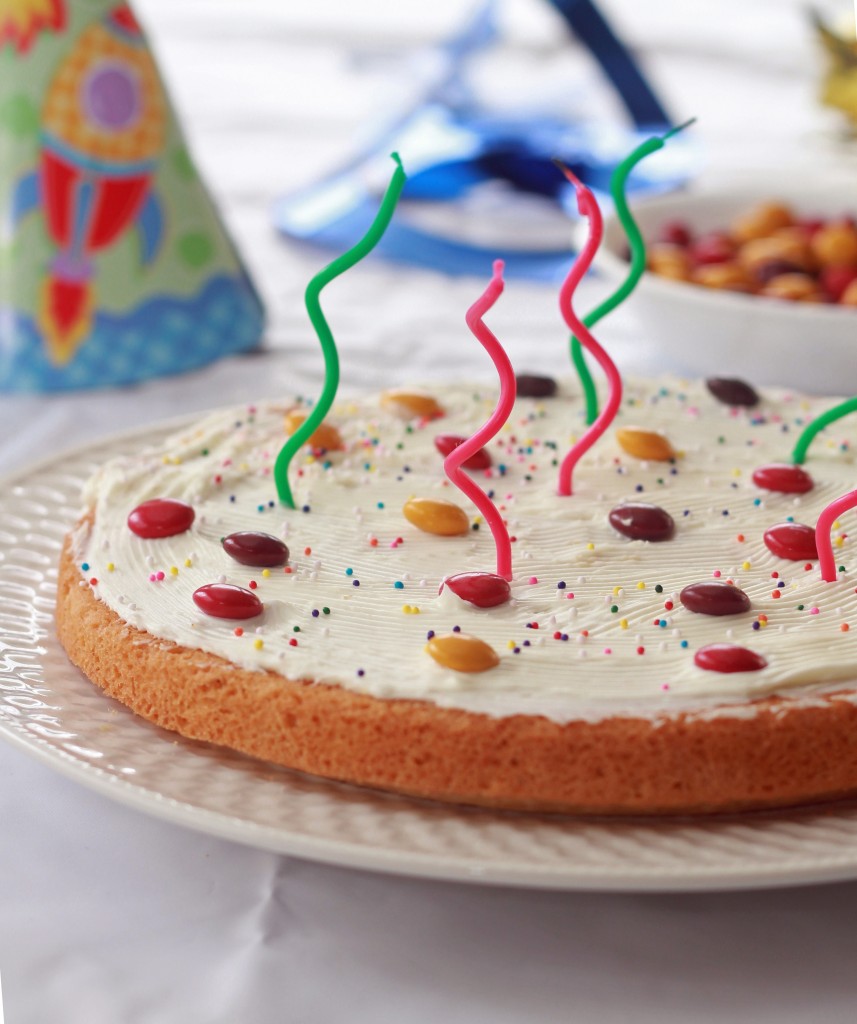 I know I have been away from this blog for a bit and it has been a while since I posted a recipe. Work, family commitments, Diwali celebrations etc kept me busy and so I was not able to post for a while. Anyway I am back now with a simple Birthday cake recipe.
 The kiddo had his birthday in October and he turned a year older. Like any 6 year old kid, his birthday is a big deal from him. He waits patiently for months together counting days for the big day to arrive. He makes plans like which gift to buy, what to do in the school, whom to invite and where to celebrate etc.
 This year was no different and he had plans for the same. I was thrilled as it would give me an opportunity to bake a cake.  Now the kid reluctantly agreed to join me for baking a cake; reluctant because he doesn't like cakes preferring Chocolate Chip cookies instead. But how is one to put candles on a cookie, make it stick and blow it? After all, birthdays is all about getting special attention, blowing candles and singing birthday songs right?
 Speaking on blowing candles, this kid for one loves blowing candles. I mean, if this kid had to blow the candles every single day then there would be nothing like it.  We do his mock birthdays often so that he can blow candles and have fun. He will not eat the cake mind you, the mom will eat it but he will blow the candles and make us sing the birthday song. When I light the diyas in front of the God, they get 'mysteriously' blown away. No prizes for guessing how they get blown away just minutes after I light them. J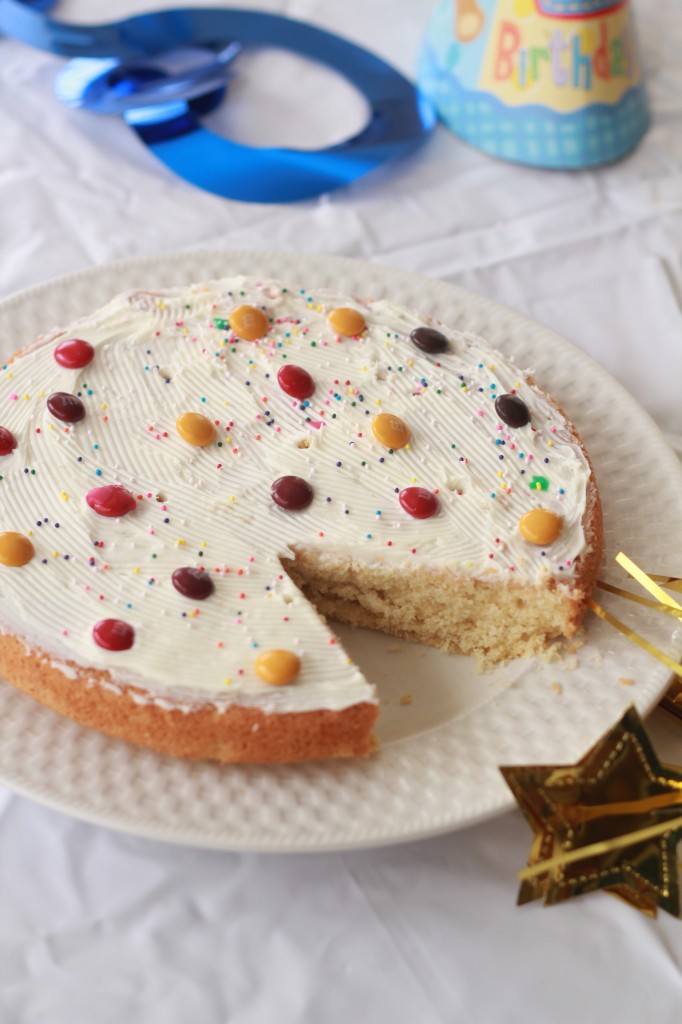 So to overcome the dilemma he agreed to bake a cake and the sole intention was to stick candles and blow them. So I did not want anything fancy and made a very simple vanilla cake. I used store brought frosting and some M & M's for decorating. Of course, he made us blow the candles 3 times, before he agreed to cut the cake.
Before we go onto the recipe, I wanted to share some of his funny dialogues.
One evening while I was heating pizza in the oven "Take your time and do it faster"
His common query while baking "Amma, what is the secret Indian in this cake?"
Showing off his newly acquired knowledge "You know George Washington built the roads so we will not fall."
His explanation when one day I caught him cutting his hair with a scissor" I cut my hair because my brain was heavy and hurting".
The kiddo quizzing me "What do you want to be when you grow up?"
Which is the fruit of the king?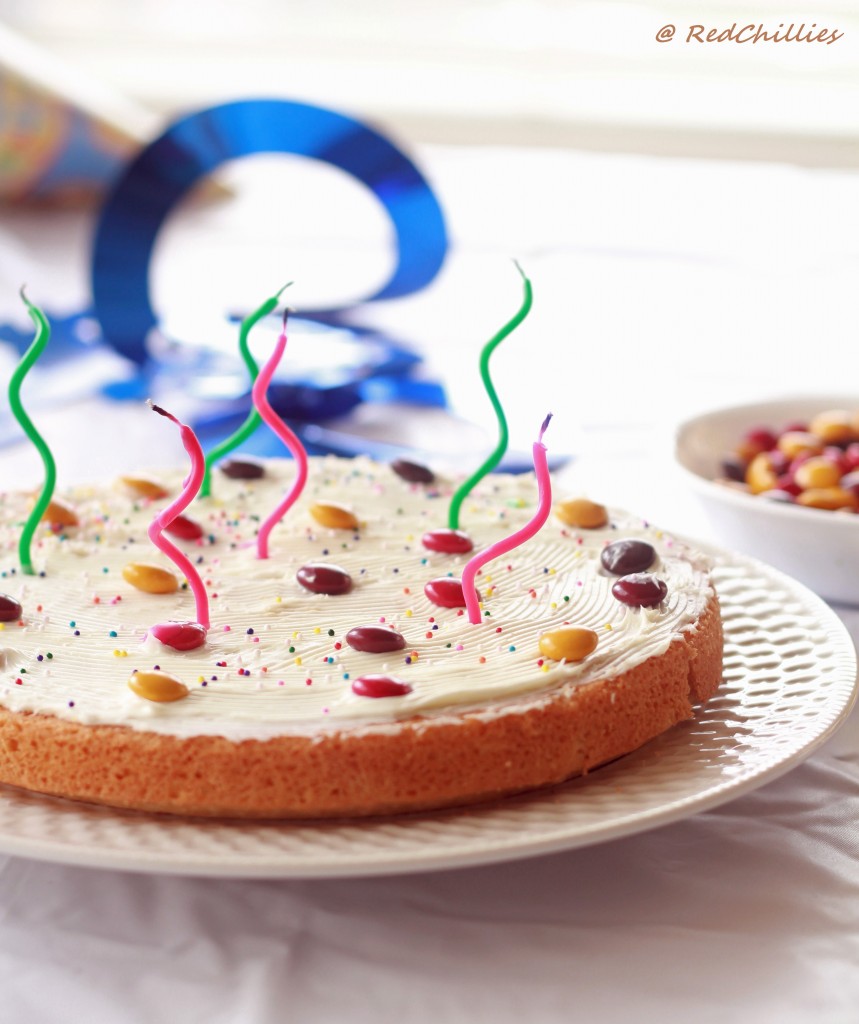 Recipe Source: Simple White Cake
Ingredients:
1 1/2 cups all-purpose flour
1 cup white sugar
1/2 cup butter
2 eggs
2 tsp vanilla extract
1 3/4 tsp baking powder
1/2 cup milk
Directions:
Preheat oven to 350 degrees F (175 degrees C). Grease and flour a cake pan and keep it ready.
Take a bowl and cream the sugar and butter together. Add in the eggs, one at a time and mix this with a hand mixer. Now stir in the vanilla and mix again.
Combine flour and baking powder separately in a bowl.
Add this in parts to the creamed mixture and mix well.
Finally stir in the milk until batter is smooth.
Transfer this batter to the prepared pan and bake for 30 to 40 minutes until a knife inserted in middle comes clean.
Take it out and allow it to cool before frosting and decorating.