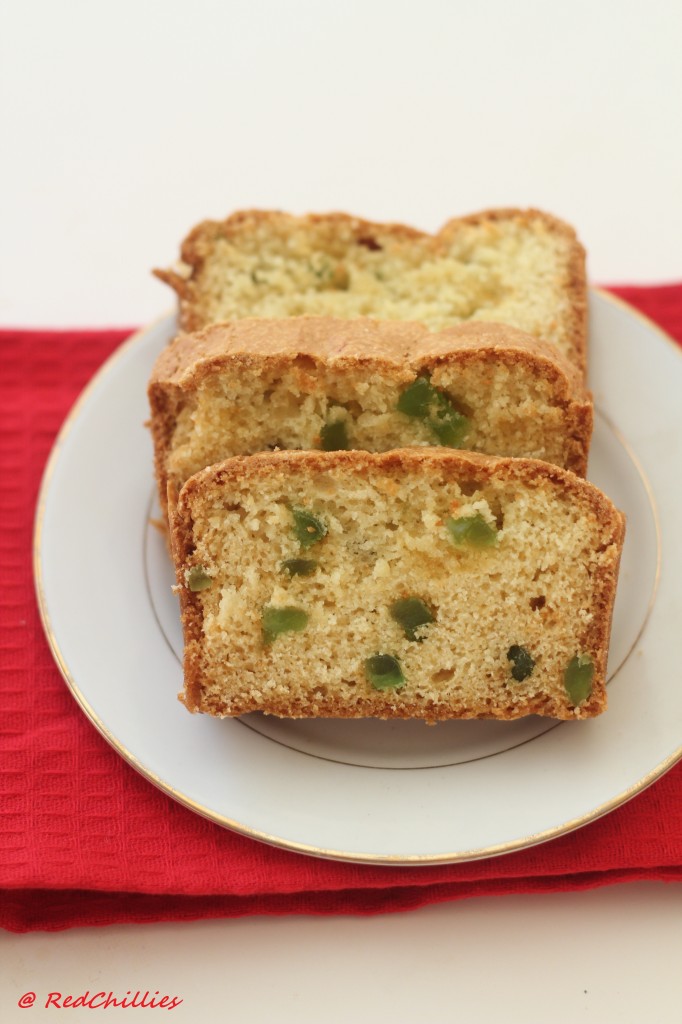 Tutti Frutti cake brings back many memories reminiscent of our childhood.  This cake adorned the shelves of the local Bangalore bakeries and . As kids it was a treat for us to have it and we had it on special occasions, Christmas etc.  Tutti Frutti is nothing but fruity bits that are colored and cooked in sugar water. The fruit in this context could be pineapple, candied cherries and apricots.
I am still I the festive mood long after Diwali is done, thanks mainly to the upcoming Thanks Giving holidays. It is going to be a long long holiday here in the US with a total of four days off from work. Let us just say we are so looking forward to it and I am celebrating way in advance.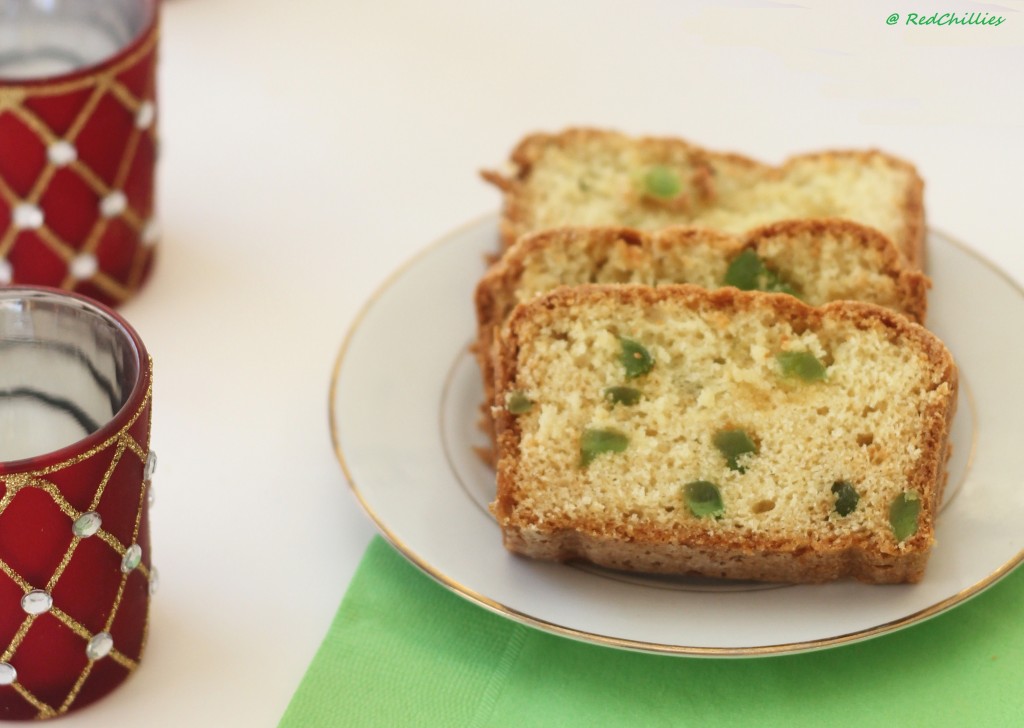 This cake has a rich, festive look embedded with those colored fruity bits. I was not able to find the red colored tutti frutti otherwise this would have looked even more festive and pretty with the beautiful combination of red and green against the yellow background. 
I landed onto this recipe from Sharmi's blog after seeing her Tutti Frutti Cake and I saw that she referred to Parita's recipe.  I have followed Parita's recipe to a T, without making any changes to the procedure. While trying however I halved the quantity and made a small cake. 
 Let me tell you, the taste of this cake is downright delicious. Rich with a touch of fruity pineapple flavor, it is pleasing to your taste buds. A note though, do not skimp on the pineapple essence as this creates the essential fruity flavor of the cake. Also try not to substitute this essence with vanilla as the originality of the taste will be lost. 
DH who is not too fond of desserts asked for a second helping. I made this during a weekend afternoon and we loved it along with our afternoon tea.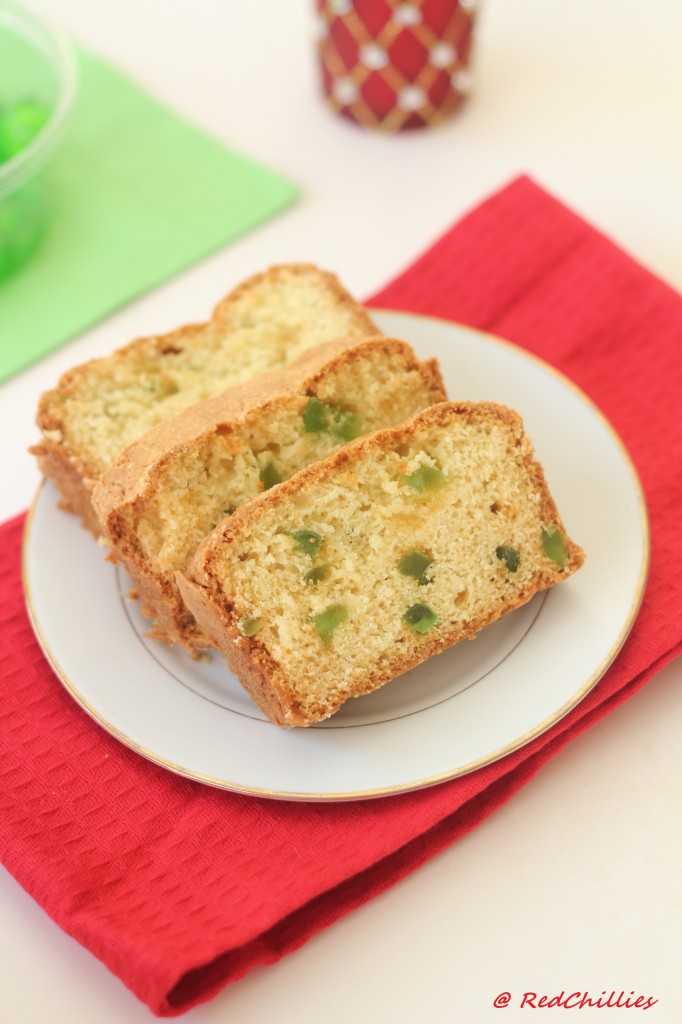 Recipe Source: Adapted from Parita's Kitchen
Ingredients: 
2 cups AP flour/maida
1 1/4 cup sugar
1 cup tutti frutti (mixed with 1 tbsp of flour )
1/2 cup unsalted butter (at room temperature)
2 eggs (room temperature )
1 tsp baking soda
2 tsp baking powder
1/2 cup milk
2 tsp pineapple essence/extract (do not skip this)

Procedure:

Preheat the oven to 350 F/ 180 C and grease a loaf pan and set aside.
On a big paper, sieve together flour, baking powder and baking soda and keep aside.
In a bowl beat together butter and sugar until light and fluffy (using a hand mixer) for about 1 to 2 minutes.
Add one egg at a time to this wet mixture, then add the pineapple extract/essence and beat well.
Now add the flour mixture and milk alternatively in batches and beat well.
Fold in the tutti frutti's and mix in gently. (no need to beat)
Pour the batter in the pan and bake for 40 to 45 minutes until a knife inserted in the center comes out clean.
Remove from oven and allow it to cool. Slice and serve as required.