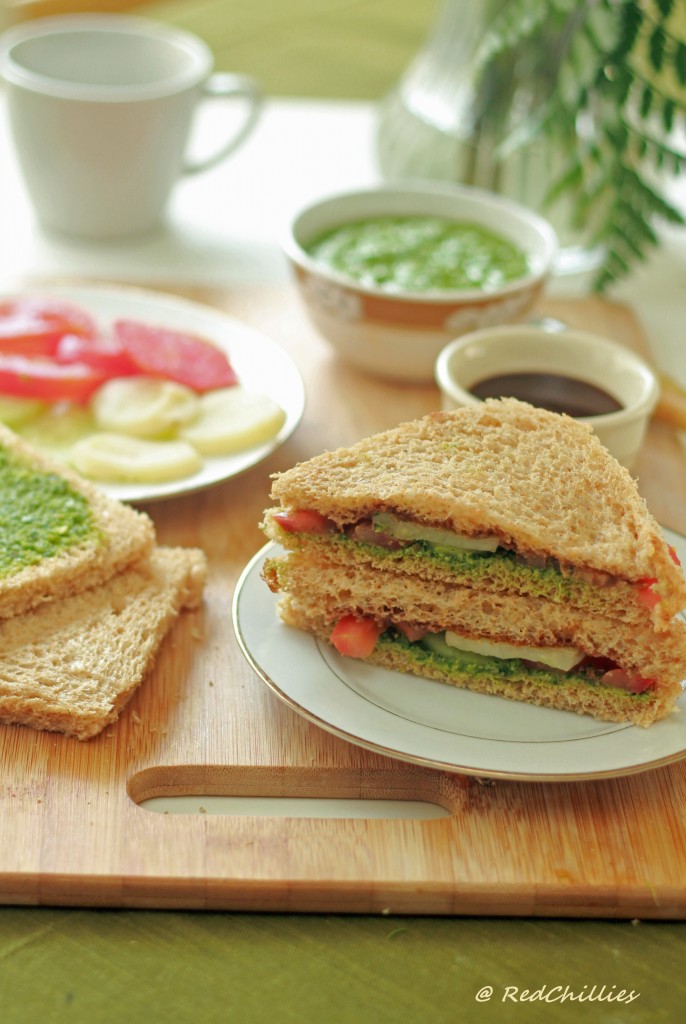 Sandwiches are tasty snack can be put together in a jiffy and are perfect for lunches, picnics, outings and kids lunchboxes. 
I enjoy eating sandwiches for lunch; they are light yet filling and doesn't make you feel drowsy. Definitely good if you have one of those long boring Thursday afternoon status meetings that can put you off to sleep 🙁 
I made this on a whim while I was working from home one day. I had the necessary chutneys on hand and felt like eating something 'Chatpata" (which means 'sweet, tangy, sour and delicious' in Hindi). So I added all the different constituents of Chaat onto a bread and made this delicious sandwich.  Now unlike most other sandwiches, this sandwich is a bit difficult to carry to work and tricky to assemble. So you might be limited to eating this at home!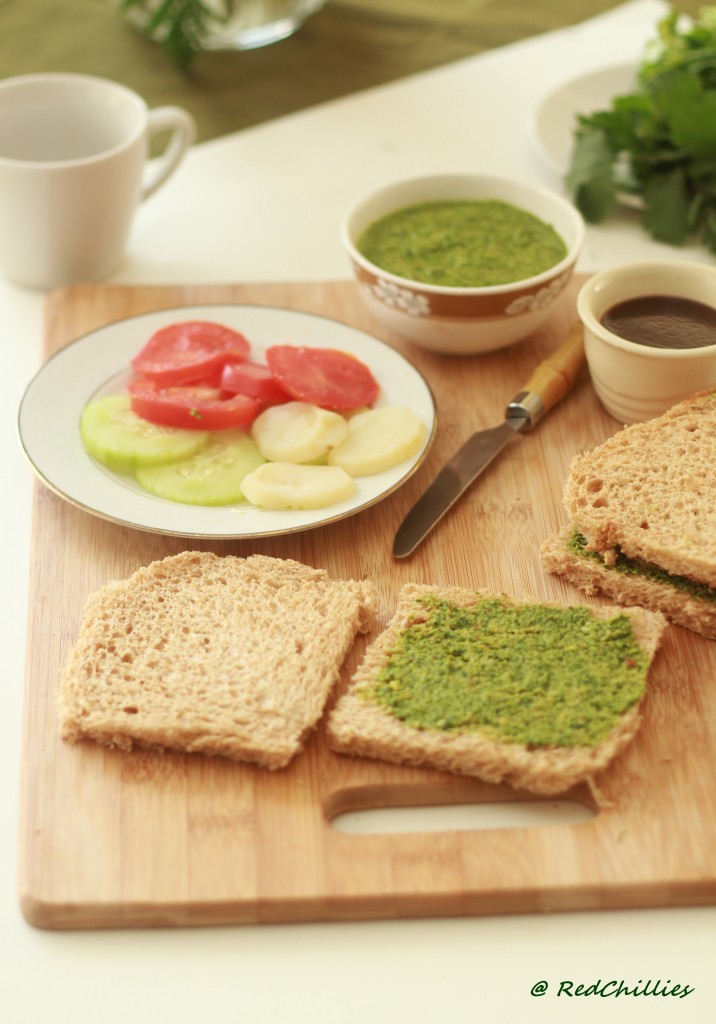 There are two types of chutneys that I have used for this sandwich. The green chutney made of fresh coriander/cilantro is easy and versatile. It can be used in chaats as condiments for vada pav, samosa, pakodas, khandvi, dhoklas and great for sandwich spreads as well. You can add fresh mint and enhance the flavor even more. In fact, the inspiration for this green chutney comes from Jaya @ DSM who had prepared it during a fun family outing. 
The quintessential component of chaats, tangy and sweet tamarind chutney enhances flavor of any dish. 
If you do not have the time to make it at home, then the chutneys are readily available at the Indian stores. The one's from Deep are the best in quality as well as taste. 
Recipe Source: Adapted from Jaya @ DSM
Ingredients:
Green Coriander Chutney Recipe
2 cup coriander leaves (cleaned & stems removed)
1 garlic clove ( peeled )
1-2 green chilies
2 Tbsp roasted peanuts ( I do not remove the skin)
2 Tbsp lemon juice
2 Tbsp water
Salt
Method:
Grind all the ingredients together to a smooth sauce. Transfer to a bowl.
You can store this chutney in the fridge for about 4-5 days.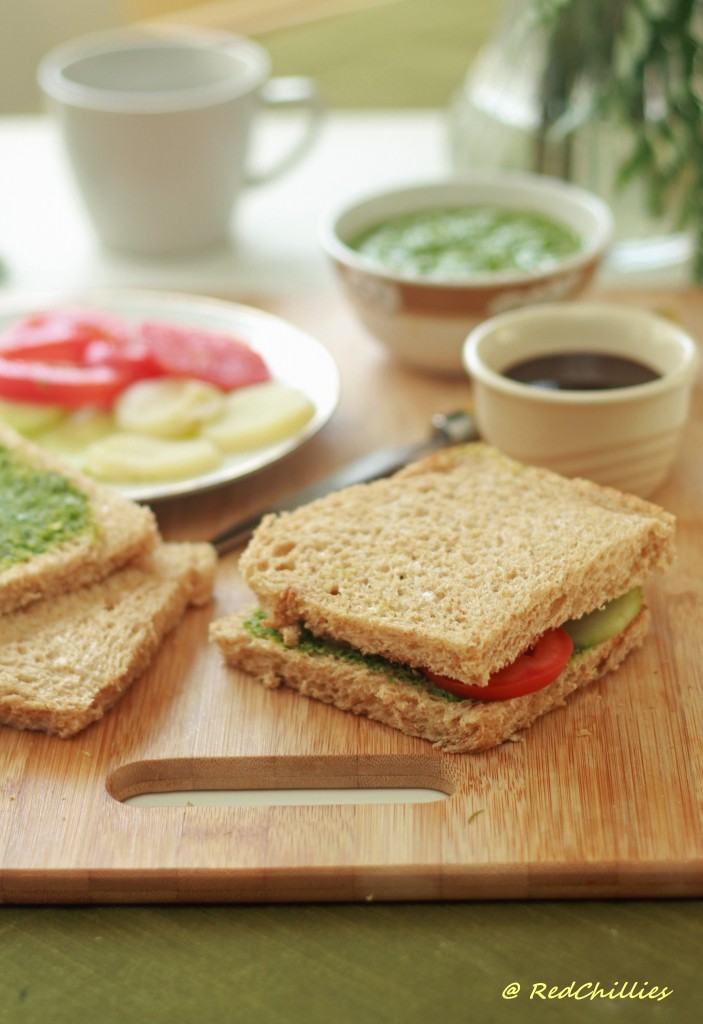 Tamarind Dates Chutney Recipe
This tangy, sweet and sour chutney is a delicious condiment.
Recipe Source: Adapted from Imli ki Chutney
Ingredients:
200 gms tamarind (remove seeds)
100 gms dates (pitted)
150 gms jaggery
2 cups water
1 tsp cumin seeds (roast and grind coarsely)
1 tsp salt
Red chilli powder as per taste 
Method: 
Heat water in a saucepan and put the tamarind, dates, jaggery and cook on a medium flame till the dates and tamarind become soft. Switch off flame and allow the mixture to cool.
Grind the mixture to a smooth sauce. Put sauce back into the saucepan and onto a medium flame and add remaining spice ingredients.
Bring the sauce to a boil and switch off the gas. Allow to cool and transfer to a bowl.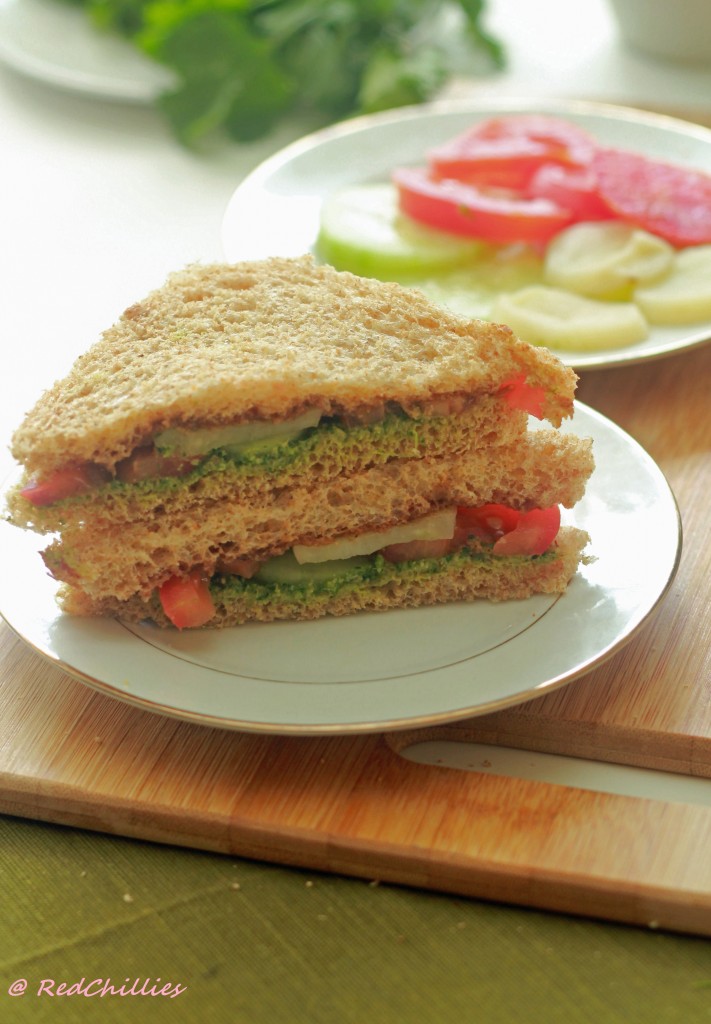 Assembly
Slices of white or soft wheat bread (as required)
1 small cucumber (one with less seeds)
1 medium tomato
1 medium potato (boiled, peeled and sliced into rounds)
½ cup cilantro chutney (recipe above)
½ cup tamarind date chutney (recipe above)
Salt
Method:
Remove the edges from the bread.
Peel the cucumber and cut the cucumber into thin circles. Cut the tomato into circles.
Take 2 slices of bread. Spread 1-2 teaspoon of green chutney evenly on one bread. Arrange 4 slices of cucumber on each end top it off with sliced tomatoes and sliced potato. Sprinkle a pinch of salt over them.
Spread a spoonful of tamarind chutney evenly on the other slice of bread. Turn it around and place this on top of the veggies, to make a sandwich. Cut it diagonally.
Repeat the procedure for all the bread slices. Serve immediately, else it will get soggy.