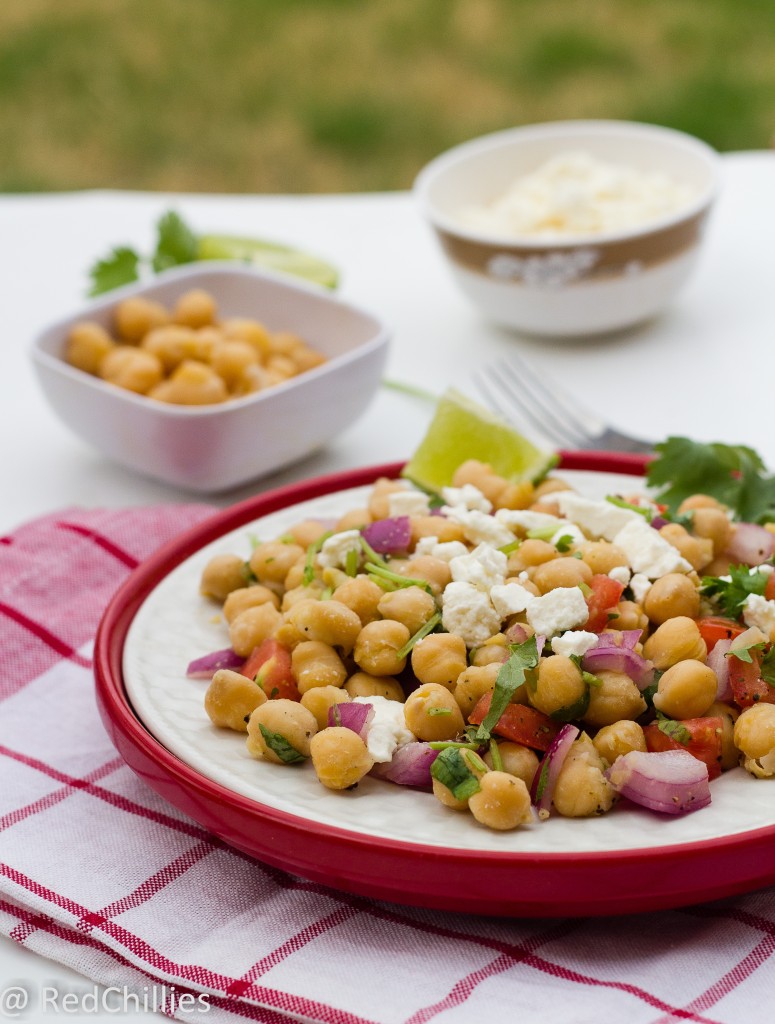 Off late we have been experiencing moderate weather unlike the scorching heat we get during this time of the year. It does not mean that we are completely out of the woods yet, there are some spikes and we still have days on which the temperature climbs over the 100F. On such days, I don't feel like staying in the kitchen more that I have to and I resort to quick and easy salads of this type for lunch/dinner. 
With good amount of protein and fiber this salad is a winner. I love the colorful and healthy combination of beans and veggies. Onion and pepper add good crunch and complement the soft garbanzo. The tomatoes and cheese add the right amount of sweet and tanginess making it very flavorful. 
This salad is pretty versatile, so you can add any veggies or fruits to cater to your taste. You can add cucumbers, chopped celery, grated carrots, apple, pomegranate etc. 
 Apart from this method, I sometimes give this salad an Indian twist. I sprinkle some chaat masala alogng with red tamarind chutney and green chutney (instead of lemon and cheese). Let me warn you the taste is pretty addictive that you will not believe that you are actually eating a salad.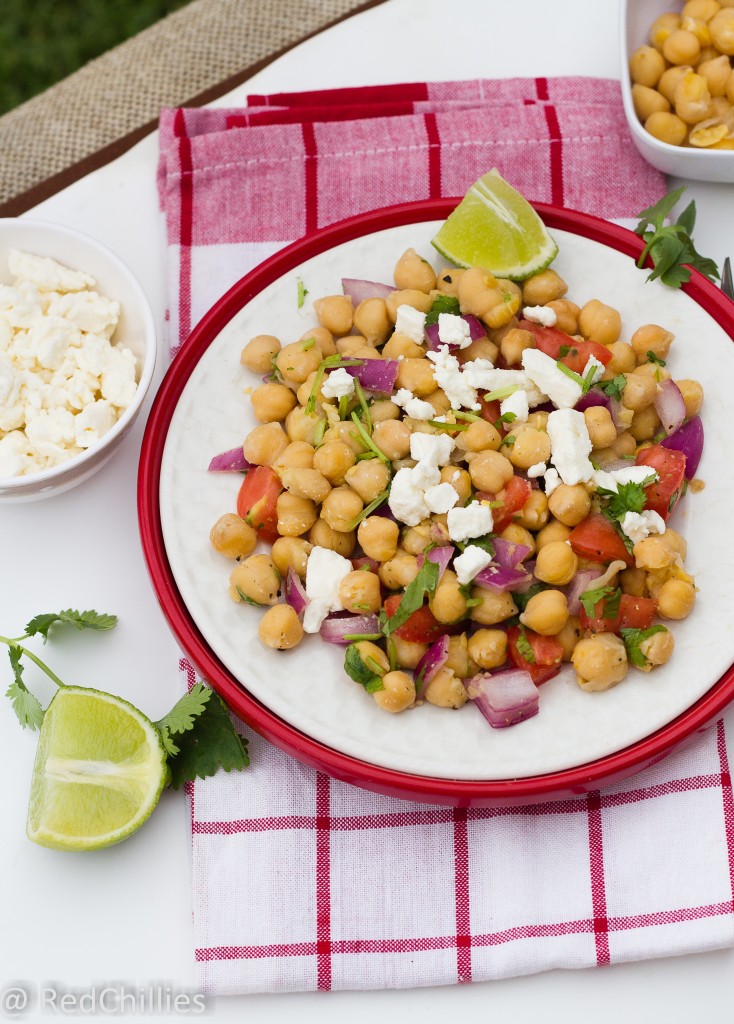 Ingredients:
1 can chick peas/garbanzo (rinsed and drained )
1/2 cup red onion chopped
1/2 cup red pepper chopped (optional)
1 jalapeno seeded and chopped
1 tomato (seeded and chopped )
handful cilantro, chopped
1-2 Tbsp feta cheese
3 Tbsp lemon juice/vinegar
Salt to taste
¼ tsp Pepper powder /crushed red pepper flakes
2 Tbsp oil
Method:
If using canned chickpeas then drain the liquid and rinse the beans. Drain water completely.
Else you can soak the chickpeas overnight and pressure cook the next day. Drain the cooked liquid (or use it for something else) and use only the cooked beans.
In a big bowl add the veggies first and toss it gently. Add the chickpeas, cilantro and combine them.
Add salt, lemon juice, pepper powder and stir well.
Let it sit aside for an hour or so, so that veggies soak up all the goodness. Sprinkle the cheese before serving.