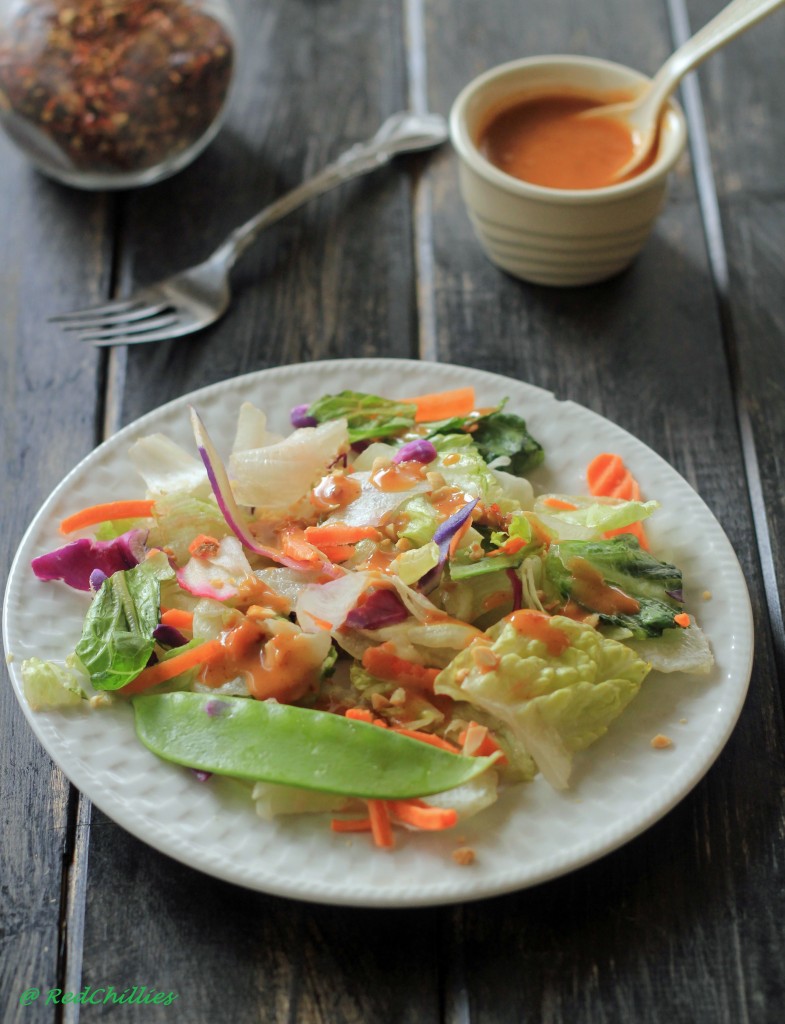 Next to Indian, the cuisine that we heart is Thai cuisine and we visit different restaurants often. Each restaurant has its own specialty be it Pad Thai, Thai ginger curry rice, sweet sour vegetables, basil noodles etc that we love.  There is this one restaurant that makes an awesome peanut sauce dressing for their salads and so I go there only to eat their peanut sauce. 
Now DH thinks it is a stretch to drive all the way just to eat salad and I grudgingly agree. So I took upon the challenge of making this at home.  A few searches later I realized that it is very easy to make, provide you have some ingredients on hand. This peanut dressing is a perfect combination of sweet, salty, sour and spicy.  
This flavorful sauce makes anything taste better. Of course, in this recipe it is used as a salad dressing, but then it could be used with other things as well. This multi-purpose condiment can be used as a dip for raw veggies or spring rolls or it can be used it in combination with veggies and noodles/pasta for making a wholesome meal or in Thai curries. Or if you are like me, then you can eat it as is and lick the spoon clean 🙂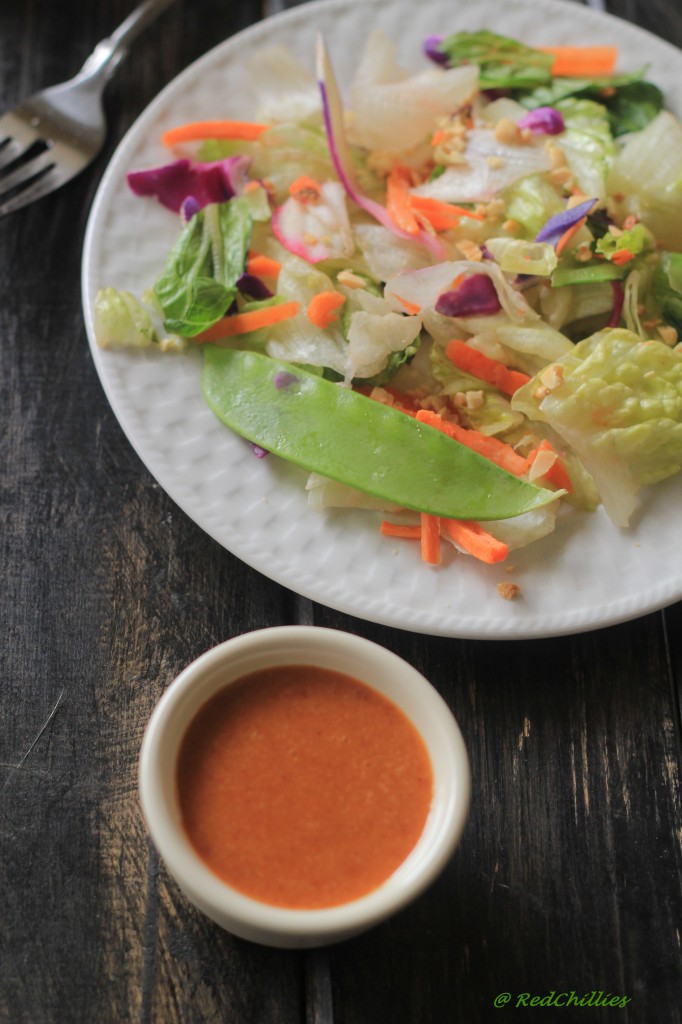 Ingredients: 
1/2 cup peanut butter
3 Tbsp water
Juice of ½ lemon
1 Tbsp vinegar
2 Tbsp soy sauce
3 Tbsp sugar/ honey
1 tsp ginger (minced)
1 Tbsp oil
1 tsp sriracha chili sauce (increase or decrease based on taste)
  Method:
 Peanut Sauce: (the consistency should not be too thick or too runny)
  In a bowl, first whisk together the peanut butter along with water.
Add the remaining wet ingredients and whisk well. Finally add the sugar, ginger and the chill sauce until incorporated. Keep aside. 
Salad: For the salad, I used the store bought lettuce bag.  Transfer this to a bowl; add some crushed peanut and the prepared sauce as required. Serve immediately.