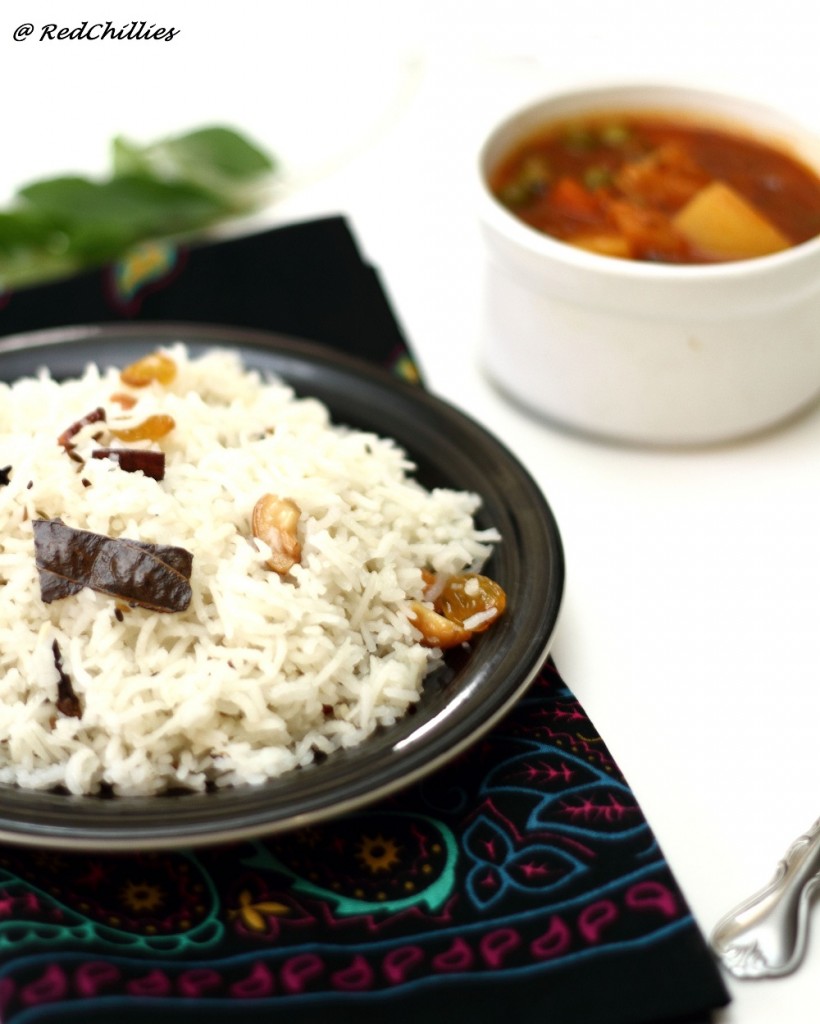 If you are looking for a rice recipe that is easy to prepare, rich in taste, aromatic and crowd pleasing then Ghee Rice is right for you. Generous use of ghee (clarified butter) along with cashews, raisins makes this dish rich and festive. This pairs well with a spicy gravy based side dish.
Few weeks ago we had some friends for dinner and this was one of our menu items. The credit for preparing this rice dish goes to DH. He is a good cook, who has a knack for cooking without taking any short cuts. While I chicken out when the recipe calls for lavish amount of ghee/butter, cashews etc, he thrives on such recipes and does a good job.
Please do not substitute ghee with oil for this recipe and the flavor will be lost. This goes well along with spicy vegetable kurma.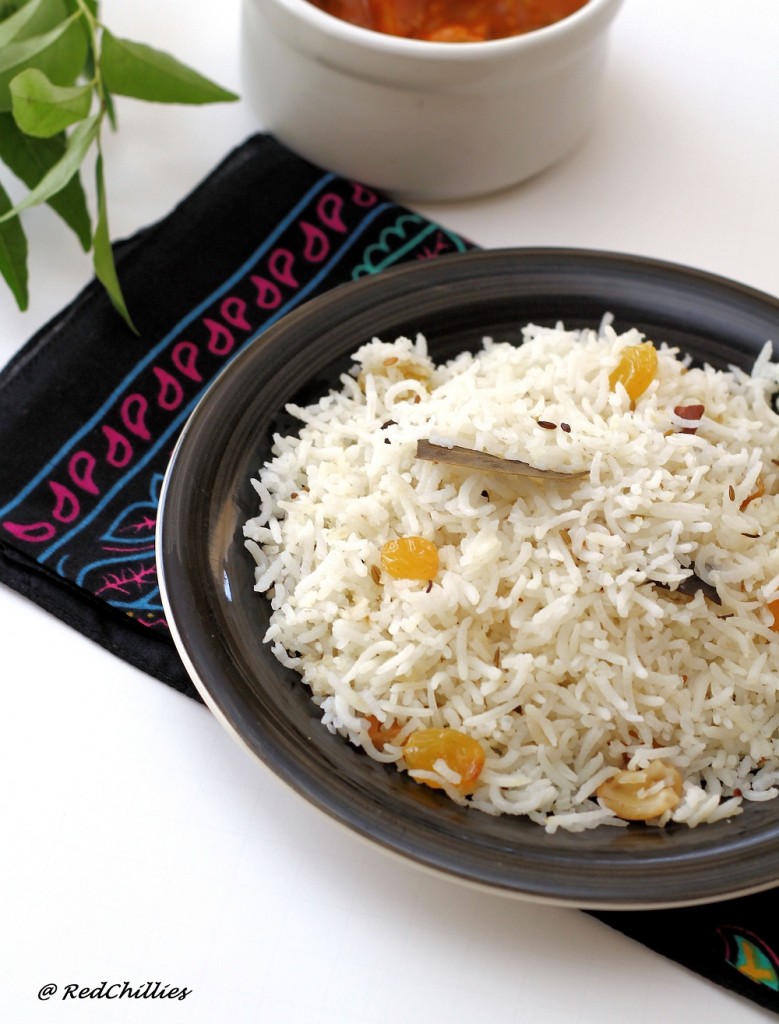 Ingredients:
2 cups Basmati Rice (raw)
15-20 Cashew nuts
2 tsp cumin seeds
15-20 raisins
4-5 pieces of Cinnamon ( 1 inch stick )
½ cup onion (peeled and cut lengthwise) [optional]
5-10 cloves
2-3 Bay leaves
2-3 cardamom pods (crushed and skin removed)
3 Tbsp Ghee (clarified butter)
Salt per taste
1 tsp oil
Method:
Wash the rice thoroughly and soak this in enough water for about 1 hour.
Drain the water and then cook the rice in about 3 ½ cups of water along with 2-3 cloves, 1 tsp cumin seeds, little salt and oil. (Note: The grains should be separate and not overcooked).
After the rice is cooked, spread it on a big plate and allow it to cool. Use a wooden spoon to spread it around that way the rice won't break.
Heat a big pan and then add the Ghee, add the cumin seeds, bay leaves, cloves, cinnamon stick, crushed cardamom pods.
Add the chopped onion and cook until it is transparent. Add little more ghee iif required.
Then add the cashews and cook until they are light brown. Add the raisins and cook until they plump up.
Add the cooked rice and toss it around. Do not over mix or stir a lot as the rice will break. Cover with lid on low fame until everything incorporates. Serve with spicy vegetable kurma.