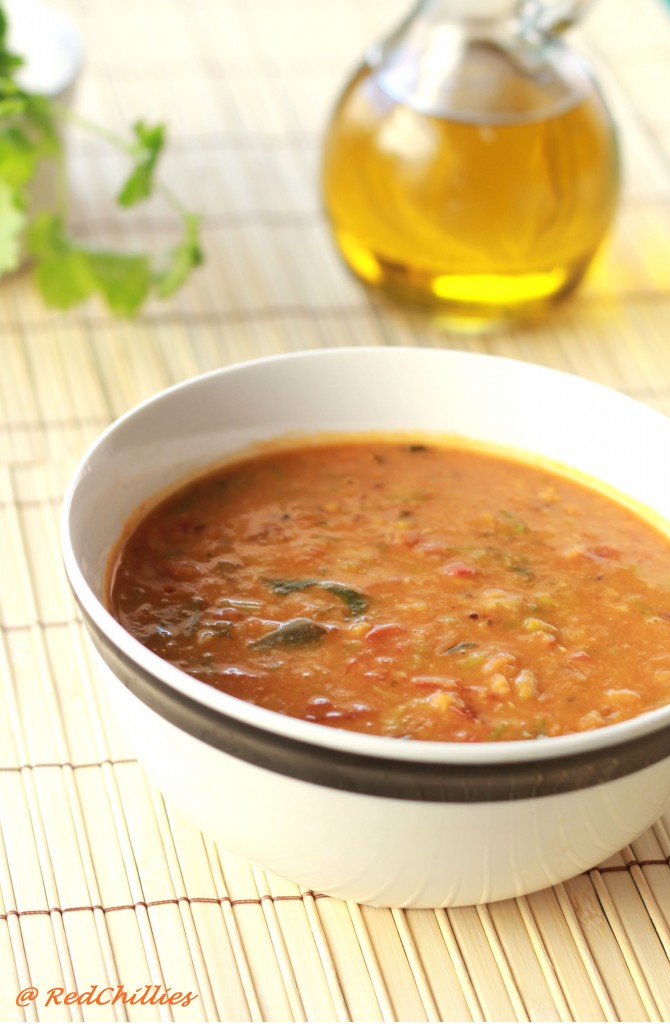 Daal along with rice makes its appearance during our meal time in one form or the other; be it the humble daali thoy, Palak Daal, Mango Daal or the ubiquitous rasam, sambhar we have it pretty much every day.
At times, I also make this Spicy Tomato Daal which is quick, healthy and delicious. An Indian colleague of mine describes it as healthy soup in the comfort of a bowl. I couldn't agree more, I mean after a long day what better way to unwind than to have this simple thick daal along with a bowl of rice?
Ingredients:
3/4 cup toor daal
¼ cup moong daal (split)
3 ripe tomatoes (medium sized) [chopped]
4-5 curry leaves
1-2 tsp chilli powder
2-3 dry red chilies (broken)
Coriander leaves for garnishing
1 Tbsp Tamarind juice
2 tsp Jeera/ cumin seeds ( I like lot of cumin seeds)
Turmeric a pinch
1 tsp Mustard seeds
oil
salt
Method:
Pressure cook the moong daal+ toor daal in enough water along with 1 tsp  jeera/cumin seeds, ¼ cup chopped tomato, a pinch turmeric and 2-3 halves of broken red chilli.
After it is cooked, mash it and keep aside.
 Now take a deep vessel and heat 2 tsp of oil and add the mustard seeds. After they splutter, add jeera seeds and curry leaves, broken red chillies and reduce the heat a bit.
Add the finely diced tomatoes, salt and let it cook for a while until the water from the tomato is all absorbed.
Add chili powder and if required stream in little bit of oil. Add the tamarind paste and cook again.
Next add the boiled mashed daal and stir well. Let it simmer for about 5- 10 minutes.
Finally garnish with coriander leaves.
This tastes good when it is a bit tangy, so go little extra on the tamarind or tomatoes. Serve with rice.