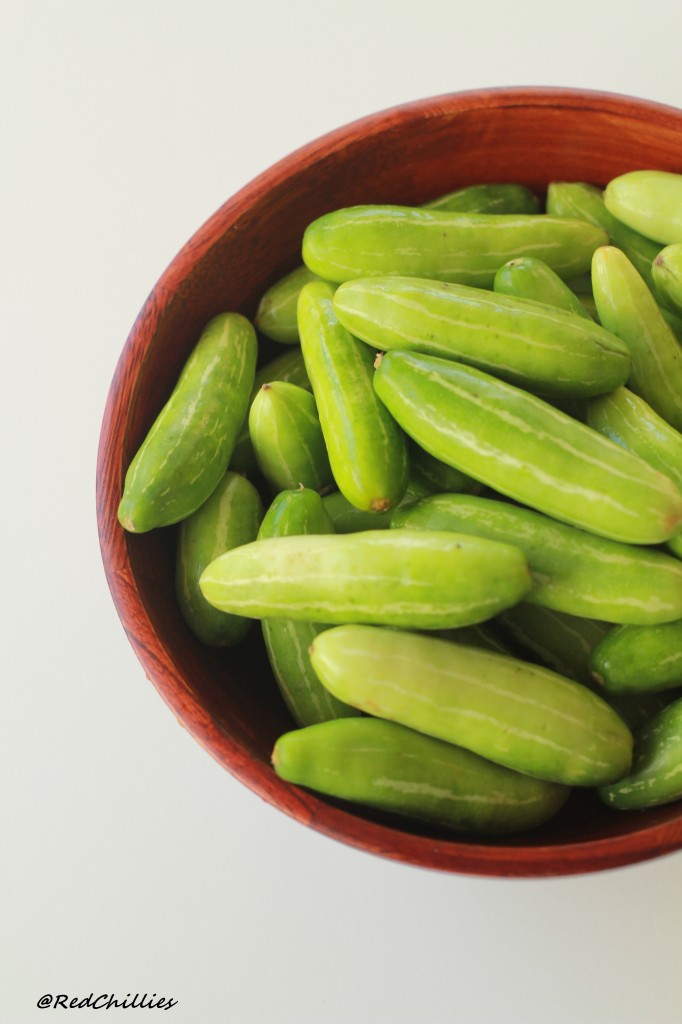 One of the well loved vegetable in our house (just after potatoes) is Ivy Gourd/Tindora. Along with Tindora Rice, Tindora Coconut Curry, this is one dish that I make often when we have Tindora at home.
I keep this very simple by adding only the basic seasonings; no complex curry powders or masala powders etc for this curry. I love it when the flavor of the Tindora shines through and is not masked by complicated ingredients.  Adding onion to this is optional. I add it as onions add moistness to the tindora and also prevents it from sticking to the bottom of the pan while cooking. 
The only time consuming part is the prep work which involves chopping of the Tindora. At times I chop the Tindora the night before while watching TV or while talking to family/ friends. If you can pass off that chore to somebody else like the husband then even better; anything that keeps you off of the long chopping process. 🙂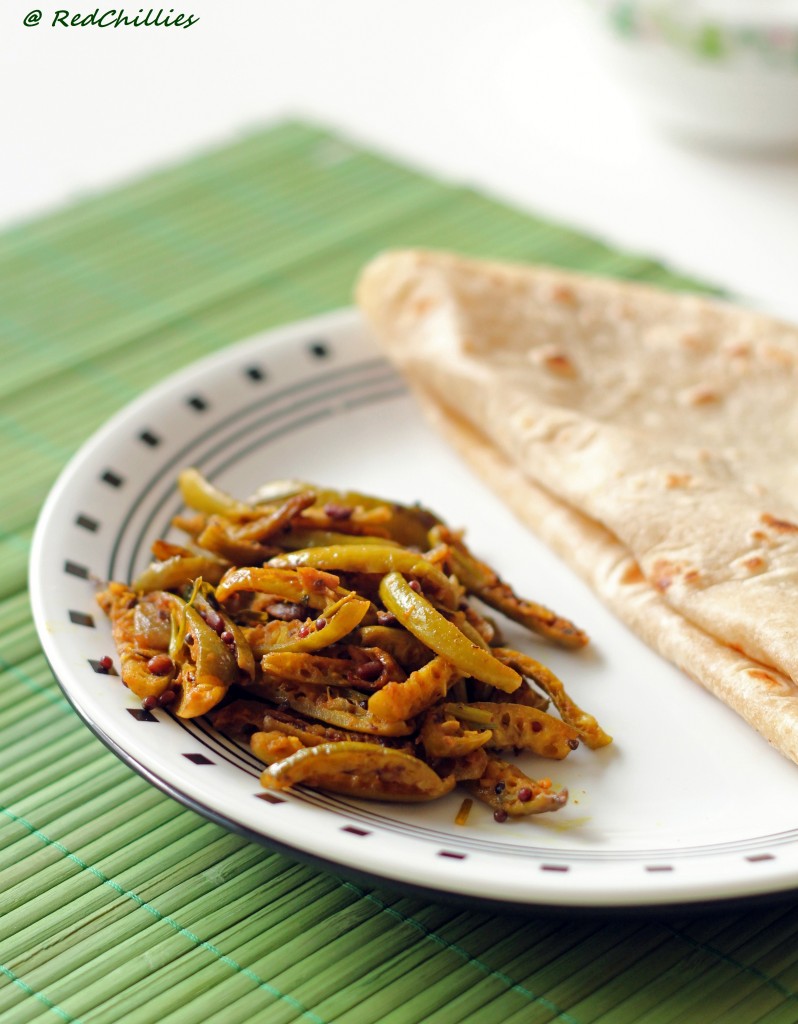 Serves: 3-4
Ingredients:
250 gms /1/4 kg Tindora/ Kundru/Tendli/Ivy Gourds
1 medium onion chopped
1-2 tsp red chilli powder [substitute with green chillies]
½ tsp turmeric powder
1 tsp mustard seeds
2 tsp urad daal
3-4 curry leaves
1 tsp cumin seeds/jeera
Oil
A pinch asafetida/hing
Salt to taste
Chopped coriander leaves (garnish)
¼ cup shredded coconut (optional) 
Method: 
Wash the Tindora and remove the tip and the tail end of the vegetable. Chop it into two lengthwise and then further cut them into thin long stips. Note: Some prefer to chop in thin circles and that is fine too.
Take a big flat bottom pan; heat about 1 Tbsp of oil. Add mustard seeds and let it splutter.
Add the curry leaves, jeera/cumin seeds, asafetida and mix.Add the urad daal and fry until it turns light brown.
Add the chopped onions and sauté until it lightly softens. (No need to cook for a long time as it cooks more after the Tindora is added).
Add the chopped Tindora/ Ivy gourd and stir until it mixes with the onions and seasoning.
Stir in between making sure it does not stick to the bottom.
Add salt, turmeric, and red chilli powder and mix well. Sprinkle little water in intervals to avoid sticking to bottom and speeding the cooking process. (Do not add too much water).
Add more oil if necessary. Cover with lid and let it cook on simmer, stir in between.
Switch off when the Tindora are cooked (has bite to it, but not over cooked)
Finally add chopped coriander for garnish and shredded coconut and mix again.
Serve hot with rice/rotis.