Time files and how? It seems like only yesterday we wished each other for New Year of 2008, we watched Olympics, celebrated major festivals, endured the financial crisis, witnessed a historic election, shuddered at the Mumbai incident all this and more. What a year of ups and downs it has been! And now all that seems to have passed by at the blink of an eye and here we are at the dawn of 2009 celebrating the New Year.
Wishing you all a Very Happy and Fun Filled New Year 2009. Hope the Year brings to you joy, opportunities and prosperity.
Hope you are all having a great time with your family and friends. We have a simple family tradition that we follow every year on New Year's Eve. We stock up on varieties of cakes earlier in the day from our favorite bakery. Then at the stroke of midnight we relish while watching some countdown TV program. It is a joyous feeling to savor it while there are some fireworks in the background and lots of anticipation in the air. But best of all is in the knowing that the whole world is celebrating it with us.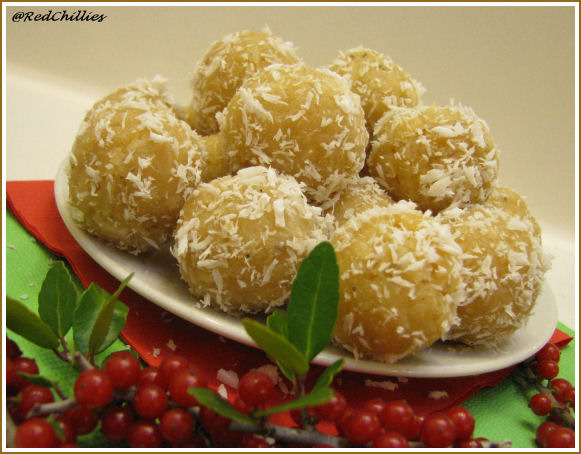 I had the day off from work and so I took time to make these "Coconut Laddoo". This is very easy to prepare and hardly takes time to put it together. They are a great piece of attraction for parties, functions or get-togethers.
Ingredients
2 ½ cup shredded coconut (fresh/frozen)

1 cup sweetened condensed milk  [Use milkmaid]

½ cup coconut for garnishing/rolling the laddoo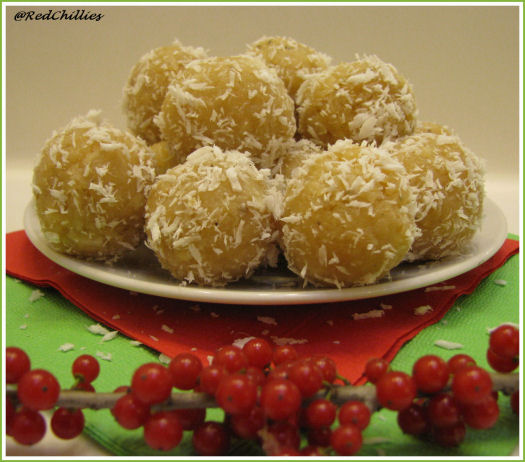 Method: 
Heat a heavy bottom flat pan (preferrable non-stick) on low flame. Add the shredded coconut first and gently stir it for about a minute. This is to remove any kind of moisture from the coconut and also to bring out its nutty flavor. Be very careful as it gets burnt very fast. The coconut should have a very pale brown color; the aroma from coconut is heavenly.

Next add the condensed milk and stir. Make sure that the coconut mixture does not get stuck to the bottom.

Depending on the quantity it takes about 20-25 minutes to thicken up. Add the cardamom powder at this stage and mix well.

The mixture also thickens up after it is cooled. After it is sufficiently cooled, taken small pieces and roll into balls.

Garnish or roll this over the remaining coconut shredding. This makes about 10-15 medium sized laddos.