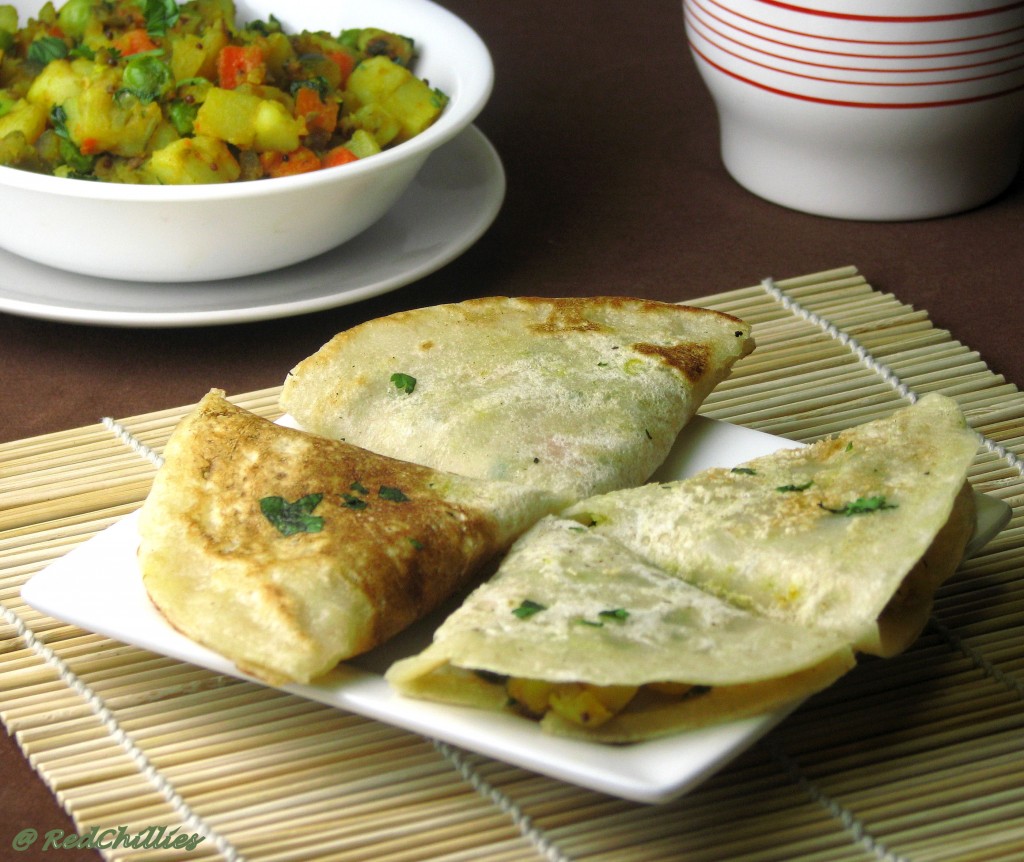 One of the challenging part of packing DS's lunchbox is to come with some healthy and creative ideas. Now to get our 4 year old to eat, right in front of our very eyes is tricky enough then one can imagine what happens when he is provided with a lunch box and is totally out of our sight. Of course, the teachers try their best to coax him into eating, but with mischief and prancing around as his top priority, food gets neglected and takes a back seat.
The other things that I have to keep in mind while packing his lunch is not adding nuts (peanuts included) and that the lunch item does not get soggy or become hard after a while. Also as with other kids, he becomes bored eating the same stuff over and over again; so I have to come up with some new kid pleasing ideas.
So a few days ago, I was over the moon when I saw this Veggie wrap idea on Rachana's blog. I loved the idea of making the wrap with flours (instead of chapathis /rotis/ tortillas) and the fact that it can be made instantly seemed appealing.
I kept thinking of ways of incorporating the idea of wrap and turning it into a shape that kids can handle without spilling. After looking for so many different options I chanced on Nupur's clever and fantastic idea of a triangle shape that she used for making healthy Samosas.  I kinda put two and two together and voila this idea of making dosa triangles was born.
I made this during the weekend and the kiddo loved it. I think he loved the shape and the taste of the wrap the best. He has even agreed to take it in his lunch box and eat it promptly.  At the end of it all, there was one pleased mom secretly doing the happy dance 🙂
The taste of the wrap/dosa is excellent and addictive. As a test, I prepared some triangles and kept them aside for 3 hours and after little warming they tasted good. They did not turn soggy or hard. Thanks Rachana, Nupur and your mom's for this wonderful idea.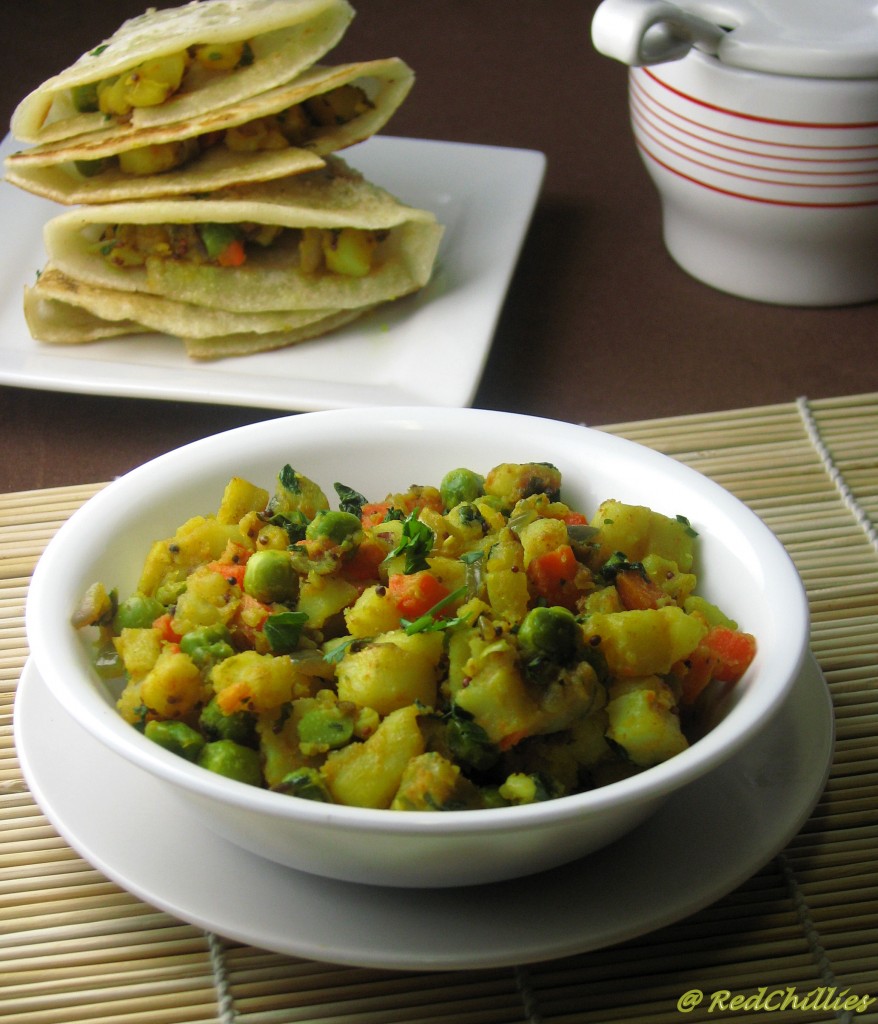 Recipe Source:
The wrap adapted from here. (Rachana's Veggie Wrap)
The triangle part adapted from here. (Nupur's healthy samosa)           
Ingredients for the Dosa/Wrap:
 ½ cup rice flour
 ½ cup sooji/semolina
 ¼ cup maida (AP flour)
 ¼ cup wheat flour
 Salt, water
Stuffing/Filling Ideas
(These recipes below are some ideas. Kids have their likes/dislikes, so feel free to change the stuffing based on your preference). Potato based stuffing tastes pretty good with this Veggie wrap.
 
Fruit Jam/Jelly
 Dosa/Idli Podis with oil
Method:
 
Dosa Batter: Mix all the flour, salt and water and make a batter. The batter should be slightly thicker and gooey than a dosa batter.
 Keep aside for 10 minutes.
Note: If you do not prefer the idea of making triangles, then make individual dosas and serve the curry separately. The taste of the dosa/wrap is very appealing to kids.
 Heat a tava/dosa pan; pour a small amount of batter in the center, spread around from back of ladle, add oil around and make medium sized dosas.
 Cook the dosa on both the sides and transfer to a plate.
 Note: The dosas should be soft and not crispy; otherwise they will become hard when kept for long time.
 Take a knife and cut the dosa into 2 halves. On each of the half put in a spoonful of the filling slightly off-centre.
 Fold each half in the form of a triangle as shown here..
 I did not use any paste to make the edges stick. I pressed the edges together using my finger tips and leveled it again with flat spoon.
 Put these triangles back on the warm tava with sealed edges side down. Add little more oil and press on the top from the back of the ladle to make everything stick together. There is no need to cook for a longer time.
 Remove immediately and transfer to a plate. Do not cover as it might get soggy.
 Transfer to lunch box after a while.
 Proceed with the above steps for making more triangles.